Just like for any other firearm, musket hunters need safe storage for their guns. There is no better solution than a gun safe. Keeping your gun out of the wrong hands and preventing unauthorized access, must be number one priority for all gun owners, hunting rifles are no exception. Gone are the days when your rifle simply sat in a wooden rack attached to the wall.
Choosing a Gun Safe
Choosing your gun safe can depend on several options. It can simply be a question of ensuring your gun doesn't fall into the wrong hands, or it can be a way of protecting your expensive gun and ammunition from fire or other damage.
Don't buy a gun safe into which your guns just fit. If you buy another gun, where is that going to go? So, buy a safe that is bigger inside than your immediate needs. Better to have plenty of spare space.
Locking Mechanisms
There are many choices of locking mechanisms. These include keypad combination locks, biometric locking system and manual locking system.
Non-biometric systems have been and still are open to error and misuse; forgetting your PIN, forgetting a password amongst the dozens that you now must use, keeping those passwords in a safe place.
Given the increase in cyber hacking and sophisticated organized crime, it has become ever more necessary to find and develop more advanced methods of identifying individuals and verifying who they are.
See also: How to Move a Gun Safe: 7 Efficient Steps to Follow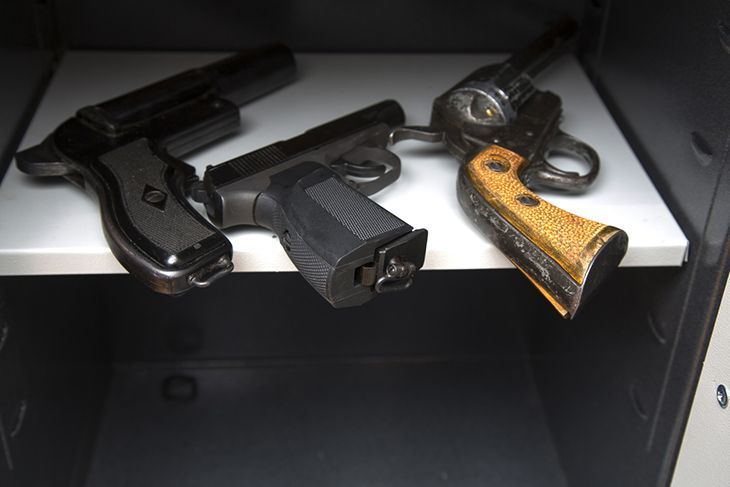 So biometric security has come into its own as the most sophisticated technology for authentication, verification and identification purposes. Modern but everyday examples of these technologies are fingerprint biometrics and voice recognition – these are already in everyday use.
Biometric locks can be defined as locks that do not require keys to unlock them but instead require a personal identity. Most of these locks utilise the eye or fingerprint of the individual. However, the fingerprint lock is the most common as they can be programmed to accept multiple prints of the individuals to want to share access with.
The major use of the biometric lock for gun safes or gun cabinets is to make then extra secure and effectively impregnable to anyone trying to access their contents without the knowledge of the owner. Unauthorised access to your gun safe could result in you losing your gun licence.
Some of the best gun safes use electronic locks, particularly biometric and keypad combination locks. They require a battery and make the safe unusable when the battery no longer has any charge.
The best choice for a locking mechanism? A biometric system.
What Does A Gun Safe Cost?
The cost of a hard-wearing, durable gun safe or cabinet is not prohibitive; prices range from as low as £180 to £300 which is readily affordable. This range includes a very reasonably priced selection of gun cabinets and rifle safes. Manufacturers are so confident of the quality of their product that they offer a life time replacement warranty. Of course, there are more expensive safes on the market where you pay for the highest quality and greater capacity with prices up to 1,800 dollars.
Fire Resistant and Durable
The Hollon Safe Company proudly introduces their new Hunter Series gun safe line. A 45-minute fire rating at 1400 degrees combined with 12-gauge steel walls and door, will give the hunter full confidence in the safety and security of his gun.
Australian Excellence
Spika is an Australian owned company that has quickly grown to become the shooter's and hunter's first choice for gun safes and accessories. Their range include heavy duty premium safes, fire resistant safes and safes for the home.
Here's an excellent video on choosing your gun safe to help you out:
Conclusion
Buy a gun safe with spare space inside, not one that just fits the dimensions of your guns. A good idea is to buy a safe that is one size bigger that you first planned.
A biometric locking system is best. No danger of forgetting a code and no problem in the dark. Security is the number one priority.
Buy a safe with the best quality steel you can afford.
Pay attention to the manufacturer's fire rating.
Don't wait until it's too late, after the fire, after the theft – buy one now.
Check the warranty. Lifetime coverage of the key components is best. Repairs are expensive.
Happy hunting!