When it comes to hunting, you'll want to make are that you catch big deer. One of the effective ways to do so is through investing in the best deer feeders to attract deer and feed them the adequate amount of protein and food to keep them healthy and growing throughout the season.
So if you're looking for the best deer feeders to invest, then read on as I show you the ultimate purchasing guide for deer feeders.
Quick Comparison: Top Deer Feeders
#

Product Name

Type

Feed Times (Per Day)

Digital Control

1

Moultrie 30 Gallon Easy-Lock Tripod Deer Feeder

Editor's Choice

Automatic Feeder

Up to 6

Yes

2

Automatic Feeder

Up to 6

Yes

3

Wooden Feeder

N/A

No

4

Gravity Feeder

N/A

No

5

Automatic Feeder

Up to 16

Yes
**Below, you'll find our more detailed reviews, but you can also click the links above to see current prices or read customer reviews on Amazon.
The Top Five Best Deer Feeders
What's great about the Moultrie 30-Gallon Deer Feeder is its quality and huge capacity! I found it very easy to fill because it matched my height, which was less than six feet. I was also surprised with how great the materials were. It has a tapered design that can hold up to 200 pounds of feed, as well as a control box you can easily access. It dispenses feed automatically with a digital timer, and it has been amazing so far. Easy to understand program with a quality design known to feed deer efficiently.
And the best part of it? It's effortless to install. It only takes five minutes to do so WITHOUT any tools! As long as you don't let it stay empty, it's built to last and has a battery life that you'll appreciate.
Pros:
Very easy to install
Excellent program and long battery life
Durable material built to last
Good capacity for multiple feedings per day
Releases food without hassle
Good cover and metal latch system
Cons:
Don't let it get empty or small critters will climb on it
Some people find it too short
Bottom should have a more funnel shape
The reason why Moultrie is a great brand I would recommend (two times!) is because of its durability and great design that continuously gives off feed efficiently and with advanced technology. The tripod feeder is no exception, as it comes with a digital timer that can release feed up to six times a day. I also appreciate its Quick-Lock hopper that comes with a full height, which is easy to adjust to up to eight feet for taller deer.
It has a metal spin plate with a plastic housing, as well as a built-in varmint guard and feed-level estimator. It shows everything and will do it all automatically according to what you prefer when feeding deer.
All in all, it can hold up to 150 pounds of corn well and has a quick assembly, making it easy to use and maintain. With all that, I can say it comes at a fair price.
Pros:
Works intuitively with a digital timer
Easy to assemble
Can hold heavy weight of feed well
Adjustable height
Cons:
Not the best for those who have squirrels or raccoons around the area
Plastic feeder isn't the most durable, especially when knocked down
If you're looking for soothing inexpensive but enough to feed deer, then Zenature is the cost-effective solution you'll want to invest in. While it doesn't have the fancy digital timer or adjustable height, the wooden trough is best for adding either wildlife or livestock feed. It's versatile and can be used as either a feeder for farm animals, deer, or even as a wooden planter.
I appreciate its simple design that requires little to no assembly. It can hold a right amount of feed and is made out of white pine, known to last for years. It also comes with a removable trough, which makes it easier to clean and maintain. Plus, with no metal, you won't need to worry about using specialized cleaners while washing it. All in all, an affordable purchase you'll still appreciate.
Pros:
Affordable price
Simply designed with little assembly required
Attracts deer well
Perfect size and height for deer
Versatile design
Easy to clean
Cons:
May need re-drilling
No automatic feeder and needs manual refilling
What's great about the Redneck Outdoors -Post Gravity Feeder is that it has the design to mount on T-Posts or to trees, making deer more attracted to it. It has a V-Groove that can perfect fit T-posts, so it's easy to assemble and prepare for feeding. It has no automatic timer, but the sturdy material makes up for it. It's made out of heavy duty polyethylene with a capacity of up to 80 pounds of corn. It also has an adjustable height, where you can tweak it from 34 to 60 inches.
While it will take a few days or weeks to get used to the feeder, they will begin to empty it within days without being scared of it. For its sturdy material and ease of adjustability, I can say it's definitely worth its price.
Pros:
Easy to adjust
A breeze to install
Very sturdy material built to last
Easy to refill and maintain
Cons:
Takes a while for deer to get used to it
May blow off during high winds
For those who want something unique, you can try the Sun Slinger! It's made out of the highest quality material and comes at an affordable price. And with its digital timer and robust body, you save a lot of time and effort along the way. It's effortless to install and includes everything you need to start feeding and hunting quickly.
With all these features and an affordable price, I can say that this is worth the investment, especially since it has the advanced technology and substantial body you need to attract and feed deer.
Pros:
Easy to assemble
Digital timer that works efficiently
Durable material built to last
Feeds efficiently and on time​​​​​
Cons:
No battery included
Battery drains quickly
Sometimes accumulates corn dust
How to Use a Deer Feeder
Once you know about the best deer feeders, the next question is: how do you use deer feeders? Here are some tips you can utilize to attract more deer and make them stronger with the help of an efficient deer feeder and food:
Choosing Deer Feed
Filling your deer feeder with nutritious food will help keep your target deer healthy and active for quality meat. It's best to fill it with corn, rice bran, and high-quality protein pellets. You can also opt to add quality deer feed that is water resistant and high in protein and fat.
Planting chicory for deer may be a good suggestion to follow as well. But if you plan on utilizing your garden for feed, you have to learn when to plant turnips or other vegetables that deer will love.
Read more: The Best No-Till Drill For Food Plots: Attract and Help Deer Grow Now!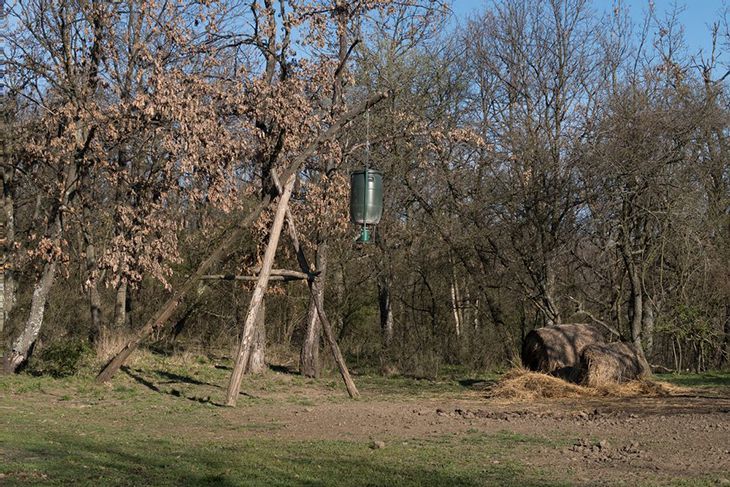 Amount of Deer Feed
TOO much deer protein feed may end up causing damage to their digestive system. The same will go for feeding them too many carbohydrates. Make sure to choose deer feed with equal amounts of protein, fat, and carbohydrates to avoid health issues.
Location of Deer Feeder
You will need to make sure that you put the deer feeder in a strategic location, where it is not near from your shooting area, but in a place where deer will mostly go to, which is near the garden or field. Make sure that the feeder is free from any water sources, as letting the feed stand in water will ruin the taste and nutrients of it.
Maintaining the Deer Feeder
Remember to throw away spoiled or rotten deer feed, as this may end up destroying the deer's health. Clean the deer feeder as well to avoid contamination of food.
Read more: The 5 Best Deer Decoy Reviews For The Best Hunt You Need
How to Choose the Best Deer Feeder
Having a deer feeder is very beneficial, though it would depend on the type of deer feeder you have. That's why it's important to get one that comes with quality and the essential characteristics that will lure deer. If you're not familiar with how to choose the best deer feeder, here are some tips you can follow: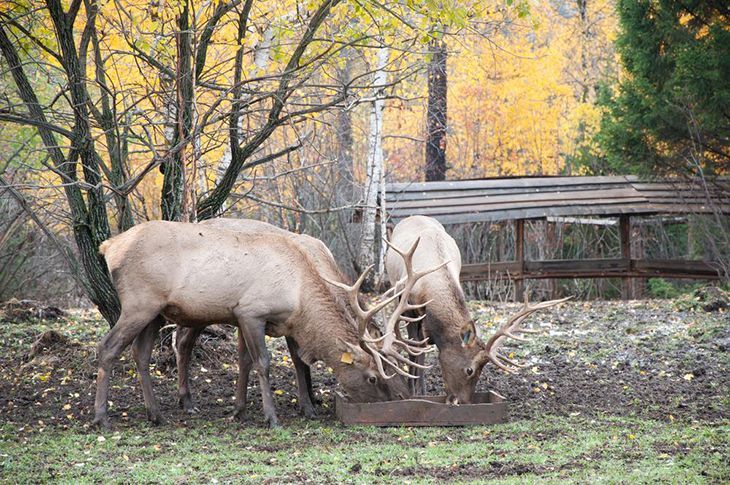 Capacity
There are many deer feeders with various capacities, depending on how many deer you expect to feed. If deer are rampant around your area, I recommend you to get a deer feeder with a bigger capacity to accommodate all without having to hassle yourself to replace the feed regularly. But if you have less around the area, then consider a smaller deer feeder with a 10-gallon capacity or less.
Material
The most important part of choosing a deer feeder is its quality. Make sure that the deer feeder is strong and durable enough to last in any weather, especially the blazing sun or the freezing winter. It should also be made out of no harmful chemicals that would contaminate the food, and with a good design that makes it easy for deer to eat from, especially if there are more deer that come through.
Ease of Use
Make sure that you get a deer feeder that's easy to set up and install to lessen the hassle for you. That way, you have more time to hunt for deer rather than continue maintaining the feeder!
Read more: What to Feed Deer Other Than Corn: Healthy Food For Deer!
Benefits of Using a Deer Feeder
You're probably wondering: If nature has food for deer already, why bother getting a deer feeder in the first place? Here are the benefits you can reap when you own and use a deer feeder when hunting:
Keep Deer Healthy
There will be times deer run out of food and will need to compete for it, especially during droughts or winter time. And as they begin to lessen their food intake because of lack of resources, they also start to lose weight and get sick. With providing a deer feeder near areas they frequent in, deer will have access to food needed to help them grow and stay stronger.
How does this make hunting necessary? Because you need robust and healthy deer to have the adequate meat or to bear healthy fawns to hunt as well. With the proper food given to them every day, they can have quality meat you can either consume or sell for big bucks.
Lure Deer
Who doesn't get attracted to food? With deer who need food and require access to it, they will be able to detect where food sources are and go near it. You have an easier time hunting because the deer flock to you, and you have a clear target. No need to go to the field for it!
Read more: The Easiest Way on How to Make a Deer Feeder
In Conclusion
When it comes to using a deer feeder, you've got to make sure that you choose the best one to attract many deer into your area. Not only will it attract deer, but you'll also be able to feed them to keep the deer growing stronger for better quality meat.
Based on my research, tests, and overall customer reviews, the best deer feeders goes to the Moultrie 30-Gallon Easy-Lock Tripod Deer Feeder. The reason why it's an efficient feeder worth its price is because of how it can carry a lot of food for it to attract more deer. It is also effortless to assemble, taking less than five minutes to put it up and prepare. You don't need any tools and have a better time hunting your deer that way.
With all these features and ultimate sturdiness compared to other deer feeders, you have an enormous capacity for feeding deer that will last for an extended period. It's definitely worth the investment, especially for those who would like to attract more deer to their yard without the hassle.
I hope that this article on the best deer feeders helped you become more knowledgeable with what you need to know regarding deer feeders, then comment down below. I would love to hear what you have to think.