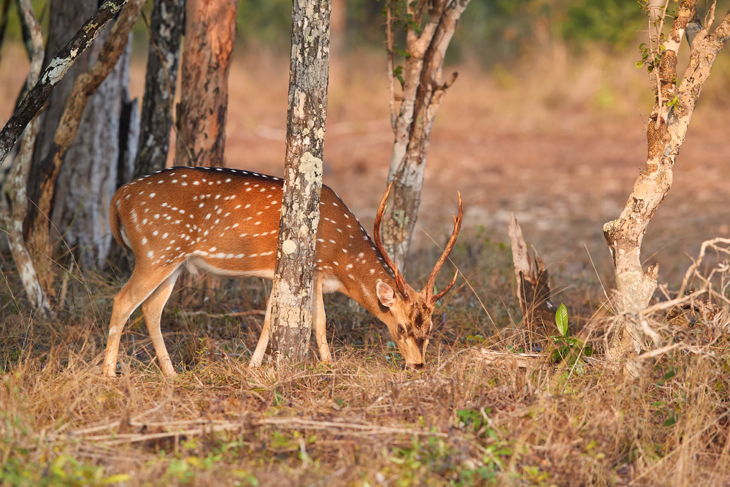 The Best Deer Attractant You Need To Lure and Hunt Deer Successfully
There are different ways on how one can attract deer. You can find the best deer decoys, create hunting strategies, or even plant turnips to have deer come to you! But if you want something small and simple to use to have deer come to your area without seeming scared, then the best deer attractant will help you out with that. But wait! What are the different types of deer attractant and which is the best to invest in?​​​​​
Read on as I show you all about the deer attractant, as well as the top five choices to help you out.
More...
**Below, you'll find our more detailed reviews, but you can also click the links above to see current prices or read customer reviews on Amazon.
The Five Best Deer Attractant Reviews
Based on my tests, research, and overall customer reviews, here are the top five best deer attractants to invest in:
I believe Tink's #69 Doe-in-Rut Buck Lure is the best attractant when you want to find bucks to target. This is because it's made from 100% natural doe estrous urine, so it's best used during the mating season. It was truly effective when I tried using it while hunting, attracting a few bucks. I managed to get one the first time I used it!
The bottle also has an easy-to-use squirt top to make it effortless and quick to apply the urine in areas or wicks. And with its value size, there's no need to worry about it not fitting your bag or weighing you down. All in all, an amazing investment that works!
---
If you're looking for something extremely effortless to use and effective for calming deer, then I would recommend Conquest Scents EverCalm Deer Herd Scent Stick. It's the first calming scent which is a collection of scents and smells from various deer bedding areas.
I like the fact that it comes in a wax stick formula, meaning there won't be any messes or spills. Plus, it's easy to apply and carry anywhere! It works just as advertised, attracting deer without raising any suspicion. I was able to target a few bucks and does thanks to the scent. It also lasts for a very long time, which is another huge plus. So if you want something mess-proof and calming, then this is it.
---
Code Blue Actual Urine is made of the whitetail tarsal gland scent, which will be able to attract a lot of strong, competitive bucks! It's a very intense odor, which arouses curiosity in rutting bucks for them to smell and take their time while you make the shot! It's made our real tarsal gland then submerged in pure buck urine, making it all the more effective.
It comes in a compact and easy-to-carry bottle and has worked in attracting bucks every time I use it.
---
If you want something that works for both bucks and does, then Tink's #1 Doe-P Deer Lure is a great investment. Just like all Tink's attractants, it has the easy-to-carry bottle and squirt top for effortless application. This is best for using during pre and post-rut season, as it is made of pure doe urine to make all deer curious. I had a lot of does go to the area where the scent was applied to, and they remained calm the whole time! And at such an affordable price, it's worth trying.
---
Now this is a different type of attractant, as the Evolved Habitat Buck Jam Ripe Apple is a gooey gel-like mineral lick which would attract deer because of its delicious scent and taste. It's made of sweet fruit flavor and minerals that attract deer, enjoying the flavors while giving you time to take your target and shoot. It has intense aromas that have deer coming back continuously. And with its affordable price, I can say it's worth the investment.
The Different Types Of Deer Attractant
There are various deer attractants to use, depending on what type of deer you would like to lure!
This is simply urine from any deer, may they be doe or bucks. These are an effective way to lire deer calmly, as the scent would relax the deer's nerves while raise its curiosity level because the urine would simulate a new deer in the field.
You can use this scent anytime during the hunting season since deer pee wherever they are. Doe urine would attract both does and bucks, while buck using only attract bucks. You can also use it to successfully cover your scent when walking to your elevated stand. It's more powerful when used with the other scents and attractants I'll mention!
This type of scent comes from does in heat. Since hormones change, there will be a different chemistry of doe urine when in heat, which would signal to bucks that the doe is read for mating. This is best used during the front or back end of rut periods, attracting bucks to investigate. It may work during peak rut, though bucks may already be locked down with breeding does.
When a buck makes a scrape, it would hold its back legs together, urinating down them. The urine would flow over the tarsal glands and infuse it with more oily hormones and secretions, indicating the deer's status in the herd. This scent should only be used for actively rutting bucks.
Preorbital and Forehead Gland Scent
When bucks make a scrape, he would find a spot with a licking branch. Then, the buck would scrape the ground with his hooves and urinate while rubbing its eyes and forehead on the branch. This is the preorbital and forehead gland scent, which should be applied on licking branches above scrapes. It's best used during pre-rut or peak rut periods.
Discover more: The Top 5 Excellent Tips On Scent Control For Deer Hunting
Benefits Of Using Deer Attractant
So, why should you be using deer attractant? Here are some of its advantages:
Very Effective In Attracting Deer
Because deer attractants are made out of pure deer scents, which are what would truly attract deer. After all, you won't be able to have a deer decoy attract other bucks or does if they are unable to move or smell like the role. Plus, since you are using urine, this is a sure way to attract deer calmly without them raising any suspicion that it isn't real.
What I like about most deer attractants is that they come in a small bottle, so I can easily carry it in my pocket or bag without it weighing me down. No bringing heavy and bulky equipment!
Another benefit of using deer attractants is how easy it is to use when attracting deer! That is, as long as you use it during the right period and in an effective area where deer are and where you can shoot. Simply pour the scent in a rag or specific area and you're good to go!
How To Choose The Right Deer Attractant
You will be able to reap the benefits of deer attractant only if you are able to choose the best one suitable for you! Here are the tips and factors to consider when buying deer attractant:
Like mentioned above, there are various types of attractants, which depend on the type of deer you would like to lure and the hunting season. You can refer to the previous section to know more about the different types and what type you need based on when you are going to hunt.
Of course, the scent must be made of pure ingredients straight from the buck or doe. This means no fillers or anything that make the scent less real than it should be. You can check product descriptions and customer reviews (like this) to ensure that the product you will be using is real and made or pure buck or doe scents.
Tips On Using Deer Attractant While Hunting
Now that you're familiar with deer attractants and what to use, how will you know how to test it out while hunting to effectively attract deer? Here are some tips to follow:
Here is an excellent video showing you how to use deer attractants:
Attracting deer can be quite difficult if you don't have the right tools! Using the best deer attractant isn't only convenient, but definitely effective when you do it right. Not only has deer come my way, but they remain collected and calm, giving me enough time to take my shot and get me the game I want before the hunting season ends!
Out of all the deer attractants I have tried and tested, TINK'S #69 Doe-in-Rut Buck Lure is the most effective one I have now! I love the fact that it has the easy-to-use squirt top so I can just squeeze and let the attractant drop to various places, may it be in boot pads, scent bombs, scrapes, or rags. The small and dark bottle fits perfectly in my pocket and seems strong, so no worries about it falling or weighing me down. Plus, with its natural doe estrous urine, it has definitely attracted a lot of strong bucks for me to catch!
I hope that this article on the best deer attractant helped you become more knowledgeable on what to invest in for your future hunts. So don't wait any longer and make that right investment today!
If you have any questions or would like to share your tips and reviews on the best deer attractant, then comment down below. I would love to hear what you have to think.