Have you ever left the hunting fields empty-handed or not being able to target deer successfully no matter how many times you've scouted the area? Then you may need the best deer decoy to help you out with that! There are many hunters who still haven't started trying to attract deer with a good decoy, though there are many reasons why you should begin doing so! But how do you know what the best deer decoy is anyway?
Read on as I'll be showing you my top five choices on the best deer decoy to help you have a successful hunt!
Quick Comparison: Top Deer Decoy
| # | Product Name | Dimensions | Weight | |
| --- | --- | --- | --- | --- |
| 1 | Editor's Choice | 33.1 x 16.6 x 13.6 inches | 1.6 pounds | |
| 2 | | 37.5 x 10 x 22.8 inches | 8 ounces | |
| 3 | | 42 x 16 x 12 inches | 12.6 pounds | |
| 4 | | 15.5 x 14 x 3 inches | 2 pounds | |
| 5 | | 15 x 2 x 16 inches | 2 pounds | |
**Below, you'll find our more detailed reviews, but you can also click the links above to see current prices or read customer reviews on Amazon.
The Five Best Deer Decoy Reviews
Based on my research, tests, and overall customer reviews, here are my five best deer decoy choices:
What I appreciate the most about the Primos Scarface Decoy is that it's made out of the equality materials and with the sturdy construction that can withstand all types of weather conditions and areas. So no matter where you are and the weather you set up the decoy in, it will stay standing up and move according to the wind direction.
The head and tail would move during windy days to make it feel realistic for bucks to investigate. It also comes with the head, antlers, legs, and ears to fit in the soft body cavity and is easy to bring around to set up. Assembling it is a breeze as well. The only issue here is that it doesn't come with a tail, though that isn't a problem as you can also purchase the Primos Waggin' Whitetail Deer Decoy with it, which moves freely and looks realistic as well.
With all these features in mind, you'll be able to see why I regard this as one of the best deer decoys one can purchase!
Pros:
Looks natural and real
Sturdy construction
Movable body parts
Takes a few minutes for setup
Cons:
Tail sold separately
Need to exert extra effort putting pieces in
What I appreciate about the Field Logic Shooter Buck is that it's one of the biggest and toughest ones to use! It's a life-sized buck to make it look realistic and for deer to check out when in the field. I would definitely recommend this for shooting practices, as it doesn't only have the strength for bowhunting practices, but it also comes with the replaceable high-density insert shooting core, which extends the decoy's lifespan. It stops all arrows when you aim for it and it won't waver or fall with its ground stakes.
Whether you use it as a decoy or for shooting practices, this decoy is the perfect way to improve your hunt.
Pros:
Great for practicing
Life-sized dimensions
Had ground stakes to avoid falling
Easy to assemble
Cons:
Legs are made of plastic
Some complaints of broken ears or nose
Doe decoys are more popular for bucks, especially when it's mating season! I would recommend the Flambeau Boss Babe Decoy for this reason, as it looks almost like the real thing.
The parts are easy to carry and take to the fields, made out of durable plastic for frequent use without it damaging easily. Its rear legs can also accept scent pads while its front leg accepts deer calls to make it look even more enticing and realistic for bucks. Many deer have investigated it and I can say it's an effective deer decoy to use!
Pros:
Looks realistic
Can install scent pads and deer calls
Lightweight and easy to carry
Solid construction
Cons:
Has no carry bag
A bit difficult to set up
If you prefer a two-dimensional decoy, then I recommend the Montana Decoy Dream Doe. This is a doe decoy that uses actual photos to look as real as possible. I also like the fact that it's lightweight, making it easy to carry and stake to the ground. It doesn't shake or fall from the wind and is successful in attracting bucks because of its semi-alert pose. It's simple and it works, making it a great choice for those on a budget.
Pros:
Affordable price
Lightweight and easy to carry
Stops bucks effectively
Uses real photos for realistic look
Cons:
Picture is a bit brighter than real deer
Some complaints of scared deer
The Montana Decoy Miss Muley is another excellent choice for two-dimensional deer decoy because of its weight and ease of transport. It can fold up easily and can be carried without any effort. Another plus is that it's easy to stake and has the life-sized construction for better visibility. It's made from the HD photo of real deer, so you won't worry about deer being scared. The downside is that it comes with no stand. But because it's very effective in attracting deer for a two-dimensional stake, it's worth the investment.
Pros:
Made out of quality fabric
Well-made and looks real
Many bucks are attracted to it
Foldable and easy to carry or set up
Cons:
Comes with no stand
Expensive price
Why Use A Deer Decoy?
You're probably wondering: Why do you need a deer decoy anyway when you've got scents and calls to use to attract your game? Well, having deer decoy is proven to be more effective and beneficial. Here are just some reasons why you should consider getting one:
1. Deer Calls and Scents Become More Believable
I'm sure some of you have already begun using scents and calls to attract deer, only to find that not a lot of deer would come by. That's because no matter how strong or effective the call would be, deer won't stay in one area if they heard or smelled something but couldn't see any sign of their friends.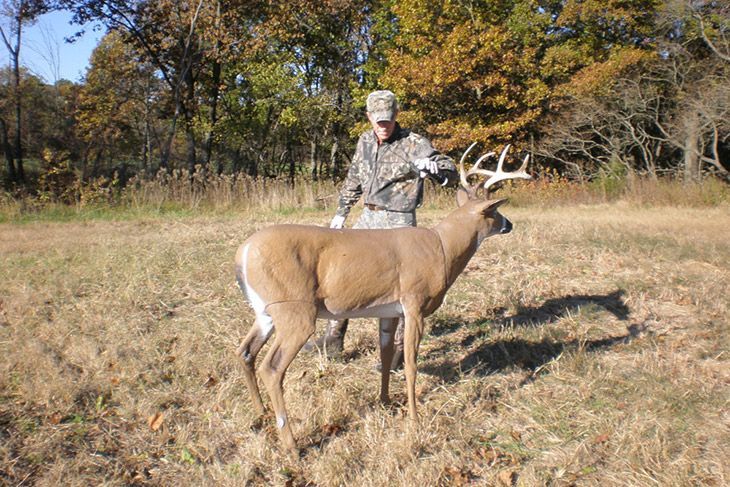 But once you have a deer decoy and use both your scents and calls, deer would come running by not only to investigate and run but to check out the employed decoy. This gives you ample time to stop the call and get ready to shoot!
Discover more: The Top 5 Excellent Tips On Scent Control For Deer Hunting
2. Better Shots
When using a deer decoy, you can get a better aim because the deer investigating the decoy would close the distance and give you the close and broadside shot. It also makes a deer's moves predictable when looking at the decoy, so you are able to know where to target. Deer would go to a buck decoy head-on, while if it were a doe decoy, they would go behind it, circling around.
Plus, the deer would be so focused on the decoy that you can draw or ready your weapon without getting caught.
3. More Excitement
Deer decoys would attract more rut, which gives you more thrills. You have more of a chance of getting ruts around your area to shoot, so you won't be going home empty-handed. The decoys are also easy to install and the time taken to do so will have you have a more successful hunt without having to exert so much effort in looking around the fields. The rut will come to you!
How To Choose The Best Deer Decoy
How will you know what the best deer decoy is? If you're new to purchasing decoys like these, then here are some tips and factors to consider when choosing one for you:
State Rules and Regulations
Before anything else, you'll have to check with your hunting field's rules and regulations before you begin choosing the right decoy for you. Make sure that the decoy follows what is asked by the state, as some areas may not allow decoys or have certain standards when constructing one.
Type of Deer Decoy
There are two main types of deer decoys, the two-dimensional and three-dimensional decoy.
A two-dimensional decoy is easier to bring around and set up, though they aren't as realistic looking as the three-dimensional decoy. Three-dimensional (or full-bodied) decoys are a bit bulky and difficult to store and carry, but their realistic look would outweigh its heaviness.
Simply look for a three-dimensional decoy which is easy to take apart and transport to make it a breeze for setting up and disassembling.
Strength and Durability
No deer would believe in a decoy which just falls down at random times from a small gust of wind. I recommend that you get one of the strongest deer decoys which can withstand any weather, keeping its colors and overall construction. It shouldn't fall down with just a simple gust of wind, nor should it be warping from the sun or any other weather condition.
Design
Of course, you have to take account what the deer looks like. Like mentioned earlier, the more realistic the deer decoy appears, the higher the chance of deer investigating it. Make sure that the decoy you choose isn't too stiff. Some manufacturers add some movement to the decoy, such as nodding heads or twitching tails.
Tips On Hunting With A Deer Decoy
Now that you're familiar with choosing the best deer decoy and have purchased one, follow these tips on hunting with a decoy to have a more successful time:
When setting up your decoy, make sure that it doesn't smell like you. There should be no human odor or the deer will run once it finds out! Handle your decoy using gloves and spay it with odor neutralizers once you have it set up.
Once you are waiting for deer to come near the decoy, make some noise and use calls. Make sure to stop once the deer has spotted the decoy and get ready to shoot when it has gained enough interest on it.
When choosing a place for your decoy, I recommend that you place is about 25 yards upwind of your tree stand or hunting ground blind. It should be facing the direction of where you are hiding so you can a closer target of the deer.
The decoy should also be set up in the right place or it will be deemed useless. Good setup locations include field edges, natural meadows, or on a rise (like a ridge top) for it to be seen easily.
Be patient! Just because a decoy can help you with the hunt doesn't mean it's a surefire way to bring home a good catch if you aren't patient or use your skills. Use your decoy correctly but also keep in mind that your shooting skills and hunting equipment will play a key role in capturing the deer as well.
See also: The 5 Best Turkey Decoys to Catch Gobblers Efficiently This Thanksgiving!
Here is an excellent video showing you how to hunt with a deer decoy:
In Conclusion
I know how difficult it can be to target deer. But with a good deer decoy, you won't have to put extreme efforts and you'll have an easier time attracting deer with your scents and calls! Not only are deer decoys easy to set up, they are quite effective in attracting game for you to easily target and shoot. That means more fun and exciting times at the field!
Out of all the deer decoys tried and tested, the best one would have to go to the Primos Scarface Decoy. This three-dimensional decoy only uses the quality materials to maintain its strength and durability no matter where you place it and what the weather conditions are like! It looks real and has all the details to attract deer. Another huge plus is that it can even move naturally with the wind, moving its head and tail. Lifelike and with sturdy construction, it's a must-buy for its effectivity!
I hope that this article on the best deer decoy helped you find the right product you need for attracting deer to hunt near your area. So don't wait any longer and start investing in the right hunting equipment today!
If you have any questions or would like to share your tips and experiences when using deer decoy, then comment down below. I would love to hear what you have to think.