If there's one thing, I've always been interested in doing while camping, it would have to be using elevated stands. Through hunting on elevated stands, you are now able to find a whole new angle. But is it worth building your tree stand and staying on elevated stands? You're probably thinking: "What is one advantage of hunting from an elevated stand in the first place?"
While it may seem too much of an effort to build and hunt from an elevated stand, you'll be surprised that this way of hunting has been used and raved about for a long time now. So read on as I show you the pros and cons of hunting from an elevated stand and some more things to know about hunting from it.
What Are Tree Stands?
An elevated stand is a form of foundation, also known as a primary hunting choice bowhunters use because of its strategic area. Elevated stands are those built on higher areas, a platform where hunters can either stand or sit on so they can improve their shooting and accuracy while aiming for their target.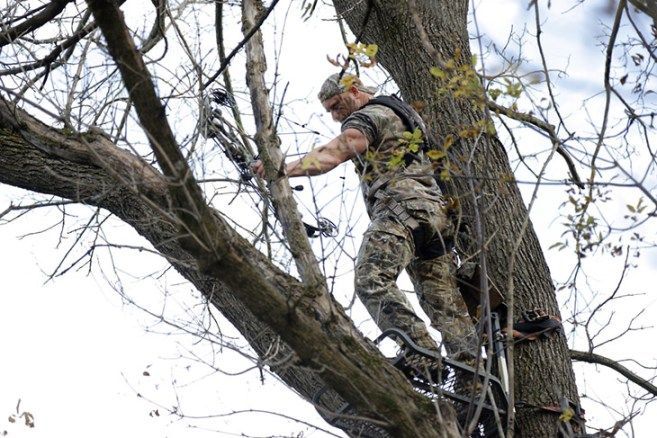 Ladder Tree Stand
There are different types of elevated stands, with it usually made and built on trees.
Hang-On Stands are platforms that require separate climbing aids and are constructed simply, secured with chains or belts.
Self-Climbing Stands are for hunters to walk with a stand going up from the tree.
Ladder Stands use a ladder for people to climb on it.
Read more: The 5 Best Tripod Deer Stand Reviews: The Only Purchasing Guide You Need
What Is One Advantage of Hunting From an Elevated Stand?
So, what is one advantage of hunting from an elevated stand?
The crucial factor hunters can benefit from when hunting from higher ground is the fact that they have a wider field of vision, which enables them to spot game even better as compared to hunting in the field. Because you can detect your game earlier, you have more time to prepare and position yourself to shoot, WITHOUT the game senses you as long as you stay quiet.
Another advantage of being on an elevated stand is that your hunters are harder to detect, as your game won't be able to smell your scent. It will also make you more visible to over hunters, so you avoid any chance of getting hit by a stray bullet or bow.
Hunting from an elevated stand gives you more of an opportunity to spot and shoot your game correctly. Plus, it's without the worry of getting hurt or detected.
Here is an excellent video comparing hunting on tree stands and the ground:
Precautions When Hunting on Elevated Stands
But remember, while hunting on an elevated platform may be very beneficial, it also has disadvantages you should take note of, such as:
It can increase your risk of injury as there are chances of falling.
If you will be using portable stands, it's difficult to carry around while searching for the best tree to install it on. It also takes time to install it.
Unless you are wearing adequate clothing, you won't have ample protection from the wind or cold weather.
You don't have much room to move around since you have a small space to work with. You also won't be able to go towards your game while hunting.
So remember to weigh your pros and cons, seeing if you can withstand these disadvantages to achieve better hunting skills.
Read more: 5 Best Climbing Sticks: Get To Your Tree Stand Safely Now!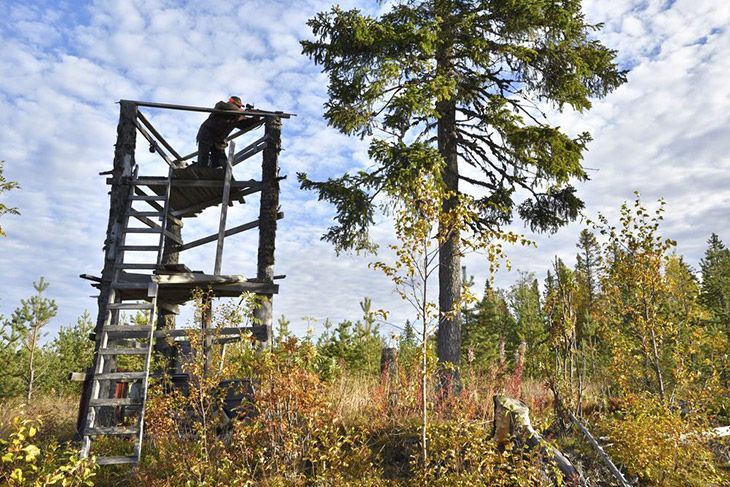 Tips on Hunting From Elevated Stands Safely
Now that you know the pros and cons of hunting from an elevated stand, here are some quick tips to take note of to stay safe:
Make sure that you purchase a sturdy elevated stand fit to industry standards to avoid accidents.
Only use tree stands during daytime.
Choose the right tree and do not rush in installing the tree stand to avoid flimsiness. Take your time and do NOT leave it on the tree for over two weeks to avoid it from being wobbly and malfunctioning.
Always wear safety equipment from the moment you climb until you disembark the elevated stand. Bring your phone or anything you can use as an emergency signal.
In Conclusion
When it comes to hunting from elevated stands, you have to make sure that you're thoroughly aware of its pros and cons, evaluating if it's right for you. But for many, if not all, hunters, you'll be able to take advantage of the new height and angle.
I hope that this article answers your question: "What is one advantage of hunting from an elevated stand?" Now that you're aware of what they can do, you should learn how to build your tree stand and purchase the best carbon arrows, bow release, bow stabilizer and other forms of hunting equipment to begin bowhunting today.
If you have any questions or would like to share your tips and experiences when hunting from an elevated stand, then comment down below. I would love to hear what you have to think.