Did you know that there are other ways to hunt rather than just hunting around the fields? One thing you can do is to hint on elevated stands or trees! But before you do that, you must be aware of the safety precautions you'll need to follow, such as investing in the best treestand safety harness for you to prevent injury.
So if you're looking for the best treestand safety harness to use for staying on elevated stands, read on as I show you the five best ones!
Quick Comparison: Top Treestand Safety Harness
| Image | Product Name | Weight Rating | Score | |
| --- | --- | --- | --- | --- |
| | Editor's Choice | 115-300 lbs. | 9.7/10 | |
| | | 300 lbs. | 9/10 | |
| | | 300 lbs. | 9.4/10 | |
| | | 175-250 lbs. | 9.6/10 | |
| | | 300 lbs. | 9.2/10 | |
**Below, you'll find our more detailed reviews, but you can also click the links above to see current prices or read customer reviews on Amazon.
Five Best Treestand Safety Harness Reviews
Based on my research, testing, and overall customer reviews, here are my top five choices on the best treestand safety harness to date:
What I like best about the Tree Spider Speed Harness is how it's adequately-sized enough for extra large people. It also comes with the unique patented system that matches ScentBlocker jackets, making you hunt even better.
The harness has shock absorbing bungee tether and the vertical climbing loops to make it hassle-free to climb with no matter the tree you choose. It's also easy to adjust with its straps and sturdy buckle for the chest, shoulders, and legs. And with its Ario Mesh back, you are ensured comfort and maximum movement. All in all, it's worth the invest meant and the ultimate harness you need for climbing trees.
Pros:
Adjustable chest, leg, and shoulder straps
Can be used with ScentBlocker jackets
Absorbs shock and easy to climb with
Easy to set up
No noise
Cons:
Need to move around before leaning back comfortably
A bit heavier than other harnesses
This harness comes at an affordable price, made out of the quality material without it being too bulky but holding as much as 300 pounds! It has a built-in deer drag to make hunting easier, as well as the sturdy buckles that ensure that I'm safe. Plus, it's easy to adjust as well.
I like how the material is lightweight and not too bulky, so I can wear bulky clothes during the winter and not feel too tight when wearing the harness. It's comfortable when attached as if I'm not wearing a safety harness at all. For comfort and ease of adjustability, I would recommend this safety harness!
Pros:
Durable buckles
Easy to adjust
Affordable price
Easy to take it off
Comfortable when climbing or sitting down
Fits with bulky clothing
Cons:
Difficult to set up
Treestand straps are poorly designed
Hunter Safety System has an array of harnesses available for elevated hands, and I recommend the Bowhunter Harness the most for affordability. You'll be surprised that at such an affordable price, you'll be able to stay safe and comfortable when on an elevated stand. I love how lightweight it is. It only weighs 2.5 pounds and with the simple design with the ability to fit me despite bulky clothing. It's versatile and can easily be adjusted to your size and outfit, no matter if you're wearing lightweight clothes or winter equipment.
With all the accessories, DVD, and even a warranty included, I can say it's worth the investment for those on a budget but want to get the best out of what they purchase.
Pros:
Affordable price
Ultra comfortable
Versatile for all seasons
Comes with a warranty and DVD
Lightweight and strong
Cons:
Needs longer strap before leaning back comfortably
A bit bad when sitting
If you've got the extra money and want the ultimate upgrade of safety harnesses, then I would again recommend you the Hunter Safety System. The Hybrid Flex Safety Harness is the ultimate harness that comes with everything you need for hunting, from the durable material designed to keep you safe and the lightweight size to keep you comfortable while hunting. It even comes with a scent-destroying technology, eradicating human scent so you can stay undetected while on the stand. I also like the padded hexagons for comfort and flexibility.
With all the materials included and even pockets for organization, you are assured premium quality worth the price!
Pros:
Very lightweight and comfortable
Scent-removing technology
Pockets for organization
All accessories included
Secure straps
Fits comfortable and easy to adjust
Cons:
Expensive price
A bit difficult to use the pockets
If you want the ultra lightweight and comfortable harness, then I would recommend the Tree Spider. It's made out of the highest quality material with it being able to take up to 300 pounds of body weight. It's lightly padded and flexible for better comfort and ease of movement. Besides that, it keeps you safe with its shoulder, leg, and rear straps that are easy to adjust. And since one size fits all, it's versatile, and you can use it during ANY season! For its price, a definite recommendation from me!
Pros:
Affordable price
Versatile and fits any season
One size fits all
Easy to adjust
Made of premium quality
With pads for comfort
Cons:
A bit heavier than expected
Tension strap is difficult to take on or off
Read more: 5 Best Climbing Sticks: Get To Your Tree Stand Safely Now!
What is a Treestand Safety Harness?
You're probably wondering what a treestand safety harness is in the first place.
When hunting from an elevated stand, you have probably been told to stay safe and protected with the proper equipment. Through wearing a harness, you are attached to the tree and with less of a chance of falling after a few stumbles (since some of us can get out of balance sometimes).
Safety harnesses are similar to what you use when rock climbing. They are like jackets without sleeves, designed to keep you safe while at elevated levels. They are made out of a durable material designed to keep you on the tree no matter your size or weight.
These harnesses are wearable and can be adjusted according to your size, coming in various sizes to accommodate both small and large hunters.
Treestand safety harnesses do the number one job in keeping you safe. And besides catching your prey with a quality bow and arrow, this is a crucial point you'll need to consider when hunting. We'll talk about the importance of hunting on elevated stands and using a safety harness in the next sections.
Why Use a Safety Harness Anyway?
Why is it important to use a safety harness?
You probably already know about the advantages of elevated hunting, with you being able to hunt effectively without being detected by deer. Plus, you have more coverage and a chance to improve your shooting skills, may you be using a gun or the best carbon arrows for hunting.
But what makes a safety harness one of the most crucial pieces of equipment to use when hunting from an elevated stand? Here are the benefits that will hopefully convince you to make the right investments:
Safety
This is a distinct advantage, but people take this for granted. Imagine being on an elevated stand without any form of protection. It will make you and your loved ones worried for your safety. A treestand prevents any injury if you accidentally stumble and fall. A treestand safety harness prevents yours from an early death or severe injuries
Ease of Movement
You are safe and strapped on to the tree. While some people think it's restricting, it gives you the freedom to move with confidence. After all, who wants to move around when they have no safety harness or anything to keep them away from falling from the ground?
Effective Hunting
This is a given. Once you are more comfortable and confident that you are safe while on an elevated stand, you will be able to hunt better because of it. Since you have the confidence to move around your elevated stand without worry of falling, you can take your aim with ease and capture your game.
Read more: The Four Best Tree Stand Umbrella Reviews: Be Safe While Hunting!
How to Choose the Best Treestand Safety Harness
You know that safety harnesses are crucial and it's time to get one! But besides these reviews, how will you know that what you're getting is the best one for you? Here are some tips and factors to consider when choosing the best treestand safety harness:
Material
Ensure that the harness is made out of sturdy and quality material. Look at its stitching and the way it was made. It should not have any cracks or be susceptible to damage easily.
Price
Fortunately, not all safety harnesses are expensive. While more expensive safety harnesses offer premium quality, there is a choice for those on a budget that still provide excellent stitching and security
Size
The harness should be comfortable with the adjustable straps and at the right size to accommodate your build. You can find harnesses that range from small to extra large, so evaluate your height and weight, finding a harness that will be able to carry you.
How to Use a Safety Harness While Hunting
Now that you're familiar with what safety harness is and how to choose the best one for you, the next question is: How do you properly use them?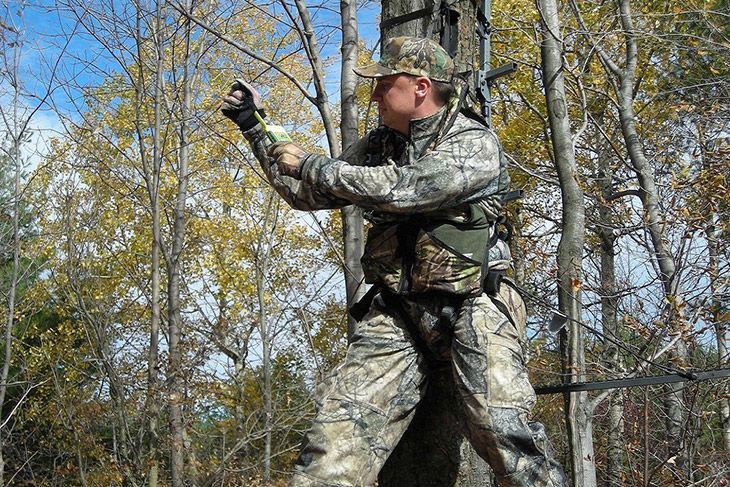 Here are some quick tips on ensuring safety while you are hunting on an elevated stand:
While you're hunting from a tree stand, avoid going too quickly. Setting up or climbing too fast may end up with you falling or getting into accidents. Take things slow, especially if you are ascending or descending the tree stand. After all, you wouldn't want to get hurt after you have caught a good game.
Be sure to prepare equipment to communicate with below hunters or loved ones, such as walkie-talkies or cellphones. This will help you contact people nearby just in case something happens while you hunt from an elevated stand.
Select the right tree that's sturdy and can take your weight and the elevated stand. Be sure to equip yourself properly and adjust the safety harness according to your size beforehand to ensure comfort and better movement when you're on the elevated stand already.
Avoid creating too much movement while on the stand. While a safety harness is attached to the tree, that doesn't mean you should push it to the limit and move towards the ground. As much as possible, follow safety regulations while on the elevated stand and stay within the area you feel safe in.
Read more: The Best Tree Stand Bow Holder: 5 Awesome Ones For Easier Hunting!
To give you an easier time knowing how it works here is a video showing you how to use a treestand harness when hunting:
In Conclusion
When it comes to hunting, you'll want to make sure that you do it properly to catch your game while staying safe. The elevated stand is an excellent way to do this, but you'll also need to make sure that you stay protected with the help of a treestand safety harness, which will keep you secure while on trees or other forms of elected stands.
Out of all the harnesses I have tested and reviewed, the best one will have to go to the Tree Spider Speed Harness. With its excellent Spider Speed Clips Patented Integration System and shock absorbing bungee tether, you are assured safety and protection no matter how high you are on a tree. It's comfortable to use and easy to adjust for larger people. I also like that it has you move with ease and has a minimal design I appreciate. All in all, a must-buy for hunters!
I hope that this article on the five best treestand safety harnesses helped you become more knowledgeable on what you need to know about security and protection while you are hunting from an elevated stand. So what are you waiting for? If you want to upgrade and improve your hunting skills, stay safe when on an elevated stand and invest in a safety harness today.
If you have any questions or would like to share your reviews on the best treestand safety harness, then comment down below. I would love to hear what you have to think.