If you're looking for a quality arrow for bowhunting, then you'll need to consider the many types of arrows out there. One of the quality kinds you can get today would be the best carbon arrows. They have the strong build to shoot and kill your prey quickly. But with the many brand names out there, which one is the best?
Read on to learn more about how to choose carbon arrows and our top five choices.
Quick Comparison: Top Carbon Arrows
**Below, you'll find our more detailed reviews, but you can also click the links above to see current prices or read customer reviews on Amazon.
What Are Carbon Arrows?
There are many different types of arrows out there:
Wooden arrows are the authentic and old-school types which are inexpensive and give you the authentic feeling of bowhunting. BUT, they are more prone to breakage.
Fiberglass arrows are your usual arrows made for the youth, which is consistent but difficult to size it according to your preference and is dangerous due to its splintering and heavy weight.
Aluminum arrows are accurate and strong with the ability to be custom-made, though they are easy to bend.
Composite arrows are the best choice for the absolute experts because of its long-distance accuracy, though one of the most expensive ones. You should only purchase one with an experienced coach who can match the spine with your bow.
But what about carbon arrows?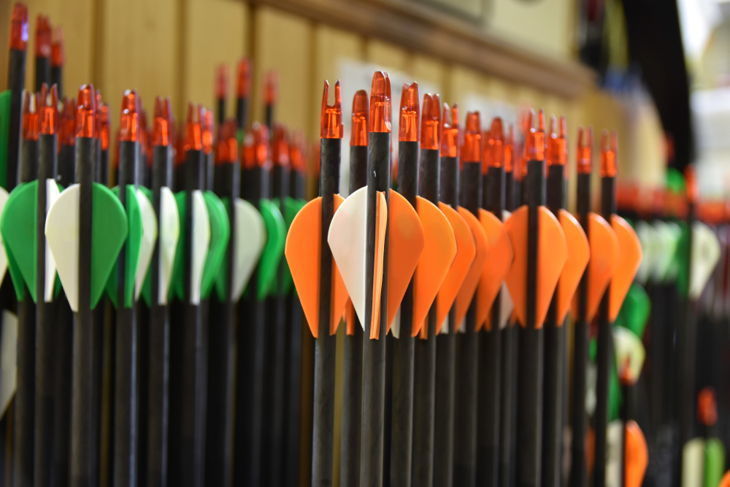 Carbon arrows are made out of carbon fiber, which is light and durable. They are often used during tournaments and are the most consistent out of all the arrows. It offers the strength and accuracy you need, which is also what all bowhunters want. This type of arrow is one of the most popular and favored ones, as they offer better durability than aluminum arrows, lighter than fiberglass, and are one of the most accurate.
Though a bit on the pricey side, it's not as expensive as composite arrows and can pack quite a punch!
Read more: Aluminum vs Carbon Arrows: What's the Difference? Everything You Need to Know!
Benefits of Using Carbon Arrows
Why should you go for carbon arrows rather than the rest of the regular types of arrows anyway? Here are some of the advantages it has to offer:
Easy to Adjust
Carbon hunting arrows are low maintenance and easy to adjust according to your preference. As long as you consider the safety measures and use the high-quality tools to cut and tune the arrow, you'll be able to enjoy better control and more accuracy the way you want it. They are also low-maintenance, and you won't need to straighten or sand it, as compared to using wood arrows.
Lightweight and Durable
What's great about carbon arrows is that they are lightweight enough to carry around easily and shoot, but still strong with the deep penetration and better wind resistance than any other arrow. They offer the exact features one need, from the weight, spine, to its straightness for ultimate consistency. It's the reason why it's the most favored by many bowhunters!
Design
There are now many carbon arrows that come in different designs according to any hunter's preference, from aesthetic patterns down to wood-look designs that will camouflage and make it feel like you're using the traditional wooden grow.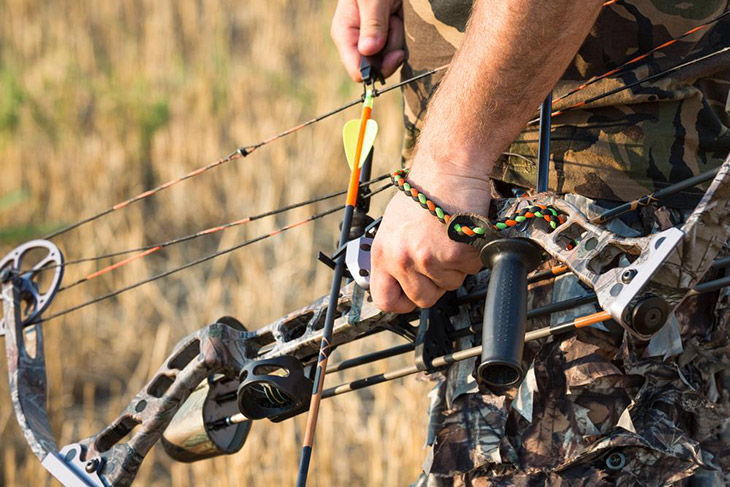 How to Tune Carbon Arrows and Tips on Arrow Safety
Now that you know all about the carbon arrows and the benefits they can give you, how can you stay safe while using them? Here are some tips for tuning your carbon arrow and how you can stay safe to prevent accidents and injury:
If your carbon arrows seem damaged or have already been used, avoid reusing or shooting with a broken arrow. Before shooting your arrow, scrutinize it and make sure that it's free from any damage or crests.
You can check the arrow through fleecing the arrow, rotating it a bit. If you hear cracking or it twists easily, throw it away.
When cutting your arrow to give you more control of your shooting, make sure to use only the high-quality tools, such as a high-speed abrasive wheel cut-off designed for arrow shafts. If not, it will leave a rough cut and lessen the accuracy of your shots. Chamfer the shaft to free it from burrs, and clean it with a cotton swab that contains a dab of 91% isopropyl alcohol (don't use rubbing alcohol).
When you cut your carbon arrow, be sure to use safety measures, such as safety glasses and dust masks. Vacuum up any carbon dust after cutting to ensure a clean and dirt-free area.
How to Purchase the Best Caron Arrows
When choosing the best carbon arrows, you should consider the following points:
Arrow Spine and Length
This is very important as this will give you more accuracy and safety when shooting. You will need to know how to determine your draw length and pull weight to get the right size. If you're not familiar with how to do it, then you can have someone to help you measure the draw length or go to a hunting store to have them find the proper arrow length and spine suitable for your bow.
Pattern
The common patterns include camp, black, or wood grain for better camouflaging and design.
Diameter
The standard diameter for carbon arrows is usually 5/16-inch, though the smaller diameter, the less wind drag, and better penetration. So you may want to consider a small diameter or go for the standard size for better consistency when taking your shots.
Quality
You will need to test the grow for any cracks and be sure that it's brand new and free from any damage. Like mentioned, bend the arrow a bit to see if it twists easily or you makes any cracking sound.
Top Five Best Carbon Arrows
Based on our research, tests, and overall customer reviews, here are the top five best carbon arrows to invest in today:
What makes Carbon Express one of the best-known brands of hunting arrows is its optimum quality. Made out of hi-tech carbon, it can manage a dynamic spine to make your broadhead fly better and with more consistency.
It's one of the straightest as well; laser checked to show straightness of 1/10,000 of an inch. I also love its laser red design, looking modern and with the excellent shooting quality, I have ever experienced. It ALWAYS flies straight and penetrates deeply, no matter the distance. They look amazing and come at a reasonable price for its fantastic quality, making it worth the investment.
Pros:
One of the straightest arrows in the market
Consistent and accurate shots even from long distances
Deep penetration and helps tighten groups
Fresh and modern design
Cons:
Some customers have received different colored vanes
It might be difficult to screw in points for beginners
More expensive than other types of arrows
Barnett Crossbows are another excellent brand to deal with when looking for the best carbon arrows. They come in a set of five with half-moon knocks and the lightweight carbon shafts. It even has better wall thickness for durability when shooting at long distances. It has the optimal accuracy and deep penetration, with a 24F field point included.
Another plus is that it comes with a five-year warranty, though limited. They are awesome when you shoot, as it's always consistent and with a high success rate when targeting your prey. It's straight, no splinters, durable and with a fresh design.
Pros:
No need for adjustment
Neat and attractive design
Optimal accuracy and deep penetration on targets
Better wall thickness for durability
Cons:
Not compatible with all types of bows
Might not be allowed in some states
Huntingdoor offers one of the best packages of carbon arrows at reasonable prices, with a 12-pack of arrows that have the robust and lightweight carbon shafts you expect. It's even made more durable with better wall thickness. The fletching vanes and nock are made out of colored plastic and have a simple design made for anyone to appreciate.
It comes with excellent performance as well, with lower hand shock but fast speed and penetration. The arrow itself has replaceable 100-grain tips made of standard thread for easy adjustment. While it isn't the most powerful of carbon arrows I have seen, it's robust and sturdy enough to make it worth the purchase.
Pros:
Very affordable price for a pack of 12 arrows
Lightweight and straight
Good consistency and holds well enough
Can be used with many types of broadheads
Cons:
Tip inserts come out quickly when shot
Not the most durable carbon arrow
Carbon Express PileDriver has an incredible penetration designed for any hunter. It's one of the heaviest carbon cross bolts from the brand to have the maximum kinetic energy and knock down power to hit and kill your targets without fail. The superior construction has the ultimate spine consistency, making it excellently accurate and durable. It includes flat nocks and a sleek design. For its price, I can say that it's worth it.
For its top bolts and fantastic penetration, it's one of the best and consistent arrows out there you can find.
Pros:
Good bolts
Quality material built for durability and excellent performance
Great price for the design and construction
Always consistent and with good penetration
Cons:
A bit heavier than what you are used to
Some arrows don't fly as great as the others
For those who want something perfect for practice or hunting, then AC's carbon arrows had the attractive design and equally quality performance and built you want. They have a consistent weight and spine you can repeatedly use due to its durability. They are great for the money, though you shouldn't expect the best out of the best performance.
While they are worth more than what you pay for, it does have a few points you should consider, such as the lack of tips and slightly loose inserts. But other than that, affordable carbon arrows best for practice and beginners.
Pros:
Affordable price for its quality
More accurate than other affordable carbon arrows available
Resistant feathers
Durable enough to reuse
Flies well and consistently
Cons:
Better for practice and beginners
No tips as advertised
Some points are slightly loose
See also:
In Conclusion
When it comes to bowhunting, one of the crucial things you'll need to invest in would be arrows. Carbon arrows are known to have the advanced technology to make your broadhead fly even better, providing better accuracy and chances of successfully shooting your buck.
Out of all the carbon arrows we reviewed, the best one would have to be the Carbon Express Maxima RED Fletched Carbon Arrow. Known to have the hi-tech carbon material to manage the arrow's spine, you'll have more consistent shots and with the ideal straightness and weight to match.
They will fly straight any time and have the quality to last for the long distance shots you make. For the excellent quality at affordable prices, you're getting something worth more than what you pay for.
I hope that this article on the best carbon arrows helped you become more knowledgeable on what you should invest in the next time you of bowhunting. So what are you waiting for? If you're looking for arrows to accurately shoot every time, then go for the best carbon arrows today.
If you have any questions or would like to share your reviews on the best carbon arrows, then comment down below. I would love to hear what you have to think.