Many hunters say that one of the best ways to hunt and capture your game is through being on the elevated ground, where you stay undetected and on trees. But that's not the case anymore! With the best hunting blinds, you'll still be able to properly remain hidden without the hassle of putting up an elevated stand. But besides that, you'll also need the best ground blind chair to stay comfortable and without the worry of kneeling or standing up the whole time. The question is: What's should you invest in?
Read on as I show you the five best ground blind chairs to choose from!
Quick Comparison: Top Ground Blind Chair
Image

Product Name

Seat Height

Weight

Weight Capacity

Primos Hunting Double Bull Tri Stool

Editor's Choice

6.5 lbs.

16″

300 lbs.

7 lbs.

18″-23″

400 lbs.

14 lbs. 6oz.

17.5″-23″

275 lbs.

16 lbs.

17″-18.5″

350 lbs.

11.19 lbs.

16″

300 lbs.
**Below, you'll find our more detailed reviews, but you can also click the links above to see current prices or read customer reviews on Amazon.
The Five Best Ground Blind Chair Reviews
Based on my research, tests, and overall customer reviews, here are my top five choices on the best ground blind chair today
The one thing I appreciate most about the Primos Hunting Double Bull Tri Stool is how sturdy it is! It has a steel construction that makes it strong and durable, so you are assured that it will last for a long time no matter how many times you use it during hunts. It has a flared backseat to make it comfortable to stay on for hours at a time. And fortunately, it also doesn't restrict motion so if you'll be preparing to take your shot; you'll be able to move freely without the worry of making any noise.
All in all, I believe that it's worth the affordable price. If you want something that lasts during your hunts, then this is it!
Pros:
Makes no noise
No restriction of movement
Sturdy and durable
Comfortable to sit for hours
Cons:
Heavy and bulky
A bit difficult to carry
You might be surprised about the price of the Millennium Treestands G100 Blind Chair, but once you see its design and versatility, you'll know why it's worth every penny!
For starters, it has the excellent design which keeps you comfortable even if you'll be sitting all day long. When I used it for my hunts, I was surprised with how great I felt, and the blood continued to circulate without feeling any numbness whatsoever. I also like the fact that it's made out of sturdy steel construction, built to last a lifetime. You'll be surprised that with its sturdiness, it's also lightweight and easy to carry around. I recommend the chair highly for its comfort and strength.
Pros:
Lightweight and easy to carry
Sturdy design built to last
No back or leg pain for hours
Easy to adjust
Cons:
High price
Some complaints of missing parts
For those who want something that's easy to adjust and bring around, then I would suggest the ALPS OutdoorZ Stealth Hunter Blind Chair. What I love about it is that it has the adjustable seat height with a broad backrest, making it extremely comfortable no matter your body type or weight. It even has a 360-degree swivel for better range of motion!
The chair also has large swivel feet with adjusting legs so it will be able to accommodate any terrain. It doesn't sink in at all! It's one of the most comfortable ground blind chairs I have ever experienced, and you get what you pay for and more.
Pros:
Easy to set up adjust
Can work even on uneven terrain
Extremely comfortable
Strong and lasts for long
Cons:
A bit heavy and bulky
May be a bit confusing to adjust at first
I know how difficult it can be to look for a ground blind chair that's both comfortable AND lightweight to carry around. So if you want to prioritize lightness but still get comfort and support as well, then I would recommend the REDNEK Blinds Portable Hunting Chair!
The first thing I noticed about the chair is its solid built. Even if I am quite heavy, it does not break or sink into the ground. It holds its ground and has never failed on me no matter how long I've been using it for. Another huge plus is that it's incredibly comfortable and I'm able to sit without worrying about numbing legs or a sore back.
Pros:
Quiet and comfortable
Lightweight and easy to carry around
Works for heavy weights
Adjustable legs for uneven terrain
Cons:
A bit irritating to lock the chair to place
Seat cover is noisy during cold weather
For those on a budget, I would recommend the Guide Gear Swivel Hunting Chair. It's one of the least expensive on this list but does not compromise regarding quality and comfort. It's quiet and easy to bring around during hunts, and I like how it swivels around for a better range of motion. It isn't exactly one of the best ground blind chairs, but for its price, you can say it's worth it. I would recommend if you are still saving up for a more expensive and quality chair for your future hunts.
Pros:
Has a swivel and easy to adjust
Comfortable and does the job well
Affordable price
Cons:
Backrest is a bit uncomfortable
Creeks sometimes
Why Use A Ground Blind?
Before we get into using a ground blind chair, let's first tackle why you should be using a ground blind in the first place! Ground blinds are cover devices for hunters to use to stay hidden and undetected by their game for hunting better. But what does this device have that an elevated stand doesn't?
Ease Of Setup
What I like about ground blinds is that you can set it up anywhere as long as it's in an area where the blind blends in. Compared to a tree stand, you won't have to look for tall trees and can hunt by broad fields, which are usually where deer stay.
Stay Hidden
Sure, you'll be out of the way from your game when on an elevated stand but you'll be entirely hidden and covered with the ground blind as well. It's shaded, comfortable, and you are out of eyeshot as you stay hidden near areas that blend with the blind.
Safer
Compared to having to climb up and down elevated tree stands, having a ground blind keeps you secure and hidden without the danger of falling. You'll also be able to spot deer closer. Plus, since you are in a covered blind, you will be protected from the bad weather!
Read more: The 5 Best Deer Blind Heater Reviews: Stay Warm While Hunting!
The Benefits Of Ground Blind Chairs
Now that you know about the ground blind let's talk about one of its essential accessories: the chair. A ground blind chair is specially made for the covering device, known to show security and strength to keep you comfortable while you wait for your game. After all, it won't take mere minutes until you can make a shot!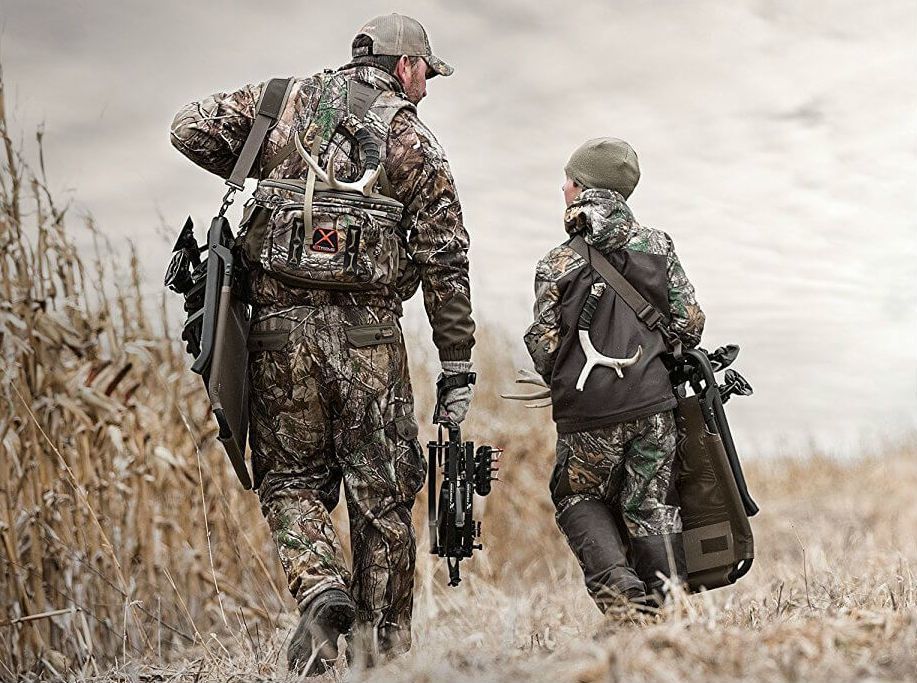 Here are some of the benefits ground blind chairs have to offer:
Comfortable
Let's face it: You can't kneel or continue standing in your ground blind for hours at a time! It isn't only hard on your legs, but you get even more tired that way, which can affect your shooting abilities. With a ground blind chair, you'll be able to sit down and wait patiently without the cramps coming in.
Quiet and Sturdy
What makes ground blind chairs different from the usual outdoor seats are that they are sturdier and quieter. That way, you will remain undetected while you sit and wait. There's no need to worry about sounds or the chair breaking even after hours of use.
Secure and Hidden
Lastly, ground blind chairs keep you hidden because they are made of concealed designs that keep you away from prying eyes. They are also lightweight and easy to carry around, better than setting up for an elevated stand.
Read more: The 5 Best Bone Saw For Deer Reviews: Easier Time Field Dressing Now!
How To Choose The Best Ground Blind Chair
There are a ton of ground blind chairs available to choose from, making it confusing as to which one is best! You shouldn't pick one just because it's the first you see but because it suits YOU. Here are some tips and factors to consider to help you make the wise decision:
Strength and Durability
Of course, you'll want to have a chair that lasts for a long time and can withstand your weight during usage. When getting a sturdy chair made out of the quality materials, you are assured that you do not waste your money and have something to use for long hunts!
Light and Quiet
I can't exaggerate this enough when I say you need a lightweight chair that makes no noise. That way, it will be easy to carry the chair around without worrying about making any noise that would disturb deer. No squeaks, hard thuds, or anything else.
Comfort Level
This is one of the reasons why you plan on getting a ground blind chair in the first place! You'll want to make sure that the chair is comfortable and you'll be able to sit on it for hours at a time while waiting for your prey. I would recommend hunting chairs that have a bit of cushioning since hard surfaces do hurt your body when you sit on it for a long time.
Staying Hidden And Hunting With A Ground Blind
Once you have chosen a good ground blind chair for your covering device, what are ways on how you can efficiently hunt with it? Here are some tips to follow when hunting in a ground blind:
When looking for an area to place the blinds, I recommend that you put it in areas where deer can either see it from a distance or never at all. I suggest that you find a place where the blind can be brushed in.
You shouldn't only set up the ground blind but also your destination ambush and what to do once bucks begin to move towards the blind. Having decoys will also help attract deer and increase their trust to go near wherever the ground blind is set up.
It will take quite some time before deer get used to the ground blind. Be patient, as it can take a few days to a few weeks before deer come near the blind. That's why it's b set to set up the ground blinds before hunting season begins!
Check out this informative video that tackles what you need to know when hunting in blinds:
Wrapping It Up
Sure, it's great to hunt when on an elevated stand or follow other methods on how you can stay undetected to hunt game successfully but a ground blind still holds many benefits that many always appreciate! And with a chair to keep you comfortable while you are inside waiting, there's no need to strain your legs maintaining balance. You're comfortable, quiet, and you just need to wait on when to pounce.
Of all the types of chairs available the best ground blind chair will have to go to the Primos Hunting Double Bull Tri Stool. What I love most about it is its high quality that shows durability and all the other features I look for in one chair. It doesn't only have the concealed design but the adjustability and comfort that stays quiet. I can spend long hours waiting in my blind without feeling pain or discomfort whatsoever. And at such a reasonable price, you won't need to look any further.
I hope that this article on the best ground blind chair helped you become more knowledgeable on what you should invest in for your security and comfort when hunting. So don't wait any longer and make the wise purchases for your next trip today.
If you have any questions or would like to share your tips and experiences on the best ground blind hunting chair, then comment down below. I would love to hear what you have to think.