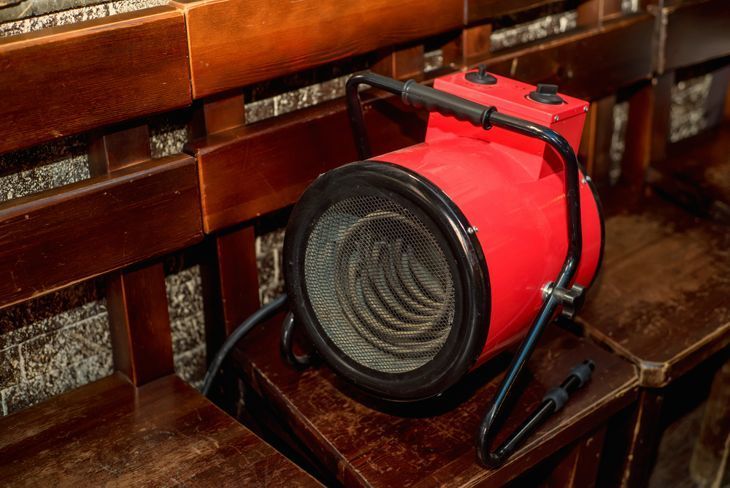 The 5 Best Deer Blind Heater Reviews: Stay Warm While Hunting!
When you're planning on going on a hunt, then you've probably already considered where to hunt. Personally, I love using hunting blinds when I'm on the field since I stay unnoticed by deer and can wait in comfort. While it's also fun to use elevated stands, I prefer staying on the ground, especially during cold weather!
However, just because you're in a hunting blind doesn't mean you're protected by the temperature drops during the colder seasons. That's why I invested in the best deer blind heater, which has kept me warm and much more comfortable while I wait inside the blind.
So if you're looking for a good heater for your deer blind, I show you the five best ones!
More...
**Below, you'll find our more detailed reviews, but you can also click the links above to see current prices or read customer reviews on Amazon.
The Five Best Hunting Blind Heater Reviews
Based on my tests, research, and overall customer reviews, these are the five best deer blind heaters to invest in:
What I love most about the Mr. Heater F232000 is that it comes at a great price for its brand name and still with the efficient heating I need. This heater worked flawlessly, keeping me comfortable the entire time even if I didn't wear that many layers.
This propane heater made NO sound, had NO smell, nor did it ever make a beep. It provides heat efficiently and works great. Plus, it has an auto-shutoff feature, which would turn off power if tipped over or when it detects low oxygen levels. It prioritizes safety!
While the bottle does run out a bit quicker than expected, I can say it's better than most of the other heaters I've tried, making it well worth the price. Its amazing power is what makes it on the top of my list!
---
Another amazing heater goes to Mr. Heater again, with the F274830 MH18BRV being a very powerful one that can heat spaces of up to 450 square feet! While it may be a bit pricier compared to other heaters, it packs a punch and is best if you're looking for strength and durability.
This heater works excellently, taking only around ten minutes to heat up the entire space. It can take less than that, depending on the size of your hunting blind!
It has excellent safety features, though it's particularly sensitive, even in just a simple bump. But I do like that it shuts off automatically in case of any accidents. With its portability and compact size, I can say its a great investment.
---
Another efficient heater comes from the Texsport Propane Heater. What you'll like about it is the fact that it has the accurate heating and performance for such a compact size. It can heat for up to nine hours on low setting, which is pretty good for a heater for its size and price.
It has me stay warm the entire time, also lessening the hassle as it's easy to operate and adjust. With its accuracy in heat and simplicity, it's a great buy for those who are looking for something small and without the frills. It's also best for smaller tents and hunting blinds, which is what makes it a good buy.
---
For those on a budget, the Stansport Portable Infrared Propane Heater is your best bet. It's extremely affordable but doesn't scrimp on quality. Sure, it doesn't heat up within minutes, nor does it have the high-tech buttons, but it does use the innovative technology that heats up the hunting blind as efficiently as it can, providing the much-needed heat to stay cozy.
It's very simple and does the job well done, with the easy setup and portability (it has a carrying handle!). And though it's cheap, it's well-constructed, lasting for a long time. It's a small heater keeping the blind well-lit and warm enough for the long run.
---
Last but not the least, we have Mr. Heater again, with the F215100 MH4B being the best for small spaces because of its amazing portability. Think of it like your flashlight. It's that small and lightweight, with the same features you'll find in quality Mr. Heater products.
This propane heater can work for areas up to 95 square feet, providing continuous heat for up to six hours. This is a great feature for such a compact device. Plus, there's no smell or noise at all, with the simple buttons for ease of use. From its safety features down to its simplicity, it's worth the price for a Mr. Heater.
Why Invest In a Deer Blind Heater?
Obviously, the main reason you should invest in a heater is to ensure that your deer blind is nice and warm for the next few hours of hunting. However, there's a difference between simply purchasing the first heater you see versus investing in a quality deer blind heater.
So, what exactly does the quality deer blind heater have? It's worth doing the research because:
You Get Better Heat Quality
Compared to using a cheap and mediocrely-made heater, a quality heater will be able to provide the safe and optimum temperature you'll enjoy. Not only will it provide the that you need, but for longer periods of time because of its efficient use of propane. That way, you get a bang for your buck with a longer-lasting heater rather than to keep on having issues with something cheaper.
A small heater for the blind is the best way to be protected from weather elements. What I appreciate about these heaters is that they are hassle-free to set up once you're in the blind, so you get to focus your energy on waiting for your game and without the issues of adjusting the temperature.
Compact and Easy to Bring Around
We're all familiar with big, clunky heaters. But with today's technology, there are smaller heaters made to warm up smaller areas, like tents and blinds. What's great about the heaters I reviewed is that they're easy to bring around, lightweight and with a handle, so I can carry it without worrying about the weight or damaging it.
Warmth All Throughout the Hunt
And the most obvious benefit, a heater will keep you warm the entire time you're huddled in your blind, waiting to make a move. Not only will it keep you cozy and comfortable despite the cold, but it would also protect you from the risk of sicknesses that come from staying under the cold weather as well. 
Discover more: The 5 Best Ground Blind Chair Reviews: Stay Comfy and Secure!
How to Choose the Best Deer Blind Heater
A heater is truly beneficial, but like mentioned, it will only be helpful for you when you purchase the best one suitable for YOU. With the many heaters available, it can be quite difficult selecting the one best for a deer blind. So here are some important tips and factors to consider:
There are different kinds of heaters to choose from, depending on your preference.
Ease of Carrying and Setup
Not only should you select the right type of heater, but one that's also compact and easy to carry! That way, you won't have a problem with bringing it around while hunting. It should be lightweight and with a handle, as well as having an easy setup to avoid wasting too much time and energy you should save for hunting.
Depending on your hunting blind space, it's best to do your research and know how many square feet the heater can perform well in, as well as how long it takes until it heats up the entire area. Ensure that the heater works well and continues to fan out quality heat that's safe to be around in.
Last but not the least, you also want to ensure the safety of yourself and the hunting blind! Look into reviews to know all about the heater, reading up on how safe it is to use inside a tent or blind. Also, look into its durability and how much propane it utilizes in one use.
Discover more: The Best Cold Weather Hunting Boots You Need To Buy Now!
More Tips on Staying Warm Inside Your Deer Blind
Now that you're familiar with the benefits of a heater and how to select one, what else can you do to stay warm and safe in your hunting blind? Here are the helpful tips you can follow:
You can also check this informative video out on how to stay warm while deer hunting:
Hunting during the rainy or cold season will mean that you need to focus on your health and safety as well! Using a heater can help you remain comfortable and shaded in your deer blind. That way, you're dry, warm, and without the risk of illness from the cold.
Of all the different heaters tried and tested, I believe that the best one goes to the Mr. Heater F232000 MH9BX Buddy Heater. This portable propane radiant heater packs a punch with a compact size. It amazes me not only for its good size but adjustable temperature settings.
It fires up instantly, letting heat in during the coldest of temperatures. While it IS an open flame, just be careful when handling it! All in all, an amazing investment I'll always recommend for hunters who want to stay warm during the cold.
Hopefully, this article on the best deer blind heater gave you an idea of what to invest in today. So don't wait any longer and look into any of these heaters now!
If you have any questions or want to share your tips and reviews on any of these heaters, then comment below. Your thoughts are much appreciated!