When out in the fields, one common problem hunters experience is finding and attracting deer. There are some days I end up going home empty-handed because no matter how many hours I spend either on an elevated stand or hiding in a hunting blind, deer are nowhere to be found. But I found out that using the best deer calls are an effective way to attract bucks to wherever I am, and I was shocked to see how much better my hunts became because of this small tool!
So if you're looking for a strong and accurate deer call, read on as I show you my top four choices!
Quick Comparison: Top Deer Calls
**Below, you'll find our more detailed reviews, but you can also click the links above to see current prices or read customer reviews on Amazon.
The Four Best Deer Calls
Based on my research, tests, and overall customer reviews, here are the top four best deer calls to invest in today:
This Illusion Extinguisher deer call is an excellent choice for those who want a versatile tool to emit either fawn, doe, or buck. It's effortless to use and you can adjust the sounds in an instant! It also comes with an instructional DVD to show you how to use it and acquaint yourself with the whitetail deer language to further understand the way they move based on the sounds they make. With its freeze-free design and compact size, it's definitely a great investment!
Pros:
Compact size
Freeze-free design
Easy to use and adjust to different calls
Comes with DVD for more information
Excellent sound quality
Cons:
Low-quality lanyard
You need to blow a bit harder
Primos Hunting is one of the most reputable companies to trust when it comes to their hunting equipment, and The Original Can is no exception! I love the fact that it's made of quality materials and has the durability to withstand the toughest of conditions and weather conditions! It has a raised thumb hole locator to make it easier to use, as well as the estrus bleat to attract many bucks. It's proven effective and bucks constantly run to the area when I use this call.
Pros:
Extremely easy to use
Has the effective and quality estrus bleat
Strong and durable for ANY weather condition
Great grip
Affordable price
Cons:
Sound sometimes hands
No "stop noise" option
If you are looking for a deer call that sounds like antlers shaking, then the Illusion Systems Black Rack is an excellent choice! It has the bone-core technology that makes it produce the effective and loud sound to attract both bucks and does. It even comes with an in-depth instructional DVD to learn about how rattling works as a deer call in trophy bucks.
Easy to transport and works in all types of weather, it's a great tool to match with other deer calls!
Pros:
Small and lightweight
Attracts a lot of trophy bucks
Has an informational DVD
Well-made and strong
Cons:
Hand placement isn't very good
Some complaints of DVD not working
Primos is back again with its more affordable deer call. I love the Hardwood Grunter Call for its extreme functionality, because it has six sounds in one, thanks to its easy-to-adjust reed assembly and expandable hose. The deer call also looks like it can take a beating, as it has withstood the toughest of weather conditions when I used it. It never failed me and has successfully attracted all types of deer long enough to take my shot.
Pros:
Extremely strong and durable
Easy-to-adjust hose and reed assembly
Can make many types of calls
Loud sound and compact size
Cons:
Wood may chip
Tube comes out too smoothly when adjusted
Discover more: What Sound Does a Deer Make? Four Sounds You Need to Learn
What Are Deer Calls?
If you aren't familiar with what a deer call is, then here's a quick definition:
The definition of a deer call is simple: It is a tool you use that emits a sound similar to what deer make. They come in different types. Typically, a deer call will have you blow on a tube-shaped whistle where it would sound like a buck, doe, or fawn. There are also cans or antler-shaped deer calls, which produces around similar to antlers shaking.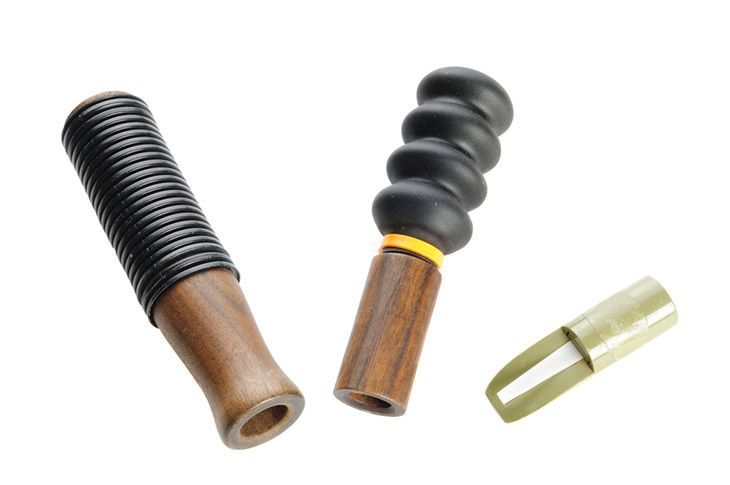 The main purpose of deer calls is to attract deer to the sound of their own, which makes it easier to hunt since the deer would go to you. We'll get on with the specific types and benefits it has to offer in our next section.
Benefits Of Using A Deer Call
Why bother using a deer call when you have all these other products to attract deer and ward away any form of human scent? Well, here are some of its advantages:
Easy to Use
Compared to using deer decoys, hunting blinds, or even spraying scents and planting turnips for deer, deer calls are effortless to use. All you need to do is to sit in a strategic (and hidden) spot, rattle or blow, and wait for deer to come in.
Attracts Any Type of Deer Successfully
This is the main reason why I use deer calls. I noticed that when using deer calls, it makes deer decoys and other hunting strategies more effective. That's because deer follow the sound and want to see who is in the area.
Strong and Not Bulky For Carrying
What I love about using deer calls is that I can simply put it in my pocket without the worry of it taking up too much weight or space to hinder my hunts. A strong and reputable deer call (like what I mentioned in the reviews) is extremely durable as well, withstanding any inclement weather condition or falls.
Affordable
Besides the scent-away sprays, the deer call is one of the most affordable tools you can use to attract deer. It's best to match with the best deer decoys or when planting crops near the area you usually hunt in.
See also: The Top 5 Excellent Tips On Scent Control For Deer Hunting
How To Choose The Best Deer Call
Now that you know about what a deer call is and what it can do for you, how will you be able to know which one is the best for your hunts? Here are some tips and factors to consider:
Sound
This would depend on the type of deer call you use. The typical whistle would emit a deer-like sound, while the antlers would produce a sound similar to antlers shaking. There are some deer calls that you can adjust to sound like either a buck, fawn, or doe. I prefer these types of deer calls for its versatility and easy adjustment.
Strength and Durability
Make sure that the deer call you choose isn't just coming from a reputable company, but that it's made out of the quality materials to ensure that it will withstand any form of weather or accidents.
I like my deer calls small enough to fit in my pocket, but loud enough to be heard from nearby deer in the field. It should also be able to take on any cold, hot, or rainy weather so I can hunt anytime! As long as the deer call is small, durable, and with that loud, familiar sound that deer would be attracted to, then I am sold. Find a deer call with the balanced quality-to-price ratio to avoid overspending or scrimping on a low-quality one.
Using Deer Calls When Hunting
Once you own a deer call, here are some tips to hunt successfully using it:
Type
There are five types of deer calls and when to use them:
The fawn bleat call is usually ignored by hunters, though used throughout the season to attract doe (maternal instinct). Sometimes, it would attract bucks for curiosity.
The Doe bleat call is a silly sound, but it would be best used during pre-rut to peak rut season to attract bucks.
The Buck grunt call is best to use to attract competitive bucks or does ready to breed.
Snort wheezes are used during pre-rut or rut period to attract bucks who are usually fighting for does. But only use this when there are mature bucks in the area to avoid younger bucks from running away because of this aggressive call!
The rattle is done to imitate bucks fighting and can attract doe or bucks for its curiosity and see who wins the fight. Use light ticking noises during pre-rut and accompany it with snort wheezes or grunts.
Location
Choose an area where there are no deer in sight. Begin by calling softly and increase by volume for about half a minute before resting. Sight the area again for deer and repeat the process if needed. Be extra quiet and make sure there is no trace of human scent wherever you are.
Discover more: How to Attract Deer With Peanut Butter: 3 Effective Ways
Here's an excellent video showing you more tips on how to use the typical deer call:
In Conclusion
I know the struggle of trying to attract deer! You'll have to make it sound and look realistic to ensure that the bucks you attract stay put, in time for you to take your aim and shoot. Sure, you can have the best deer decoys and take away your scent, but without the sound that deer would hear and run to, you'll have a difficult time trying to catch your buck for the day.
Out of all the deer calls I tried and tested, the best one would have to go to the Illusion Extinguisher Deer Call. It's definitely worth the price because it doesn't only come with a free instructional DVD to show you how to effectively use the deer call, but because of it hard the easy-to-adjust settings so you can choose between a fawn, doe, or buck! You'll be able to call and attract all deer in an instant and without wasting precious time.
I hope that this article on the best deer calls helped you find a way to call deer and have you become a better hunter. So don't wait any longer and choose between any of these four deer calls today!
If you have any questions or would like to share your tips and experiences when using the best deer calls, then comment down below. I would love to hear what you have to think.