When it comes to being outdoors, there are quite a few things you will need to consider, and it isn't just about the best carbon arrows got to invest in for capturing game! You should also consider your wellbeing, especially with the clothes you wear for safety from predators or even the weather. If you plan on hunting during the rainy season or cold weather, you may ask yourself: "Which material provides warmth even when wet?" While you might think it's impossible, there are actually specific types of clothes to wear that help keep you warm and dry no matter the weather!
So read on as I show you the types of clothes and materials to wear while you are out hunting during the wet weather!
Which Material Provides Warmth Even When Wet?
You'll be surprised to know that the material that keeps you warm despite the wet weather is NOT just fleece! While fleece is one of them, there are materials we call insulators, which are fancier terms for silk, wool, or cotton. These familiar materials are used to help keep you warm, each with different qualities and properties known to help you stay snuggled up despite the weather.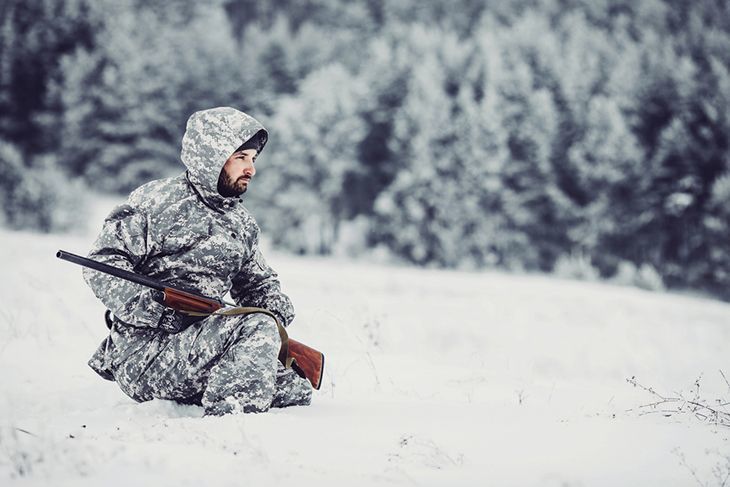 But do they all provide warmth even when they get wet? Not all of them do. Before we go into the materials which provide warmth despite the wet weather, let's learn about insulators first.
An insulator is used to block the flow of heat from hotter objects to colder ones. Small particles in items are constantly moving, held together with bonds. For an insulator, these small particles have intrepid bonds, meaning they won't move around as quickly. As a result, there is only minimal heat transfer to the particles, making insulators have the ability to either minimize or block heat transfer to the cold. Basically, the heat stays inside, a bit like a vacuum flask, keeping your body warm.
Of all the types of insulating materials available, the best one you should go for to stay warm despite being wet is WOOL! But how does wool work and how does it keep you warm? We'll learn about that in the next section.
Discover more: The 5 Best Deer Blind Heater Reviews: Stay Warm While Hunting!
All About Wool
Wool is a type of fiber you usually get from sheep. You can find many types of clothing and items made of wool, from rugs to blankets! What's great about wool is that it doesn't just keep you warm during the cold days, but that it also keeps you cool during the warm days.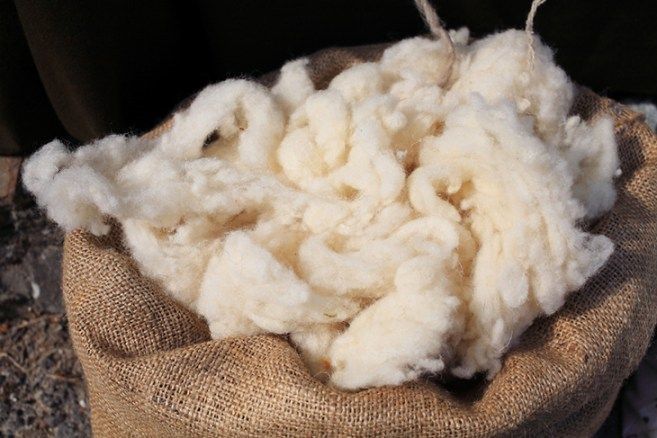 This is because wool has an ability to attract moisture or water. This is called hygroscope, which cools your temperature by sucking up moisture. That way, you won't feel wet as it sucks up any liquids. And because of this, wool is also fire-resistant, extinguishing itself if exposed to fire. Its hydrophobic capability will have it repel water, keeping you warm and away from the wet feeling when under rain or exposure to any liquids.
Another huge plus about wool is that it's odor resistant, repelling itself from mold or mildew. With its durable and flexible use, it's best to use during any hunting season!
Discover more: The 7 Effective Ways on How to Hunt Deer In the Snow
What You Should Wear When Hunting During Winter
Now that you're familiar with what type of material to wear to stay warm, what are some tips to follow when planning what to wear during the cold weather? Check these out:
When wearing layers, make sure that cotton isn't your first or touches your skin, as it will absorb your sweat and the moisture stays!
Layering works. Always start with wool, another layer of fleece or wool, and then one more layer of wool or other water-repellent jackets and vests.
Remember to suit up from top to bottom! Hats and boots are also important pieces hunters tend to overlook.
If you are hunting during the winter, avoid going near the fire if you are covered in snow, and always take off your wet and damp clothes before getting into a sleeping bag for better warmth.
Are you looking for hunting clothing that makes a statement, and if you are a hunting club organizer, custom embroidery patches is a great option. Custom embroidery patches with your hunting club name, hunting trip, special event, nickname or whatever you like as protective coloring in the field. Meanwhile, clothes are easily damaged in the wild, and embroidery patches can also be used to sew the damaged parts. Find good-looking and practical embroidery patches at GS-JJ.

Here's an excellent video showing you what to wear when hunting during the cold weather:
In Conclusion
If you are planning to hunt or camp out in cold or wet weather, then you have to make sure that you dress up the right way to avoid freezing or getting sick after getting caught under the rain. Not only will you have to wear layers, but clothes in the right material that keep you warm, from the best EMS boots up to a warm wool hat!
I hope that this article answers your question: "Which material provides warmth even when wet?" Now that you know the answer, start planning your hunt today and stay safe while on the field!
If you have any questions or would like to share your tips and experiences when hunting during the cold or wet weather, then comment down below. I would love to hear what you have to think.