Have you ever attempted hunting during the cold weather? I know I have, and if it weren't for the best cold weather hunting boots, I'm sure I would have frozen or quit halfway through the frigid and wet conditions! It isn't just about having the best equipment for hunting, after all. You have to make sure that you take care of yourself as well, from the type of safety harnesses you invest in down to what you wear.
So read on as I show you the ultimate guide to purchasing the best cold weather hunting boots!
Quick Comparison: Top Cold Weather Hunting Boots
**Below, you'll find our more detailed reviews, but you can also click the links above to see current prices or read customer reviews on Amazon.
The Five Best Cold Weather Hunting Boots
Based on my research, tests, and overall customer reviews, here are the top five best hunting boots for cold weather to invest in:
What's amazing about this Kamic hunting boot is that it comes with the strongest of material. It has a rubber sole and a fabric inner for added comfort and makes you free from any slips or falls. It also comes with the perfect height, so I don't need to worry about water coming into the boot or my feet freezing over.
I also love how the rubber sole is very thin (yet comfortable), so I feel the ground and lessen the noise when hunting deer. They fit very well and are easy to put on. It works well in cold and wet weather, just do not use it when on the beach or under the sun! All in all, an excellent investment!
Pros:
Has an easy return process if needed
Easy to put on and fits well
Comfortable and durable
Well-insulated
Cons:
They run a bit bigger
Weighs a bit heavy
If you're looking for both style and functionality, then the Irish Setter hunting boot is what you need. I love its design, as it truly looks like the rugged hunting boot I've been looking for. It's also very easy to adjust and tighten with its laces and durable material. The boots are waterproof and made of leather, with a kiltie overlay at the toe box for added protection and design.
I appreciate the waterproof lining and 1000-gram insulation, which keeps my feet warm and still well-ventilated, no matter the circumstances. It also comes with the aggressive sole for extra traction, as well as ScentBan technology to stay free from any odors. Just map sure to order a size up and you're good!
Pros:
Keeps feet warm and well-ventilated
Amazing design
Easy to adjust and put on
Waterproof and with traction
ScentBan technology for fewer odors
Cons:
Runs a bit small
A bit expensive
What I love about the LaCrosse Alphaburly Pro Hunting Boot is that it comes with the camouflage design that makes you more hidden from any game that may come your way. I also appreciate its incredibly comfortable insulation, as well as the hand-laid premium rubber for flexible comfort. There is increased air circulation and I have noticed that walking is much easier and without any hassle or slips. Another huge plus is the fact that it's waterproof and scent-proof, so there will be no stink when you get home, nor will animals detect your scent while hunting!
It's easy to put on and remove, keeps me warm and comfortable, and the treads of NOT fill up with any snow or mud, making it easy to clean. All in all, I can say this is worth the price.
Pros:
Easy to put on or off
Hassle-free cleaning
Sturdy and rugged
Scent-free, well-ventilated, and waterproof
Cons:
No heel-kick
Difficult to remove when wet
The MuckBoots are also another awesomely-styles pair because it comes with various camouflaged designs to stay hidden while hunting. It's made out of both synthetic and fabric to ensure a comfortable and well-ventilated fit. It's waterproof with a stretch-fit top line, as well as having the thermal foam underlay for adequate insulation.
They are flexible and offer a better range of motion while moving, and you won't need to worry about its durability. It can hold up any type of trail or weather for a long time. They get the job done and keep me comfortable while hunting. You can see that it's well-made and at an affordable price, you'll want to consider this as your next hunting investment.
Pros:
Affordable price
Waterproof with thermal overlay
Different camouflage designs
Thick and warm
Built to last for a long time
Cons:
Does not keep feet warm below 35 degrees
Runs small for wide feet
If you want to ensure that you are getting the excellent quality of boots at an affordable price, then I recommend that you get Bogs' Winter Snow Boots. They come at a simple build but with camouflage design or black colors, making it difficult to find when you are out hunting. It offers a good fit and has thin soles, which can make it better to feel the ground and lessen the noise. They are also extremely light and comfortable to move around in.
The boots do keep my feet warm, but not as warm as other more expensive brands. But that doesn't mean they shouldn't be considered! They fit great and are very warm. I recommend these boots for those on a budget!
Pros:
Waterproof and okay insulation
Strong and durable
Great fit and comfortable
Affordable price
Cons:
May be a bit too short for some
Doesn't keep feet warm for a long time
Discover more: The Best Snake Proof Boots For You: Have Safe Feet For Hunts
Why Wear Cold Weather Hunting Boots Anyway?
You're probably wondering: Why can't I just wear my usual hunting boots I use every day? Why bother having to spend money on another pair? Well, here are the benefits using such boots have to offer during cold weather:
Comfortable and Durable
What's great about using these types of boots means that you will have comfortable boots that will keep you up and ready to hunt for hours. Another huge plus is that boots are strong and durable, so you won't have to worry about the boots from getting ruined from a few wet trails. It's a great investment that will last for years of camping in cold weather!
Well-Insulated and Waterproof
You want to make sure that your feet remain warm during the cold weather, which is why these boots are designed to stay cool while keeping your feet warm and cozy to avoid sicknesses or freezing. These boots are usually waterproof as well, making it flexible and easy to walk with no matter where you are.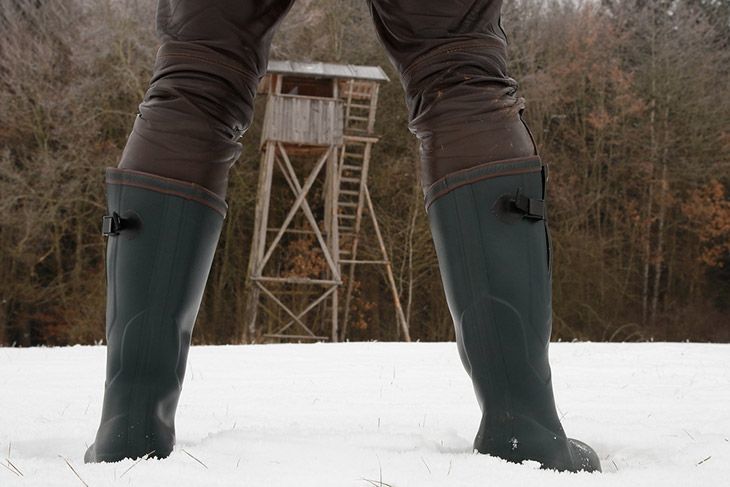 Prevents Slips and Falls
Cold weather boots will have strong soles to ensure that you will NOT slip when hiking or walking on wet rocks and paths. No worries about injuring yourself or twisting an ankle with its fitted features.
Choosing The Best Cold Weather Hunting Boots
How will you know which are the best cold weather hunting boots anyway? Here are the tips and factors to consider when doing so:
Insulation
This is one of the main reasons why you are investing in cold weather boots, after all! Make sure that the boots you are getting will insulate your feet well enough and keep it warm. It's best to get boots with an insulation of about 800 grams and above, which is designed for colder weather or sedentary activities.
Waterproofness
Remember that when it is cold, you may come across moisture, or step on small buddies. That is why it's best to get waterproof boots, which won't only protect the inner part of the boots, but your feet as well.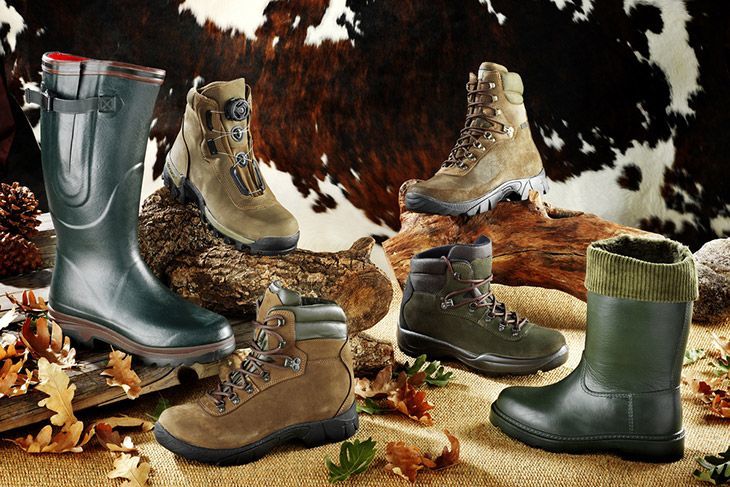 Design and Styles
You CAN find something that suits your personality, but I recommend that you get boots that come in dark colors, or camouflage patterns, which enable you to stay hidden.
Lightweight and Slip-Free
I prefer a lightweight pair of boots for added comfort, or to easily carry it around when needed. Another huge plus is if it were slip-free, as it would prevent any falls that may come while hiking or walking on wet rocks and trails. I recommend rubber thing boots, which are scent-free, waterproof, and prevent slips. But for hiking or capturing big game, high country boots are best.
Length and Fit
You won't be able to use the boots well if they don't fit right, so it's best to have a pair of boots of your size. The length is crucial as well. It's best to have boots that aren't too short and can easily be fitted into, thinking about your layered socks as well.
Discover more: The 5 Best Deer Blind Heater Reviews: Stay Warm While Hunting!
Quick Tips On Hunting During The Cold Weather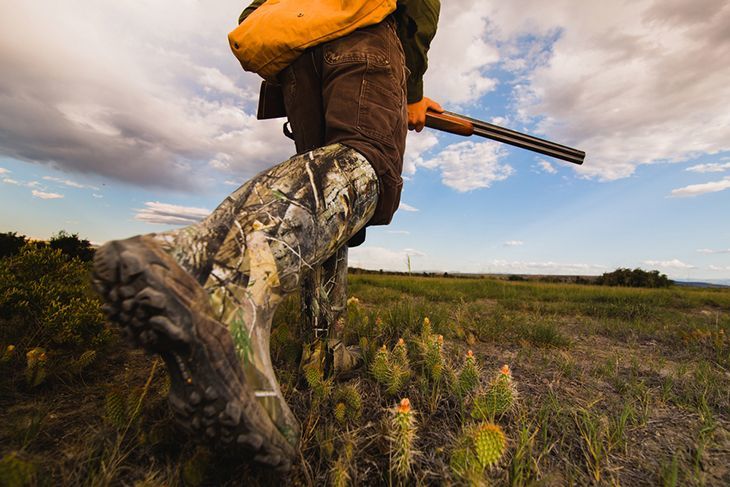 Now that you're familiar with what to invest in to protect your feet while hunting in cold weather, what else do you have to know when hunting during such weather conditions? Here are some tips to follow:
When planning to hunt during the cold weather, I recommend that you plan it around the frontal periods or right before they hit. This is the time when animals would be in the mood, feeding heavily to prepare for the winter weather. Watch the weather forecasts to plan ahead.
If you are already in the hunting field, find the food sources and focus on staying within the area. Pinpoint cold-weather food sources such as oats, winter wheat, or cornfields, as they can get quite productive and catch traffic.
Hunt low-lying thickets, as this is where deer would usually take cover in during the heavy snow. Not only are there food sources here, but thickets can also provide the required shelter and food for them as well. I suggest that you hunt in backsides of thickets
We all know how difficult it is to stay warm, even with the best cold weather hunting boots! Use insulated hats and face masks, as well as waterproof thin gloves and hand warmers to prevent your hands and face from becoming numb. All your layers and clothes should be waterproof and not too bulky that it would prevent you from moving properly.
Before leaving for a hunt during the cold weather, make sure that you clean your gun thoroughly, as the actions become tighter. Use gun oil and wipe it clean to avoid the gun from expanding and malfunctioning while you hunt.
Remember that even if it's nice to hunt in cold weather, that doesn't mean you shouldn't listen to your body and brave it out when it gets too cold! Once you feel the symptoms of hypothermia, leave immediately and get to shelter as soon as possible.
Here is an excellent video showing you how to hunt in cold weather:
In Conclusion
Hunting during the cold weather can be a bit uncomfortable, especially if you don't keep yourself warm and cozy with the appropriate clothes! Besides the usual layers and thick pants or accessories, make sure that your feet are protected as well, with the best cold weather boots. You'll thank yourself as you prevent wet feet from hindering your trip.
Out of all the cold weather hunting boots tried and tested, the best one would have to go to the Kamik Men's Hunter Cold-Weather Boot. What I like about it is its simple design and the fact that it's almost effortless to put on. The rubber and fabric make the boot feel comfortable when worn, but it's also waterproof as well. I experienced NO slips or wet feet no matter how cold the weather can get. My feet stayed warm the entire time, and I can say that it's definitely worth the investment.
I hope that this article on the best cold weather hunting boots helped you out! So don't wait any longer and invest in the right type of clothing for your next hunt today.
If you have any questions or would like to share your tips and experiences with the best Hunting boots for cold weather, then comment down below. I would love to hear what you have to think.