When it comes to deer hunting, you'll need to make sure that you know everything about your game. After all, you won't be able to properly capture deer if you don't know about how much meat you will get on average, or the strength you have to exert to take it down. That's why it makes you wonder: "How much does a deer weigh?" It really varies through a number of factors.
To learn more about deer and how much meat you will be able to get (depending on its average weight), then read on as I inform you all about it to help you out.
How Much Does a Deer Weigh?
The average weight of deer will depend on two major things: Their age and gender.
Make deer, or bucks, are those that hunters try to aim getting, not only for their meat but antlers. They also weigh heavier than female deer, or does. There are different types of weight to take note of when considering the mass of a deer.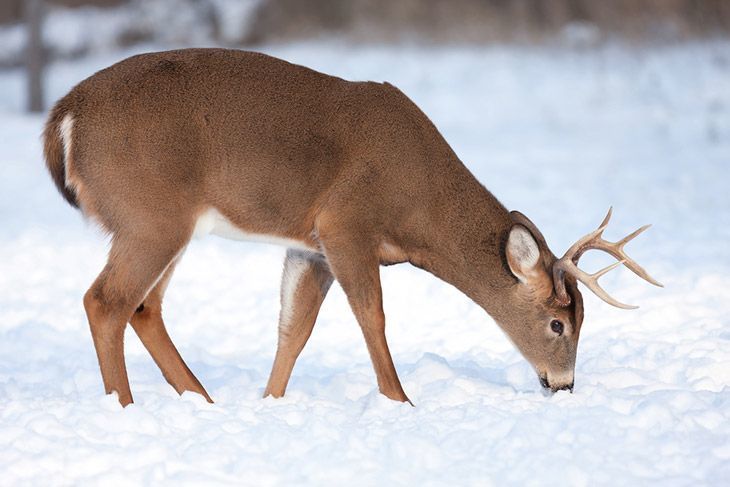 Live Weight
Bucks would have an average weight that ranges between 130 to 300 pounds. There have also been some bucks that weigh between 350 to 475 pounds. As for does, they would weigh between 90 to 200 pounds, all depending on their age. This is known as the live weight of the deer, which also include the non-meat areas. That's why venison from deer may be less than half of its total live weight.
Stop guessing your deer's weight. This useful formula will help you determine your deer's estimated live weight, field dressed weight, hanging weight and edible meat weight.
Live Weight * 78% = Field Dress Weight
Field Dress Weight * 75% = Hanging Weight
Hanging Weight * 75% = Edible Meat Weight
Field Weight
Once you have captured deer, the first thing to do once you have tracked it down is to field dress it. This is done quickly to avoid spoiling the meat from bacteria infestation. The process includes gutting the animal and removing all its internal organs to make it lighter. There is no exact amount of its field weight, since the mass of internal organs would vary from deer to deer.
Here is a simple calculation for you to figure out the field dress weight of the deer: Simply multiply the live weight by 78%.
For example, if you have a 189 pound buck, its estimated field weight would be around 147 pounds.
Hanging Weight
There is also such a thing as hanging weight, which is the deer's mass without its head or feet, and the hide has been removed. To get the hanging weight, divide the Field Dress Weight by 1.33.
Edible and Realistic Venison Weight
The venison is what you collect for consumption after having the deer dressed. There are two ways to break this down. One is the ideal boneless weight, while the other is the realistic weight.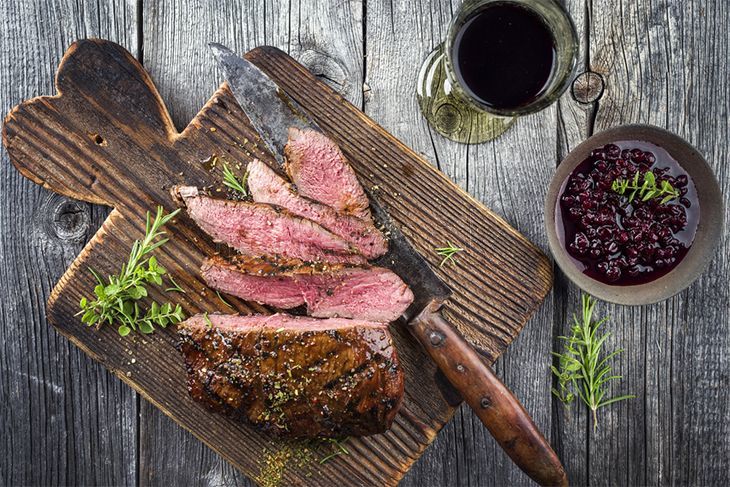 To calculate the Edible Venison, divide the Hanging Weight by 1.35. As for the Realistic Venison, multiple the Ideal Venison Weight by 70%.
So for example, if you get a field-dressed buck weighing 147 pounds, its hanging weight is 110 pounds. Its ideal venison is about 82 pounds, with its realistic venison weight being 58 pounds.
You can use the following formula to work backwards. If you know the weight of edible meat, you can calculate the hanging weight, field dressed weight, etc.. You can calculate from any weight. If you know the hanging weight, than you could estimate the field dressed weight and the live weight.
Edible Meat Weight * 1.35 = Hanging Weight
Hanging Weight * 1.33 = Field Dressed Weight
Field Dressed Weight * 1.26 = Live Weight
Here's a table to estimate your deer's live weight. Measure the girth just behind the front legs
Chest/Girth

(in.)

Live Weight

Field Dressed

Edible Meat

20

37

26

18

21

41

29

20

22

45

32

22

23

50

35

24

24

55

38

27

25

61

43

29

26

66

49

30

27

71

53

31

28

77

59

34

29

82

64

36

30

90

70

39

31

98

74

42

32

102

80

45

33

110

87

50

34

118

91

54

35

126

99

57

36

135

104

61

37

146

115

66

38

157

126

71

39

169

135

74

40

182

144

80

41

195

156

88

42

210

170

94

43

228

182

103

44

244

198

110

45

267

214

120

46

290

233

130

47

310

251

139

48

340

272

153
* The above chart was produced with information collected by the Pennsylvania State University Department of Dairy and Animal Science, and the Pennsylvania Game Commission.
Take Note
But remember that these are just average estimates and calculations to get you to a close answer. The weights will not be exact, nor will it be the same for all types of deer. Animals are assembled uniquely. The numbers from the equations I mentioned comes from estimates from calculating the chest-girth of deer.
Also, the way you shoot your deer will also be a huge factor as to how much venison you are able to get. Deer that has suffered a hit to the bullet on the bones or other meaty parts will have you yield less venison, which is why we made the realistic meat yield equation. This is the reason why it's crucial to properly aim and shoot your deer to avoid wasting meat.
Discover more: The Best Place to Shoot a Deer: 5 Effective Areas For Clean Kills
So my advice: Avoid hunting for younger bucks and does. Take your time to hunt for the big male deer and aim properly to save as much venison as you can once you have shot and killed your targeted deer.
Here is an excellent video showing you how much draw weight it will take to kill deer successfully:
In Conclusion
And there you have it! Through learning about how much your deer weighs, you will be able to learn about the amount of meat you can bring home. It can also help you choose your game to make the hunting experience well worth it. As long as you invest in the right hunting equipment like an effective scope mount, as well as ensuring that you know more​​ about the deer, then you will have an easier time capturing them for a memorable time.
I hope that this article answers your question: "How much does a deer weigh?" Now that you are familiar with the answer, go ahead and begin planning your next hunt, learning more about the deer as you go.
If you have any questions or would like to share more information on deer, then comment down below. I would love to hear what you have to think.