When it comes to bowhunting, you'll want to make sure that you have the right types of equipment to ensure that you get the sure kill! One of the significant investments you'll make for your hunts is the arrows. After all, these are what will have you kill your game successfully (or not!). With a quality arrow, you'll be able to shoot your game and efficiently use your crossbow when on the field.
There are two main types of arrows to choose from, depending on the material it's made out of: Aluminum or carbon. However, what's the difference between the two and which is better for you?
Read on as I show you a comparison of aluminum vs carbon arrows to help you make your decision!
Aluminum vs Carbon Arrows: What's the Difference?
Before we delve deeper into what type of arrow is best for you, let's first explain the differences between them.
About Aluminum Arrows
Aluminum arrows are a classic, which was created in the 1930s by James Easton. They have been tried and used for decades, up until this day. What's great about these arrows is that you are ensured that this is a quality arrow to invest in, as it's trusted for being reliable.
Also, aluminum arrows have a lot more sizes to choose from, which makes it suitable for hunters of all ages and sizes. Furthermore, they are a more affordable option compared to carbon arrows, which is why it's a popular choice for many hunters. As for shooting, aluminum arrows are bigger and are easier to pull from your targets. Plus, they don't crack.
However, there are a few downsides to using aluminum arrows. These arrows would bend easily and are less durable compared to carbon arrows. That means you'll need to straighten it or throw it out even after just a few uses. And with prices rising, it may not be as worth investing in as it was years ago.
About Carbon Arrows
But what about carbon arrows?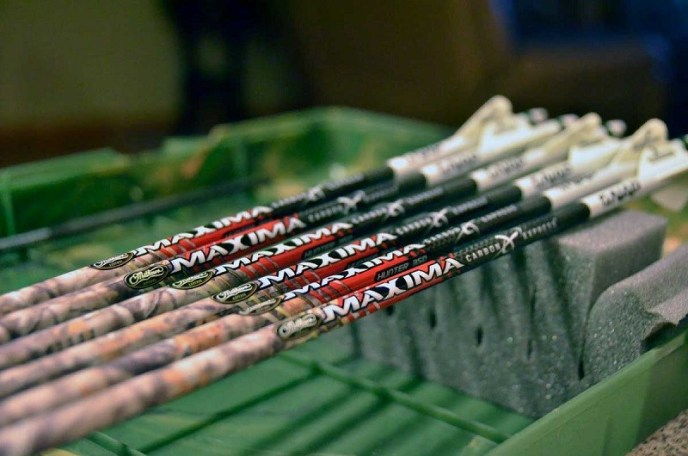 Carbon arrows are newer and only created back in the 80s. These arrows continue to evolve with technology and more studies. However, since it's a newer type of arrow, there still aren't as many sizes available, and they are much more expensive than aluminum arrows. Also, they may explode or shatter when shot or when used during cold temperatures. Fortunately, the chances of this happening are rare.
But with that being said, they have its perks. For starters, these arrows are lightweight, don't bend, and are known to be more durable than their aluminum counterparts. Because of its strength and durability, there is a chance of deeper penetration. And as technology advances, we can expect the prices of carbon arrows to lower in time.
Read more: The 3 Easy Ways on How to Cut Carbon Arrows
So, which is best for you? We'll get into that in the next section!
What Is the Best Arrow For Me?
Now that we know about the difference between aluminum vs carbon arrows, which is best for you?
In my opinion, I would recommend that you use the best carbon arrows. Though more expensive than aluminum, these are much more durable and built to last. Plus, since it's robust handmade of solid materials, it can penetrate deeper into your game, increasing the chances of a sure kill.
However, if you're on a budget and need something affordable in the meantime, then aluminum arrows are still an excellent choice. Just be careful to avoid mishandling it, as it would bend. Also, if they will only be used for training purposes, then aluminum arrows are recommended to avoid spending too much.
Fortunately, there are budget-friendly carbon arrows for new bowhunters to use. They are a favorite for both professional and beginner archers!
Read more: The Best Bow Quiver Reviews You Need For a Bowhunting Trip
Anyway, the choice is up to you, with the budget being a significant factor when selecting the arrow. For more insight on choosing an arrow, here is a video showing you how to choose the best arrow for bowhunters:
Wrapping It Up
With the right type of arrow to use for bowhunting and training, you'll be able to use your crossbow better while killing your game efficiently. The type of arrows will depend on what YOU want. There isn't a surefire type of arrow that will work for all. It will take research (like this) and tests to help you out!
I hope that this article on aluminum vs carbon arrows gave you an idea of what is suitable for you to invest in. Use this as a starting point to see what you should be using for your future bowhunts today!
If you have any questions or want to share your tips and experiences on bowhunting, then comment below. Your thoughts are much appreciated!