When you're starting to hunt, there are other things you'll need to take care of other than your crossbow and arrow. If you're planning on hunting deer or elk, then it's important to learn the various equipment you'll need to purchase for an active hunting session. One of the things you should invest in would be the best broadhead for elk!
But what's the best brand and what else of you need to know about a broadhead? Learn more about this handy hunting tool here!
Quick Comparison: Top Broadhead for Elk
| # | Product Name | Type | Weight | Cut Diameter | |
| --- | --- | --- | --- | --- | --- |
| 1 | Editor's Choice | Mechanical | 100 gr | 2″ | |
| 2 | | Fixed blade | 100 gr | 1-1/16″ | |
| 3 | | Expandable | 100 gr | 2 1/2″ | |
| 4 | | Fixed blade | 150 gr | 1-1/16″ | |
| 5 | | Mechanical | 100 gr | 1.5″ | |
**Below, you'll find our more detailed reviews, but you can also click the links above to see current prices or read customer reviews on Amazon.
The Top Five Best Broadhead for Elk
1. Rage- Hypodermic: The Strongest Broadhead (Editor's Pick)
What's so amazing about the Hypodermic broadhead is its simple and compact design. It's lightweight and looks as professional as it works. It has the sturdy material made with a solid steel ferrule with a hybrid tip design, enhancing the broad head's aerodynamics and accuracy. It can crush bones and offers the penetration I need when hunting. With its improved accuracy, lightweight body, and the excellent penetration, it's worth the price and belongs to my top list on best broadheads win hunting elk!
It's legit and comes with a set of three, making it a great investment. There are no problems when I used it and have been easy to install to my arrows as well.
Pros:
Intense penetration
Lightweight and compact body
Made out of sturdy, solid steel
Easy to install to arrows
Better speed and accuracy
Cons:
Rusts when under very wet weather conditions
A bit difficult to sharpen
G5 Outdoors Montec Broadheads are well-known around the hunting world. That's because it's one of the finest one-piece broadheads right now. It uses a patented metal injection molding, so it is durable and reliable as it is effective. And I was very impressed by its quality, hence why it became the runner-up!
The broadhead is made out of carbon steel, so you have assured sharpness. It's effortless to resharpen even after singing it again, making it cost-effective and worth the price. It's 100 grains and lightweight enough for better speed as well. With excellent penetration and a nice accuracy upon shooting it, it's definitely worth the investment.
Pros:
Solid one-piece with deep penetration
Lightweight and nice design
Easy to resharpen and reuse
Durable and will last for a lot of shots
Very sharp and quite scary to use sometimes!
Cons:
Not very accurate after 40 yards
They shoot a bit left, so it needs constant tuning
3. Swhacker Set of 3: The Most Cost-Effective Broadheads
The first thing that caught my eye when I saw the Swhacker broadheads were its cool design. It's made out of stainless steel, with its ferrule made out of anodized aircraft aluminum, so you are assured quality and strength without the high price tag. I love that it comes in a set of three with an affordable price. The two-blade broadhead is easy to screw in, and with the ideal thickness and sharpness, I need when hunting elk. It's razor sharp, penetrates nicely, and has breakneck speed when shot.
For those who want something affordable yet very effective, then I would recommend this one as you're getting more than what you pay for!
Pros:
High speed and accuracy
Excellent penetration
Doesn't open when brushed into something
Affordable price
Cons:
Not for those who aren't used to mechanicals
Not razor sharp and still needs sharpening before use
You will like the Excalibur because it's made out of premium quality. Sure, you might not love the price, but trust me, once you begin using it, it's worth the investment.
It's made out go high strength stainless steel with a 150-grain Boltcutter broadhead. It also comes with a set of six, so you have a backup just in case you're hunting and happen to lose or run out of broadheads. But regarding durability, no need to worry. They are VERY sharp and accurate! If you have more budget, I recommend this.
Pros:
Fantastic speed and accuracy
VERY sharp and will go through with excellent penetration
Made of durable and stainless steel
Easy to sharpen
Cons:
May injure from the sharpness
A bit hard to inset to the arrow for some
The Grim Reaper is another excellent broadhead known for its razor tip sharpness and blades that will easily penetrate and plot through for a successful catch.
They are very easy to install and sharpen. Once you use it, they fly true and are fast! You'll love its penetration and how far it can go, up to 100 yards (though I will test for further distances to see). It passes through bones and skin quickly and has the accuracy you'll appreciate.
Pros:
Can shoot accurately from far distances
Tip is very sharp and easy to penetrate
Durable and built to reuse
Easy to install and sharpen
Cons:
Sometimes arrives with blade out of the ring
Latch sometimes doesn't stay closed
What Do You Use a Broadhead For?
While you're hunting, I'm sure you're wondering about how people kill the elk with just an arrow instead of the gun. What a lot of beginners may not know about yet is that there is a specific accessory one can use to penetrate through their game's flesh and successfully capture them to bring home. And that's where the broadhead comes along!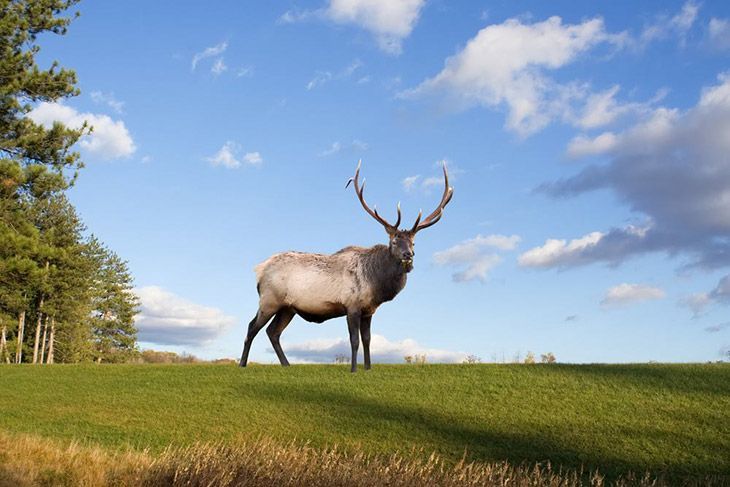 Broadheads are also called arrowheads. They are a sharpened tip added to the arrow to make it even more deadly or for other special hunting purposes. Before the earliest broadheads were made from stone or organic materials; then it started to evolve as the years passed. Today, there are over one million broadheads produced per year for hunters and archers alike.
There are different ways to attach the broadhead to the arrow. Broadheads are connected to the arrow shafts before being shot. It's what determines the purpose of shooting the arrow, as there are different types of broadheads to choose from.
Read more: The Best Fletching Jig: Top 5 Reviews You Need to Out!
The Three Main Types of Broadheads
There are different types of broadheads to choose from, all depending on the purpose of your hunting or shooting. To determine what you need (especially when hunting for elk), here are the various kinds of broadheads you can use today:
Fixed Blades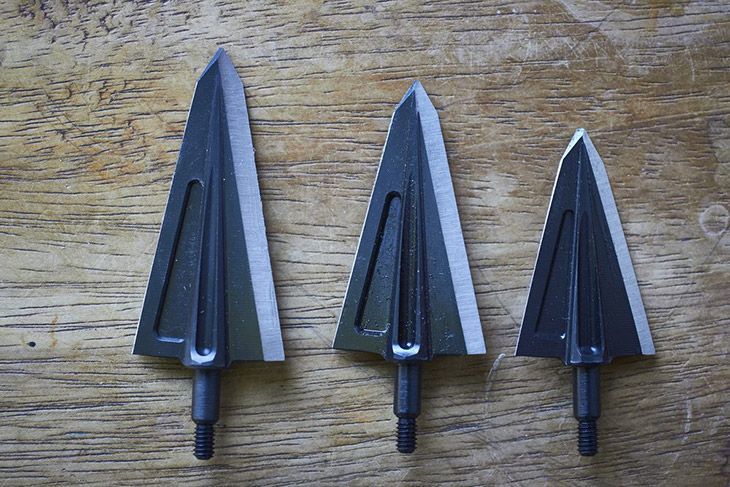 These are used by traditional-style bowhunters and those who shoot bows that have lower draw weights. They are glued directly to the arrow shaft or have a screw-in ensign that would fit many types of ferrules. It can also be used with adapters of your arrow shafts.
Removable Blades
These are designed to replace the blades on the ferrule. You won't need to throw away the whole broadhead if ever the blades are the only part that's damaged. Take note that ferrules are the center part of a broadhead where you attach the blades. These are ideal for those who want something they can reuse easily.
Mechanical or Expandable Blades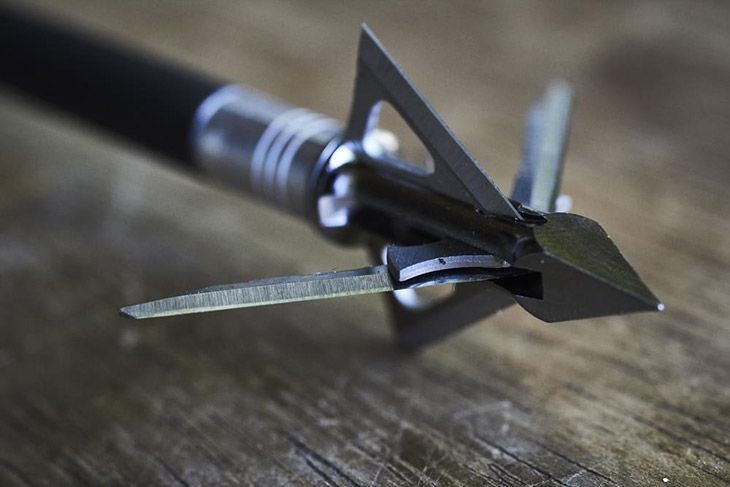 These are retracted close to the ferrule before making your shot. Once these blades create impact, the blades begin to expand so they can expose the cutting edges. These blades are recommended only for those who own bows that are rated over 50 pounds, as these types of broadheads need more energy to open up once it penetrates its target.
Cut-On-Impact or Cut-On-Contact Broadheads
These begin slicing into your target as soon as they hit it. This results in deeper penetration, which is ideal for those who have less energy on their gear.
Chisel Point Broadheads
These are a staple in archery gear and are similar to the fixed blade designs. They are more popular for hunting elk, as they are reusable and can hit tough bones without breaking quickly. It cuts through the hide first before the blades, helping the arrow maintain the course without it deflecting.
What you need when hunting elk will depend on your preference. If you're strong and have a heavier bow, then I would recommend a mechanical blade. For those who prefer something reusable, a removal blade will work. For me, I usually purchase fixed blades because of its versatility!
Choosing the Best Broadhead for Elk
Besides learning about the types of broadhead you should choose from, there are also other factors you should take into account, so you'll have an easier time using the broadhead. Because elk are much heavier than hunting the usual game such as deer or birds, you will need a quality and premium broadhead made out of robust material built for optimum penetration.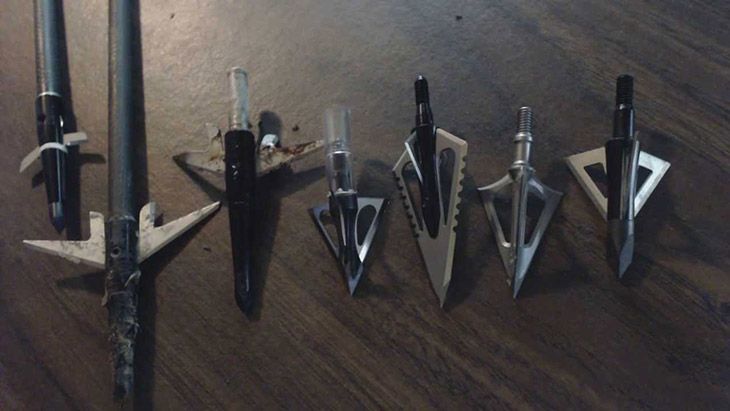 Look for a broadhead that also matches your bow. For those who have draw weights of over 70 pounds and a draw length longer than 28 inches, then you will want the fixed blade. For those who have a bow with a draw weight an average of 50 pounds and a draw length of about 26 to 28 inches, then a mechanical of an expandable blade will do best.
Price is also another factor. Broadheads are a necessity and vital in determining the type of game you'll catch and how successful it will be, so I recommend you NOT to scrimp on broadheads. Create a fair budget that won't burn a hole in your wallet, but still, offers a sharp and quality broadhead ready to penetrate deeply upon impact.
You will need to do your research and search for reputable brands and customer reviews from this (which is why I posted my reviews above to help you out!).
Read more: The 5 Best Fletching Glue Reviews: Fletch Your Arrows Better Now!
Here's an excellent video showing you what to look for in a broadhead:
Tips on Installing and Maintaining Broadheads
Wondering how you can tune your hunting broadhead for even better aim and accuracy? Follow these tips!
Wobble the broadhead a bit to see if it is loose. Spin the arrow with the tip of your broadhead on a hard surface. If it isn't spinning as it should, then adjust until there is no wobble.
Correct the wobble through using sandpaper or screwing on a different broadhead (the previous one you are using may have a problem).
Make sure that the blades (using a fixed blade broadhead) are aligned and tightened. When shooting, ensure that all the arrows are perfectly straight and aligned.
If you want extra speed, hunters reduce arrow weight. So if you are using the best carbon arrows, you may want to consider using arrows with less weight and with feathers for wind resistance.
Not only should your broadhead be sharp enough to shoot your prey, but you need to have proper form as well. Don't solely rely on your bow and arrow when hunting for prey. Keep on practicing and shooting with your arrows to gain skill and energy to penetrate to your target successfully. If you want to start bettering your hunting skills, then it's best to look through tips and advice from professional hunters regarding how to choose the length of your arrow or to hunt from an elevated stand.
In Conclusion
Whether you're hunting for elk, deer, or any other prey, you will need a broadhead. These are essential to kill your victim efficiently and assurance that you have them pinned down. With fast and lightweight broadheads, you'll be able to have successful catches without the hassle.
Out of the many broadheads we tried and reviewed, the best now would go to the Rage- Hypodermic Broadhead. What makes this broadhead the true winner here is its aerodynamic and compact design that makes it lightweight and easy to use. It's tough and penetrates well, better than many substandard broadheads out there. It comes with a solid steel ferrule that will lead to accuracy no matter what you are aiming for.
I hope that this article on the best broadhead for elk helped you become more knowledgeable on what you need to invest in for hunting. So what are you waiting for? Successfully kill your game and bring home the quality meat today with a sharp broadhead!
If you have any questions or would like to share your experiences with purchasing the best broadhead for elk, then comment down below. I would love to hear what you have to think.