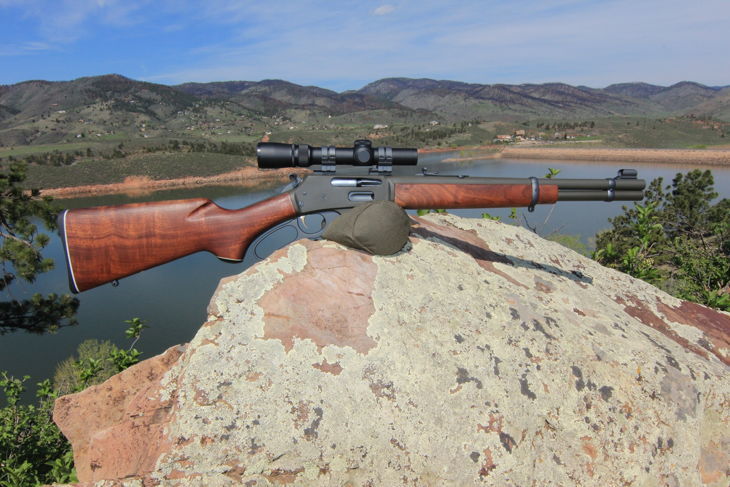 The Best Scopes for Marlin-336 for Better Accuracy When Hunting!
Don't head on to the hunting fields unprepared! If you've got a strong Marlin 336, then it's time to start investing in the best tools for better accuracy and power. One of the items that should be on your list? The best scopes for Marlin 336!
But with the many types of scopes available, what are the best ones you should get? Read on as I'll be showing you the top five best scopes for Marlin 336 to help you out.
More...
| | | Magnification & Objective | Field of View (ft. at 100 yds.) | | |
| --- | --- | --- | --- | --- | --- |
| | | | | | |
| | | | | | |
| | | | | | |
| | | | | | |
| | | | | | |
**Below, you'll find our more detailed reviews, but you can also click the links above to see current prices or read customer reviews on Amazon.
Top Five Best Scopes for Marlin ​​​​​336
Based on my tests, research, and overall customer reviews, here are my top five choices on the best scopes for Marlin 336.
What makes the Leupold one of the best scopes for Marlin 336 is because of its increased durability and strength! I love its sleek design that matches its premium material, made with the repeatable accuracy. The fully-coated lens offers the bright and clear pictures no matter what light you use, and it also provides friction dials that can easily be adjusted to your windage and elevation.
It indeed matches the robustness of the Marlin 336. I would recommend it to any hunter, as it holds its zero and offers the crystal clear vision no matter the weather. Its only con is that there is no cover for its lenses. But all in all, it's worth the price and is a must-have!
---
Nikon doesn't only cover photography equipment but also put their quality tools into making scopes like these, which come with the compact body and crisp imagery. It's one of the best for close ranges, as it offers two to seven times magnification with a 32mm objective lens. The fully multicoated optical system can transmit almost 100% of light available, light, making it perfect for low light situations. It also comes with the zero-reset turret and adjustment knob for ease of setting up.
With its excellent performance and body that can withstand water, fog, and hot weather, I can say that it's the perfect and lightweight addition to your Marlin 336!
---
If you want the similar compact Nikon scope but with a slightly closer magnification, then I recommend the Nikon Buckmasters II, which offers 3-9x40mm magnification settings. In collaboration with Buckmasters, the Nikon scope has the durability and versatility you need for quick targeting. It also has the bright anti-reflective system, so it has anti-reflection capabilities and offers the best images no matter the weather. It's waterproof and dog proof, even coming with the O-ring sealing and nitrogen filling to prevent moisture from coming in.
I like the scope because of its unique system. I have experiences fast and straightforward aiming points no matter what distance I shoot from. It's been accurate for me wherever I hunt, and it's never failed.
---
At a much affordable price compared to the Leupold, the Vortex Optics is one of the closest competitions for performance in scopes when on a budget. It has all the advanced features you need to improve the imagery and have you enjoy hunting in various weather conditions and wherever you go. The scope is made out of aircraft-grade aluminum for toughness and rigidity!
When in use, it increases light transmission without the reflection to produce crisp images I need no matter what magnification setting I put it on. It's also easy to adjust and has eliminated the need to guess and manually check for windage and elevation adjustments. Easy to set up and use and with a body built for the outdoors, you'll want to try this.
---
If you're on a budget and looking for the most affordable scope that doesn't scrimp on performance, then the Simmons Truplex is your best bet. It has everything you need in a scope, including a waterproof, shockproof, and fog proof body. 
I like that it has the zero fingertip elevation and windage adjustment, as well as the fully-coated optics to produce fine images. You do get what you pay for, but it still does a great job and will last for the long run. If you are a beginner and would like to test out the waters, then this is the scope for you.
The Marlin 336 is known as one of the best deer rifles made and is still commonly scoped. But if you're not yet familiar with what a scope does, I'll be explaining a bit about how it works.
Riflescopes are similar to telescopes, with the light passing through the objective lens and focusing on a point in the scope. The ocular lens (the one closest to your eye), would then magnify the light from your focal point. The scopes would also have a reticle or crosshair, which will show the hunter where the shot will go to once he pulls the rifle's trigger.
If you're wondering what the numbers of a scope mean (for example, 4-10x42 scope), it talks about the magnification, which is what you see through the lens. With the example, you will be able to see the image four to ten times larger compared to the naked eye. You will also know that it is a variable scope, where you can change its magnification settings.
So basically, a scope is one that would enable you to see magnified images from farther distances, which will allow you to take a clearer aim when targeting and shooting deer or other targets.
Why Should You Get a Scope?
Now that you know what a scope is, why should you get one? Here are some of the benefits using a scope for your Marlin-336 has to offer:
Helps With Vision and Accuracy
This is the main reason as to why hunters invest in a scope. It helps with their vision and has them easily adjust the line to shoot his target, estimating the distance and where he'll be shooting. No need to waste time trying to squint his eyes and hope for the best.
Because you have more of an accurate shot, you have better chances of hitting your game after one try. Not only does this save you time from taking your aim, but bullets as well! Plus, you hit the target without him running away from the sound of gunfire.
More Range For Your Rifle
You have a better range when shooting, meaning you can aim and hunt from farther distances. This helps prevent dangerous situations wherein you are too near your game, who can quickly attack you if you make the wrong move.
Less Eye Strain and Pressure on Body Parts
A scope magnifies the target and has you see brighter views, which prevents you from having to squint for a long time and put pressure on your eyes, causing severe eye problems.
Also, a scope will help your body as you won't be staying in a shooting position for a long time. This is because, as mentioned, you save time targeting the deer. You won't need to tilt your head and strain the neck, as well as your arms and back from putting weight on the gun. You won't even need to squat or bend too low when hitting targets as well since scopes can have you shoot at angles without the need to go into awkward positions.
Target Proximity and Helps With Moving Targets
Because you have a magnified image and field of view, you know where your moving target is, so you can predict his direction and quickly adjust your position to aim and shoot.
How to Choose the Best Scopes For Marlin 336
Once you have your mind set on investing in a scope for your Marlin 336, the next thing to know about is what to get that's suitable for yourself and future hunts. Here are some tips and factors to consider:
I recommend that you get a rifle scope that comes with extra features, such as a waterproof and fog proof body that can withstand various weather conditions to avoid it from wearing out quickly. The stronger the body, the longer lasts. Sure, you will be spending a few more bucks than expected, but remember that this is an investment to last for the long run and not just one time!
Some people prefer the fixed magnification if they are usually targeting and shooting from one distance. Others would like the variable scope, which allows them to adjust the magnification settings for various distances and preference. I prefer the variable scope, as it saves me money from purchasing and replacing fixed scopes.
Consider how far (or near) you plan to hunt your targets. A scope with 9x magnifications can view targets at a distance from 500 yards well, though you may want something a bit more. But since most hunting is done between 20 to 300 yards, I would recommend a scope with a 3-9x40mm setting.
Take note that the more powerful and better magnification, the heavier and bulkier it will be, requiring a bipod or stand. The objective lens should also be big enough to allow light to come in for more vivid and brighter views, especially when you plan on shooting during low lights.
Read more: The 7 Effective Ways on How to Hunt Deer In the Snow
If you now own a scope for your Marlin 336, it's time to learn how to mount and use it to your advantage. Here are some tips to help you use a scope:
When it comes to hunting and increasing your accuracy, you will need more than just your trusty rifle! Having a scope for your Marlin 336 is crucial when hunting no matter the distance. Not only will it help with aiming from farther lengths, but in various weather conditions as well. You'll have a higher chance of capturing your game this way, and with the strength of a Marlin 336 and excellent shooting skills, you'll be unstoppable!
Out of all the scopes tested and reviewed, the best one would have to come from the Vortex Optics Crossfire II Riflescope. What's great about the scope is that it has the strength and durability to last for a long time, along with the accuracy that has me continue to shoot my target with ease. It's also waterproof and offers the clear and bright sight picture no matter the light situation. Definitely worth the investment, as it will last for years of hunting!
I hope that this article on the best scopes for Marlin 336 helped you find what you need for better accuracy. So don't wait any longer and begin finding the right tools for your rifle and hunts today.
If you enjoyed the article or have any questions and want to share your experiences, then comment down below. I would love to hear what you have to think.