When I hunt, I don't only think of learning all about the deer to capture them. I also have to think of the possibilities when I do target and shoot them! Once I have them shot down and ready to dress, there's one challenge to go through: Hoisting them to skin or hoist to your truck. While you can carry it yourself and risk an injury because of the heavy weight, you can also opt to invest in the best deer hoist (game hoist) to make things easier!
But with the many hoists available, how will you know which is the best for you? Read on as I show you the five top reviews!
Quick Comparison: Top Deer Hoist
**Below, you'll find our more detailed reviews, but you can also click the links above to see current prices or read customer reviews on Amazon.
The Five Best Deer Hoists
Based on my tests, research, and overall customer reviews, these are the five best deer hoists you can invest in now:
What I like about the Guide Gear Deluxe Deer Hoist and Gambrel is how strong it is. When I received it, I immediately saw its quality and solid construction. I felt like it would be able to last for a long time.
And even after a few weeks of using it, whether it's heavy equipment or deer, I noticed that it's still easy and smooth to use! I commend it for its strength, though it may not be the best for a very big and heavy deer of over 300 pounds. If you plan on using it for a lightweight game, then there's no worry about its pressure. It works great and I have no complaints, especially for its price.
Pros:
Sturdy construction and feels made to last
Easy assembly and setup
Simple and effective, can be used for other items
More affordable price compared to other hoists
Cons:
Can't take the pressure of a heavy game
Made of plastic bolts
The Rage Powersports Deer Hoist is another awesome purchase, though a bit on the pricier side. While I was a little hesitant to purchase it, I saw its quality immediately and can say it's worth it to hoist just about anything. It's for the 500-pound weight capacity for large bucks and other heavy equipment. Not only that, but it has the heavy-duty steel construction, so I know it can last for a ton of uses when outside, regardless of the weather.
I also appreciate that it has the 360-degree swivel base design, so it's much easier to dress or load the deer to the truck. If you have a few extra bucks to spend on a hoist, then I would definitely recommend this!
Pros:
Heavy-duty steel construction for extreme durability
The hoist can take extremely heavy bucks
Has a swivel hitch for easy hoisting and dressing
Cons:
It comes at an expensive price
Not the most portable deer hoist
I appreciate the Rage Powersports Tripod Game Hoist not just because of its good weight capacity but because it's one of the easiest to use and assemble!
Honestly, I was quite surprised with how easy it was to set up, only taking one man and a few minutes before I was ready to start lifting my game. There's also a manual winch that makes it easy to lift the deer!
The hoist can take up to 500 pounds of weight, which makes it multifunctional for heavy bucks or equipment. It feels sturdy, has the power to lift, and I have no problems using it so far. So worth the price!
Pros:
It's very easy to set up and assemble
Sturdy and heavy-duty with the high weight capacity
Has a manual winch for easy lifting
Cons:
Winch cable isn't wound up neatly
Gambrel is very big and not the best for smaller game
The HME Products Truck Hitch Game Hoist has minimal problems at a moderate price. Honestly, I feel like you get more than what you pay for with this product because it comes at a complete package for ease of setup and assembly. It's built like a tank with its sturdiness, and I feel like it can last for the long run.
The weight capacity is lighter compared to others, but can still take in heavy bucks and equipment of up to 400 pounds. It does the simple job in hoisting your game up for dressing and lifting to the truck, and I have no major complaints whatsoever.
Pros:
Excellent sturdiness and lasts for years
Comes in the complete package for assembly
Performs as advertised and at a moderate price
Cons:
Winch cable doesn't have a clamp
Has a lighter weight capacity than other hoists
Last but not the least, we have the Hunter Specialties Super Mag Lift System. What sets this apart from the rest isn't just its affordability but the fact that it's portable and easy to bring and place in your truck. It also has a higher weight capacity of up to 600 pounds, making it a great buy for those who eye on capturing big bucks!
This is best for solo hunters because you can install it on your own and without the hassle. While the hoist is compact, it's heavy, which is pretty good because that means it's strong and built to carry the heavy weights.
Pros:
It takes only one person to assemble and use
Has a high weight capacity for big catches and equipment
Very affordable price with great value
Cons:
It's a bit too heavy to carry
The pulley sheaves are made of plastic
What Is a Deer Hoist?
Before we get into the details of a deer hoist, what are these hoists anyway?
Deer hoists are used to carry big deer catches for dressing or getting it into your car. They are usually portable to fit inside a car and will be set up once you have your catch. They would have a hook, strong rope, and a gambrel to carry heavy weights, such as the big deer.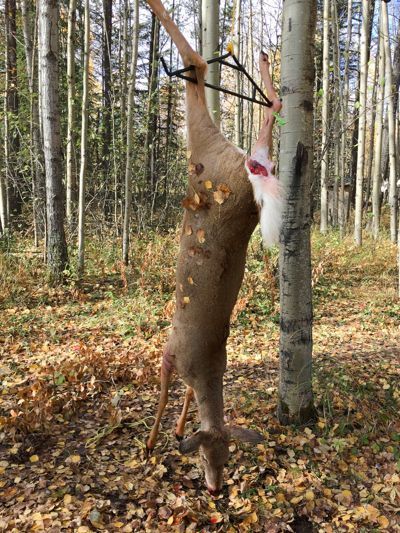 There are different types of game hoists to choose from, depending on your specific needs. They also have their many advantages, and it isn't just about carrying your deer! We'll get into the specific benefits and types of deer hoists to purchase in the next section.
Discover more:
The Benefits of Using a Deer Hoist
You're probably wondering: What are the benefits a deer hoist will give you? You'll be surprised that hoists like these aren't just for carrying deer! Here are the different uses it can offer:
Helps With Dressing Deer
This is one of the main reasons why I got a deer hoist. I can simply lift it up and start dressing my deer right then and there to lessen the hassle of doing it once I'm home. It can also help me dress hard-to-reach areas compared to if my game was on the ground.
Weigh Your Catch
What I love about deer hoists is that you'll be able to weigh your catch easily without having to carry it to the nearest weighing port yourself. That way, you can keep track of its weight, as well as its lean meat or hide if you choose to dress it on the spot.
Help Get It In the Vehicle
As a hunter, I'm sure you know how difficult it can be to bring your catch to the vehicle if you don't have the help. Even if you're super strong, you'll need a pair of extra hands to help you out! With a deer hoist, it does it all for you so you just need to set it up, lift the deer, and place it on the truck bed!
Other Uses
Another awesome benefit of deer hoists is that they aren't just for hoisting and lifting deer, but they're multifunctional for other pieces of equipment and game as well. As long as it fits the weight capacity, you can carry things for weighing or placing in your truck within minutes.
How to Choose the Best Deer Hoist
A deer hoist has its many advantageous uses, but that's only if you select the right one suitable for your hunts and vehicle! If you're confused about which hoist to get, then here are the helpful tips and factors to consider:
Strength and Quality Materials
Make sure that you look into the strength and durability of the deer hoist you plan to get. I recommend that you get a hoist with metal and steel construction, which are known to last and can work regardless of the weather condition. While it's more expensive than plastic, it's longer-lasting, making it a worthwhile investment.
Weight Capacity
Depending on what kind of equipment and game you'll be lifting, the chosen hoist has to have the high weight capacity to ensure that it can carry your deer without breaking or damaging. It's best to have a hoist that can take over 400 to 600 pounds of weight to ensure that it doesn't crack.
Type of Attachment and Ease of Setup
Last but not the least, ensure that the hoist you choose is compatible with your truck or vehicle, so it's easy to hook into it without the trouble of finding and purchasing extra attachments. You might also want to consider getting a portable deer hoist to make it easier to bring around.
Discover more: The 5 Best Bone Saw For Deer Reviews: Easier Time Field Dressing Now!
Tips on Using a Deer Hoist Properly
Now that you're familiar with the benefits of a deer hoist and how to select one, the next thing to learn is how to use it safely! Here are helpful tips to follow:
Set up your game hoist to a strong and durable tree to prevent it from reaching. The tree should have good overhanging branches and be long enough so you can drive your vehicle under it.
Before you lift your deer (maybe from a deer cart), make sure that the hoist is safely latched to your vehicle and that the ropes are safely attached to avoid any damage to your game or the hoist itself.
Cut the deer's skin between its tibia and Achilles tendon. Use the holes to insert the gambrel hanger into it, then pull it up until it's high enough to either dress or place in your vehicle.
Be slow and steady when lifting your deer and when letting it go. You don't want the rope to break out too quickly!
Once you are back home, make sure to wash and clean off the blood and residue from your hoist and gambrel to lengthen its lifespan.
You can also look into this informative video showing you how to use a hoist to lift deer:
Wrapping It Up
And there you have it! While you have to take account of the types of weapons you use and where you hunt, you also have to prepare for the times you'll capture your deer and where to take it for dressing on the spot or taking it to your truck. With a game hoist, you'll have less trouble and can use it anytime!
Of all the different hoists available, I believe that the Guide Gear Deluxe Deer Hoist and Gambrel is the best. It's very easy to use for truck and has multiple uses to ensure that you get to hoist deer or even heavy equipment for other uses. It has the sturdy construction, the simple instructions for assembly, and performs well, carrying heavy weights without the hassle.
While it can't hold extremely heavy weights, I believe it's worth the price for those who are targeting the average-build deer.
Hopefully, this article on the best deer hoist (game hoist) gave you an idea on what you need to invest in when capturing deer today. So don't wait any longer and look into any of these products now!
If you have any questions or want to share your tips and reviews on any of these hoists, then comment below. Your thoughts are much appreciated.