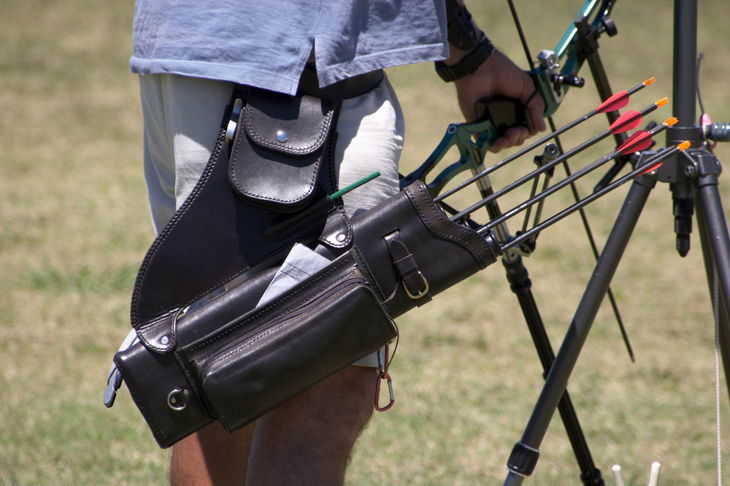 Best Bow Quiver 2018 – Reviews & Buyer's Guide
When you're planning to bow hunt, you'll need to make sure you have the right equipment to carry and use your bow properly. Without one, it will be quite difficult transporting and walking around with your bow and arrows! That's why it's important to have the best bow quiver for added protection while you hunt!
But with the many bow quivers available, which one is the best for your hunts? Read on as I show you my top choices on bow quivers and the ultimate purchasing guide to help you out!
More...
The Best Bow Quiver Reviews You Need For a Bowhunting Trip
Quick Comparison: Top Bow Quiver
**Below, you'll find our more detailed reviews, but you can also click the links above to see current prices or read customer reviews on Amazon.
The Five Best Bow Quiver Reviews
Based on my research, tests, and overall customer reviews, here are the five best bow quiver reviews you should consider getting today:
What I appreciate about the Easton Flipside Three-Tube Hip Quiver is that it comes with the reversible hook and loop pocket, making it easy to use for those who are either right or left-handed. It also comes with the necessary equipment you need for easy storage and attachment of your arrows, such as the attachment grommet, a bow square slot, and even a belt clip attachment for better security and protection.
It has the excellent material to last for a long time, as well as the many designs to choose from, including camouflage for your next hunting trips. All in all, it's comfortable and functional quiver that's worth the investment.
---
For those with kids and looking for an excellent quiver to help them hold their arrows while hunting with you, then I would recommend the Allen Youth Archery Compact Back Quiver, which is an affordable youth-sized arrow quiver which can be work on your hip or back! It comes with the easy-to-adjust strap and can hold up to 14 arrows, keeping them in place securely and without the material catching on to the feathers or points.
The quiver is durable and comfortable to wear, lightweight for your little one to carry during long walks or archery training. With thick padding, excellent material, and an affordable price, I would recommend this for children aspiring to become bowhunters like you!
---
For those who want an affordable quiver that's easy to wear with extra protection, then the October Mountain Products Quiver is the best for you. I love the fact that at such an affordable price, you get a quiver that holds its place without any of the arrows spilling. It's designed to hold the arrows no matter where you go or how you carry the quiver. It's got the excellent constriction that withstands any wear and tear, including walking around the fields in any weather! It ensures protection and fantastic storage for your arrows, which is a huge plus.
It's strong, works for both right or left-handed people, and with a belt clip for added security. All in all, a great price for a no-spill quiver!
---
Now if you're looking for the ultimate upgrade of quivers, then I would suggest the G4Free Archery Deluxe Canvas Quiver, which is made out of canvas, a very durable material built to last for many future hunts. Besides that, it's also quite comfortable and easy to wear, with it being lightweight and hassle-free to bring around. You can easily wear it and take off, as well as adjust its thick padding for ultimate wearability.
It's one of the best quivers at its price and you get more than what you pay for. It fits up to 30 arrows without it being too squished!
---
For those who want something sturdy and with the heavy-duty design to last, then the Kratarc Archery Quiver is best recommended for you. I like that it's made out of the strong polyester fabric for wear proof and multi-functionality, making it last for a long time no matter where you go. The quiver also comes with a large storage pocket, which can hold not just your arrows but its accessories as well, making it convenient and great for the advanced bowhunter. Coming with pushes, patches, and tactical clips for extra security, it's the best investment for strength and versatility.
---
The Benefits Of Using a Bow Quiver: Do You Need One?
There has been a debate on whether or not a bow quiver is effective and best for hunts. While there are some people who are against using bow quivers, I find that the benefits outweigh its disadvantages! Here are the following benefits using a bow quiver can do for you:
Protected Arrows
The best part about having a quiver is that you won't need to worry about your arrows damaging when inside your bag or from rattling and making noise. The quiver will be able to reduce as much noise as it can while ensuring protection for your arrows, so you can use it without fail.
Easy Storage and Removal
I like the fact that compared to using a bag I have to open to get my arrows (or holding on to my arrows to ready my position ASAP), I can just easily whip it out from the bow quiver. It's easy to store and remove arrows from, making it convenient!
Lightweight and Durable
Compared to using a separate bag or storage for your arrows, using a quiver is much more convenient as it's lightweight and easy to carry. Furthermore, if made with the right materials, a quiver will be able to last longer with its strength and resilience no matter the weather condition!
But of course, let's address its issues for you to weigh your decision:
Not The Best For Deer Stands
When you plan to hunt on an elevated stand or a deer blind, then you might have difficulty in either concealing or moving around as much as you usually would without it. A quiver filled with arrows can seem confusing if deer sights you as well as make it harder to take your shot!
Issue With Balance and Mobility
Besides it being difficult to move around in if you are hunting in tight or elevated areas, some hunters complain of balance and shot placement when using a quiver, as side quivers can cause one to overcompensate the shot from the extra weight from the quiver and arrows!
But overall, a bow quiver is indeed beneficial if you want something light and easy to carry with your arrows!
---
How To Choose a Bow Quiver
Now that you've decided to get a bow quiver, it can get quite confusing as to what you should get! After all, you shouldn't get the first thing you see online but to do your research. For those who aren't familiar with how to choose a bow quiver, here are some tips and factors to consider:
Type of Quiver
There are two main types of quivers to choose from, depending on how to carry it.
How It Holds the Arrows
How many arrows will you need the quiver to hold? Some arrows can hold two or up to 16 arrows. Additionally, consider how it keeps your arrows in place, ensuring that it holds on to it sturdily and are made for your arrows size and diameter. That way, you won't have to worry about storage and carrying!
Noise and Mobility
When using your quiver, will it make your bow or arrows loud while you move? You can test this out by shooting with your bow while the quiver is attached. The quieter the bow (no matter what type of bow) is, the better! Also, ensure that the quiver you use is easy to move around in when walking or in position.
Material and Weight
Last but not the least, ensure that the quiver you choose is made out of the quality material built to last for many hunts to come. It should also be lightweight to make it easy to store and carry around in. When inviting in hunting equipment, always focus on strength and durability!
---
Tips on Using a Bow Quiver
Now that you're familiar with the benefits of a bow quiver and plan on using one, how will you be able to start utilizing and caring for it to last? Read on as I show you the best tips on using a bow quiver while hunting:
Here is an informative video to help you learn more about how to fit a bow quiver:
Wrapping It Up
If you want to ensure that your bow and arrows are well-protected while on the fields, then the best bow quiver will help you out. Sure, it has its drawbacks and isn't for everyone but if you want something for easy storage and carrying without bringing multiple heavy bags, then a bow quiver is an excellent investment.
Out of all the bow quivers tried and tested, the best one would have to go to the Easton Flipside Three-Tube Hip Quiver. What's great about this bow quiver is that its great for protection while being flexible for those who prefer either the left or right side. It also has the attachment grommet, clip attachment, and a bow square slot for easy clipping and storing of your accessories for bowhunting. I also appreciate its camouflage colors and the fact that it can come in other designs, depending on what you want! All in all, this bow quiver is a great investment to last for many bow hunts to come.
I hope that this article on the best bow quiver helped you find the one you need for your bow and arrows. So don't wait any longer and make the right investment today!
If you have any questions or would like to share your tips and experiences on investing in the best bow quiver, then comment down below. I would love to hear what you have to think.