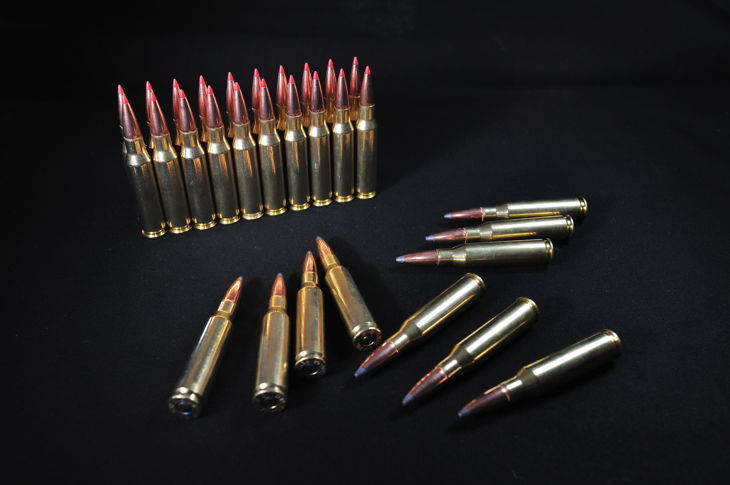 6.5 Creedmoor vs 7mm-08 Remington: Which is The Best for Hunting?
Whether you're hunting deer or for self-defense on the field, it's important to pack the right types of guns. However, because we're more focused on the type of gun we're holding, we forget about the type of ammunition we should use. A lot of people, especially beginners, are sometimes confused with the different cartridges available. 
For me, I believe that both the 7mm-08 Remington and 6.5 Creedmoor are the top. But what's the difference between both?
I did the research from mightyoutdoor.com for YOUR hunts. So read on as I show you the difference between a 6.5 Creedmoor vs 7mm-08! And don't forget that no matter what cartridges you use, you also need a smart rangefinder for long-range shooting. If you don't already have one, then this will be a great addition to your hunting kit.
More...
What is a 6.5mm Creedmoor?
The 6.5mm Creedmoor is a newcomer compared to the 7mm-08 Remington, with it being introduced in 2008. The difference between this and the Remington is that it has less body taper and a smaller size, with it being shorter and having a 30-degree shoulder.
While the Remington has more powder capacity, the Creedmoor has better maximum-average pressure. Also, it's built better for the long-range shooter. Offering the similar velocities but the Creedmoor fits in short-action rifles or AR-10-sized magazine, making it more compatible with whatever weapon you're using.
This little cartridge has an excellent muzzle velocity at a smaller size, comparing it with the .260 Remington (and using the same weight bullet of 140-grain).
Another benefit I like about the Creedmoor is that it's budget-priced but with better accuracy than what you would expect. It's exceptional when working long ranges of up to 1,400 yards, which is why I would recommend it most for long-range shooters, whether they're far from their targets or up on a tree stand.  If you want to know more about 6.5 creedmoor scopes, click here!
Check out this helpful video reviewing the 6.5mm Creedmoor to get an idea on how it shoots:
Large rifle, Small rifle (Lapua and Starline brass)

Maximum pressure (C.I.P.)
143 gr (9 g) Hornady ELD-X

Test barrel length: 28 inch
What is a 7mm-08 Remington?
The 7mm-08 Remington was introduced in the 80s, sitting between both the .243 and .308. While the latter two are excellent, the 7mm-08's popularity has begun growing, making it the better-known cartridge today.
The reason why the 7mm-08 is a popular cartridge is that of its performance when hunting deer. It performs well, being one of the most used cartridges used all over the UK. This cartridge is made of quality construction and when shot, has minimal meat damage. It would kill deer efficiently with excellent penetration. But most importantly, it kills in one shot and cleanly.
Another excellent benefit of this cartridge is its lack of recoil. When using 140-grain bullets in the 7mm-08, you won't feel much of the recoil and smooth operation when shooting. While it's a bit on the heavier side, you'll be surprised that this large cartridge doesn't have much recoil and still stay comfortable when you shoot.
But when using lighter grain bullets, it may not perform as accurately as expected. 140-grain bullets (and above) are more compatible with the cartridge. All in all, it offers the gilt-edged accuracy without the muzzle blast and recoil.
To get a gist on how the 7mm-08 Remington works, this video will show you a visual of it:
140 gr (9.1 g) Nosler Partition

150 gr (9.7 g) Speer Hot-Cor SP

175 gr (11.3 g) Nosler Part

Test barrel length: 24 in
The 6.5 Creedmoor vs 7mm-08 Remington
Now, between both the 6.5 Creedmoor vs 7mm-08 Remington, which is the better one?
I don't want to recommend one over the other because they both have their pros and cons, depending on what YOU need when hunting.
If you're focusing on long-range shooting with better penetration for a surer hit on elk, then the 6.5mm Creedmoor is the way to go. It has a higher sectional density for killing power, as well as less recoil when taking your shot.
However, the 7mm-08 also excels but in shorter ranges. It has a good velocity and is an original (with the Creedmoor being a newcomer). It's a well-constructed cartridge that offers enough damage without breaking into deer meat. It shoots smoothly, without much of the recoil but with more accuracy.
If you want a heavier load to bridge the gap to your rifle when shooting deer, then the 7mm-08 Remington is a good choice. For those who want to shoot accurately and have less recoil from a long-distance, the 6.5mm Creedmoor is something to consider. Weigh the factors in how you hunt, from the distance to comfort, and you'll know which cartridge to invest in. You can also refer to its elevation and accuracy based on its distance here:
While both the 6.5 Creedmoor and 7mm-08 Remington are both amazing cartridges, each has their own pros and cons that make it better depending on what you want for your hunt and shooting practices.
I hope that this article on the 6.5 Creedmoor vs 7mm-08 Remington gave you an idea on what you should invest in for your next hunts today. So don't wait any longer and look into these cartridges now!
If you have any questions or want to share your tips and experiences when handling any of these cartridges, then comment below. Your thoughts are much appreciated!