When it comes to hunting deer, you'll want to make sure that you know when the best time to hunt is. You'll want to fully understand your prey, from the way they act down to their mating period. But the question is: How? During gestation period, you might be wondering "How long are deer pregnant?" as this will help you figure out when the best time is to go hunting.
So read on, and I'll be showing you the gestation period of deer and how knowing this makes you an even better hunter. Take note that I'll be focusing on the popular white-tailed deer, which is the best and common around the United States.
Why Should I Know About The Gestation Period?
Before the gestation period, there is a breeding season, where all does prepare for pregnancy and bucks begin to show themselves more for mating purposes.
The rut, or mating season for deer, is the busiest season, where both male and female deer begin to go out and mingle. Plus, many does are out during certain periods to prepare for their pregnancy.
Knowing the length of the rut (and when it happens) will help you know the best time for hunting. That way, you'll bring your A-game on and improve your hunting skills.
During the Rut
During the rut, many young does (those under a year old and who are not pregnant) come out, which is the best time of the year. This usually happens after seven months of birth.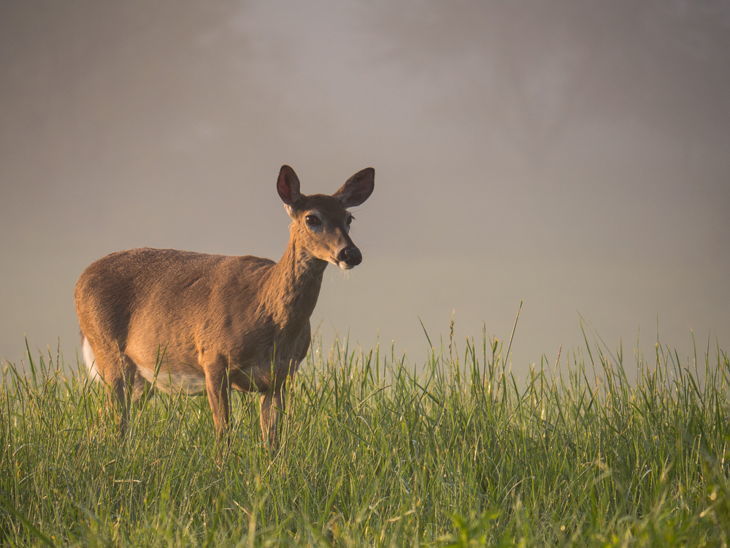 The rut date would depend on where you're located, as some seasons would be later than others. This is because deer avoid the cold weather. You can use this reference site to help track when the rut season happens.
How Long is a Deer Pregnant?
Once a doe gets pregnant, she will give birth after 180 to 200 days. It all depends on the species, but the white-tail deer are pregnant for 201 days on average. At first, the doe would give birth to one fawn. After the doe's first birth, she would begin giving birth to two (sometimes three to four) fawns in subsequent years.
Before hunting for doe (especially after the rut), you will need to make sure that you know the rules and regulations of your state when hunting. Why? Because there will be times you aren't allowed to hunt pregnant doe! You should know how pregnant deer look like and how they act to avoid hunting for one and violating the state's legislation.
It's a bit difficult to tell if a doe is pregnant, only basing it on her size. Here's a video to show how pregnant doe may act or look like:
If you are still unsure about how to tell the difference, then I recommend you to hunt for bucks until you learn, especially if hunting for pregnant deer is not allowed in your area.
When Should I Go Hunting?
Like mentioned, the rut season is the best time to go hunting, when you find young doe and bucks roam in around looking for an adequate partner.
In the north, it usually happens during the fall season, right before winter. So it occurs from October to December. But down in South America, white-tail deer don't mate until January to February.
A doe would then give birth to fawns between the months of May and June, making summertime a lazy season for deer hunters, as the animals aren't usually out this time. I would recommend you to begin hunting from October to February, depending on where you are from.
Again, you should check legitimate websites (or ask fellow experienced hunters) on when the rut happens in your area. I would avoid the cold and harsh weather since deer aren't usually out then (and it is also unsafe for you!).
See also:
In Conclusion
Are you planning on going hunting? Then there are a lot of things you'll need to consider before bringing out your gear and heading out to the field! You'll be surprised to know that even the gestation period is a major factor as to when you should hunt since many deer may or may not be out during certain times.
I hope this article answers your question "How long are deer pregnant?" Now that you know about the breeding season and pregnancy periods of deer, you can now schedule your days out on the field and improve your skills as a hunter today!
If you have any questions or would like to share your experiences on hunting during the gestation period of deer, then comment down below! I would love to hear what you have to think.