The suitability of firing mechanical broadheads through mesh surfaces is a topic of interest among archery enthusiasts and hunters. Mechanical broadheads are meant to expand upon impact, maximizing damage, whereas mesh screens or netting are commonly utilized for concealment in hunting blinds. So, can you shoot mechanical broadheads through mesh?
The combination of these factors raises concerns regarding the efficacy and safety of firing mechanical broadheads via mesh. The worry derives from the possibility of the broadhead's expansion mechanism interacting with the mesh.
Furthermore, the mesh could obstruct the broadhead's flight path, reducing accuracy and even jeopardizing the shot's outcome. To ensure successful and ethical hunting practices, it's vital to understand the dynamics between mechanical broadheads and mesh surfaces. Understanding the interplay between them, design, and shooting distances is crucial.
This article dives into the issues surrounding this subject. The goal is to provide insight into whether shooting mechanical broadheads through mesh is a viable and recommended option.
About Mechanical Broadheads And Mesh
Before we get into the meat of the issue, let's first understand what mechanical broadheads are. Mechanical broadheads are a type of arrowhead used in archery. They are also known as expandable broadheads.
Unlike fixed-blade broadheads, they have retractable blades that open up on impact, causing more damage to the target. This shape allows the arrow to fly farther and straighter, making it a favorite among archers.
Any material that has minute holes or apertures is referred to as mesh. It is frequently used to keep insects and dirt out while allowing air to circulate in hunting blinds, screens, and other outdoor constructions. Mesh is made of a variety of substances, including nylon, polyester, and metal. 
Can You Shoot Mechanical Broadheads Through Mesh?
Yes, you can shoot mechanical broadheads over mesh. While it is possible to shoot mechanical broadheads through a mesh, there are 3 factors you need to consider before doing so. Let's take a look at these factors:
Size Of The Mesh
The size of the mesh is a crucial factor when it comes to shooting mechanical broadheads. If the mesh is too fine, it can interfere with the arrow's trajectory and cause it to veer off course.
On the other hand, if the mesh is too large, the arrow may penetrate through it without causing enough damage to the target. Therefore, it is essential to choose a mesh size that strikes a balance between these two extremes.
Material Of The Mesh
Another crucial factor to consider is the mesh's substance. When the mesh is too thin, it may not be able to survive the arrow's contact and split apart, leading the arrow to deviate from its intended path. Similarly, while the mesh is too dense, the arrow may not be able to penetrate it sufficiently to reach its target.
As a result, it is critical to select a mesh material that is robust enough to withstand the arrow's impact but not so dense that it impedes the arrow's course.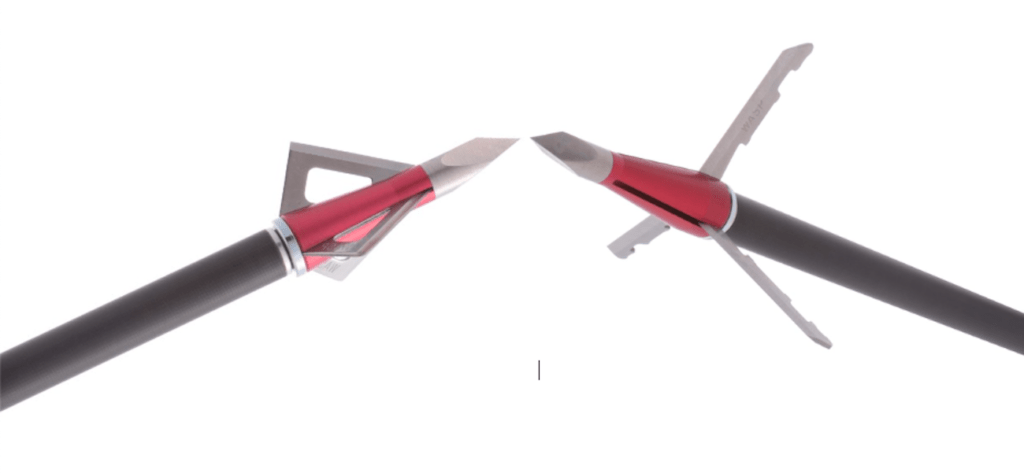 Type Of Broadhead
The type of broadhead you use also plays a significant role in determining whether you can shoot through mesh. Some broadheads are designed explicitly for shooting through mesh and have smaller cutting diameters, making them more suitable for this purpose.
On the other hand, broadheads with larger cutting diameters may get caught up in the mesh and cause the arrow to deflect. 
Read this post: The 3 Easy Ways on How to Cut Carbon Arrows
Evaluation Of Shooting Mechanical Broadheads Through Mesh
Shooting mechanical broadheads through mesh has advantages and disadvantages, just like shooting any other gears.
Advantages
The usage of mesh can help obscure your position from the target, making it simpler to sneak closer for a shot. Shooting through mesh also allows for improved arrow penetration since the mesh might prevent the arrow from completely passing through the target.
Disadvantages
Taking shots through mesh can be challenging, as the mesh can interfere with the arrow's trajectory and cause it to deflect. Also, shooting through mesh may require more force, which can affect the accuracy and speed of the arrow.
Advice On Shooting Mesh With Mechanical Broadheads
Shooting a mechanical broadhead over the mesh is not a simple skill. Hunters need to keep in mind tips that will increase their success rate when doing this.
Use A High-Quality Mesh
Invest in a high-quality mesh that is sturdy enough to withstand the impact of the arrow. Cheaper meshes may not be strong enough and can tear apart, causing the arrow to deflect.
Choose The Right Broadhead
When shooting through mesh, selecting the right broadhead is critical. Look for broadheads made expressly for this purpose, as they will have smaller cutting diameters and will be less prone to become entangled in the mesh.
Practice Your Shots
Before heading out into the field, practice your shots on a target with mesh. This will help you understand how the arrow behaves when it comes into contact with the mesh and adjust your aim accordingly. Shooting through mesh requires practice, just like any other archery ability.
Use Caution
Check the mesh for any rips or damage before you start shooting. It might be risky to shoot through damaged mesh since the arrow may deflect and veer off course. Shoot through mesh carefully and with the appropriate safety measures. Make sure there are no people or animals nearby your target and always wear the proper safety equipment.
Conclusion
Shooting mechanical broadheads over mesh can be challenging, but it's possible with the right gear and technique. Remember to consider factors such as mesh size, material, and type of broadhead before attempting to shoot through mesh. Select proper broadheads and high-quality mesh before practicing your shots on a mesh target. You can successfully shoot mechanical broadheads through mesh and advance your archery abilities with the proper training and practice.