Do you have a couple of guns that you want to store in an efficient and safe place? Well then it sounds like you need a gun cabinet or gun rack. However, if you're looking to buy one they can be pretty pricey so keep that in mind. Therefore, if you keep reading, you will find plenty of unique gun rack ideas that you can copy or even take inspiration from. This way, you can save your dollars and still have a functional and aesthetic gun rack.
#1: Cedar Cabinet
If you love a rustic and homey look, you're going to love this weapons cabinet. It features the perfect choice of wood. Cedar is strong, fragrant and has a lot of interesting rivets and patterns running through it. This cabinet will be both practical and aesthetically pleasing. Feel free to set it up anywhere in the house because it won't look distasteful. What's more, you can build swinging doors to ensure your guns stay safe and you can hide them away if needed.
#2: The Pallet Rack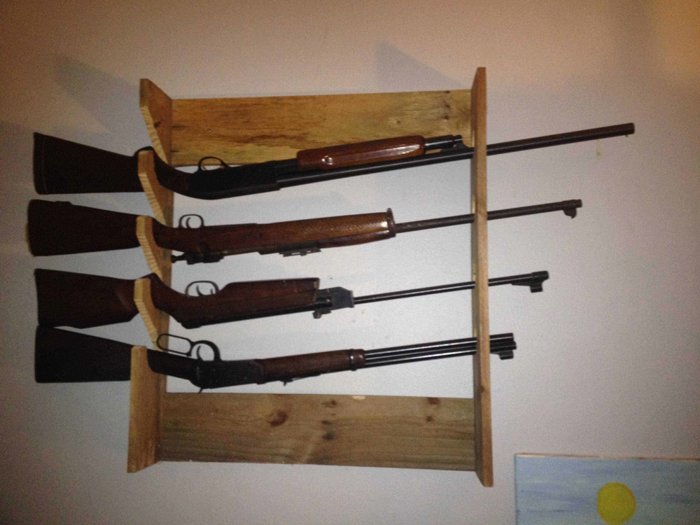 This one is more for people who value DIY and clever thinking, but don't have a lot of advanced carpentry skills. All you need to do is hang a pallet on any wall in your house and slide in all your guns and other weapons. It looks like an interesting wine rack and you won't regret this sawed off, homemade look.
#3: Traditional Glass Front Cabinet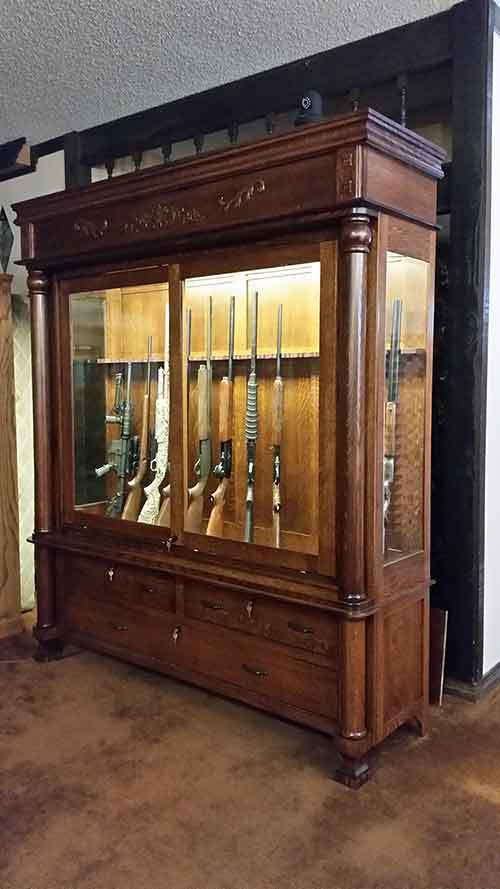 Here's another cabinet that is both basic and aesthetic. This one can be as finely cut as you want, but you can also go for a more rugged look if that appeals to you. The glass casing in the front will ensure that you can display your guns with pride. It will also help you keep track of all of your weapons.
#4: Photo Frame Gun Rack
If you're the kind of person who wants to conceal their guns around their home, you might be interested in this innovative gun rack. It basically hides your gun underneath a photo frame that has a concealed chamber underneath it. This will help if an intruder breaks into your home. They won't be able to find your weapons chamber and you can be safe and sound.
#5: Coffee Table Gun Rack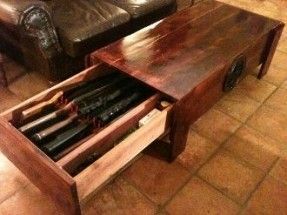 This is another one that's super clever and hides your weapons in plain sight. It's essentially just your run-of-the-mill wooden coffee table, except it has a hidden compartment where you can store your guns and other weapons. So you can walk by your table and casually lift the lid to find a whole lot of guns stashed inside. However, you should think about adding a lock or some other safety mechanism to make sure your guns stay safe. This might be a hindrance if you need your guns in a hurry, but it'll ensure your expensive weapons are safe.
#6: The Filing Cabinet
If you have an old filing cabinet lying around, you can put a creative spin on it and add a couple or more guns! Yes, you read that right. You don't need to throw out the filing cabinet. All you need to do is remove the drawers, set up a few shelves inside and then use the frontside of the drawers to create one solid slab. It will look like multiple drawers, which is pretty clever for concealing purposes.