Besides being in the field, there are other ways on how to shoot and train better as well. Through training, you can become a better hunter. That is why to practice effectively; you need the best shot timers to help you out. These useful tools for training and practicing are recommended to keep your shots quick and consistent. But what are the best shot timers to invest in today? Read on as I show you the top five you should consider getting!
Quick Comparison: Top Shot Timers
**Below, you'll find our more detailed reviews, but you can also click the links above to see current prices or read customer reviews on Amazon.
The Five Best Shot Timers
Based on research, testing, and overall customer reputation, here are the top five best shot timers you can invest in today!
What I love about the Pocket Pro Timer II CEI001 is how easy it is to use. It only uses one 9-volt alkaline battery that lasts long and with the three configurations of display that makes it hassle-free to set when shooting. It's also a breeze to clip on my belt and wear, with me being able so to see the results and time with ease as the bright displays are showing the moment I look down at it.
The shot timer also comes with an automatic power turn down if you don't use it after ten minutes, saving even more battery. And with its blue and compact square design, you have assured something strong and built to last. It is why I chose this shot timer as one of the best!
Pros:
Lightweight and compact
Easy to set​
Strong battery life
Durable and can handle harsh weather conditions
It has all options needed
Cons:
Clasp is too thick
Thin plastic
Battery lacks padding
If you're looking for something with the beautiful design and the advanced technology, then the PACT Club Shot Timer 3 is the way to go. It has the custom multi-function display and the 100-shot memory that compresses data automatically. It's easy to set up, and with all the options you need in one small tool. The body is sleek and all black, easy to clip on and with the scaled conductive rubber keypad to quickly press into. The corrosion-proof contacts also make it stronger and durable.
As for its performance, you can choose between instant or random delayed starts, and with the accurate timing, you need to improve your skills. A definite must buy!
Pros:
Flawlessly timed shots
Easy to use and see display
Loud beeps
Cool, sleek design
Cons:
A bit inaccurate once dropped
Instructions are a bit confusing at first
If you're looking for something that holds all the necessary information and the easy to use functions, then Competition Electronics is an ideal choice. The body is compact enough and fits nicely in the hand while clipping it on your belt. It also has the big start button on its side to quickly set and begin your shooting session.
I also appreciate its powerful buzzer and the shot sensor which is very accurate. The intuitive menu is easy to learn and remember. And, it automatically turns off after ten minutes without using it! With its long battery life and the two-year warranty, you are assured durability to last.
Pros:
Huge buttons for large hands
Fits well in the hand
Settings easy to learn
Automatic shutoff​
Long battery life
Cons:
Does not store modes
No off button
Competition Electronics is back at it again with its simple yet efficient shot timers. This one is no exception, as it does the simple yet fantastic job of accurate timings during your shooting sessions. It's cheaper than other shot timers and with the lightweight and clean design that is easy to clasp on the belt. It has a loud beep, simple but understandable features, and the clear view. Durable and without real complaints, I would say this is worth the purchase. Especially for those who are beginners at competitive shooting or training!
Pros:
Durable and lightweight body
Easy to clip on and off
Easy to operate
Big display for clear view
Cons:
Controls are a bit flimsy for splits
Older model
No volume setting
The Pocket Pro Shot Timer is meant for the pocket as it has the compact body and huge memory for such a simple model. It can review up to 50 shots and can use either left or right hand when using, making it comfortable and easy for anyone. It also has the clear view and large buttons to set, with it being understood and without hassle to use. You have the accurate time and adjustable sensitivity with a loud beep once you start it. It does the simple job and is a must-buy for those who want something simple and easy to use.
Pros:
Review of 50 shots
Good battery life
Adjustable sensitivity and direct review of all information
Loud beep
Separate shot sensor and buzzer
Cons:
Old model​​​​​
A bit difficult to navigate modes
Cheap feel
What Are Shot Timers?
There may be some of you wondering about what a who timer is and how to use it effectively. So what is it in the first place?
Shot timers are shot-activated timers used for shooting sports. This is used when you start the timer and record the time electronically, which detects the sound of each shot combined with time from the start signal. When the shooter is done with the session, this timer will then show the time starting from the beginning signal down to the last shot. It's recorded to the hundredths of a second.
Shot timers are also available as apps on smartphones, though are less reliable than the standalone units. The standalone units show accurate times, are portable and can easily be worn and clipped on the belt. You begin with a high-pitched beep and start shooting to record the time. Standard timers show the par time which allows the start and stops beep, and the start delay to allow the beep to start at a set time, and the review function to check all the information needed after your shooting session.
They are used for training or competitive shooting, as the time is one of the things that measure the quickness and agility of the shooter, which helps them become better.
See also:
Benefits of Using Shot Timers
Why do you need to use a shot timer anyway? What good does it do when showing time while you are training or shooting competitively? Here are the benefits using a shot timer can do for you and your shooting:
Measures Quickness
Shot timers focus about the time that elapsed when shooting a target and to show how accurate your shots are based on how quick you shot at it. Because of this, it helps with your ability to shoot as fast as you can without breaking a sweat, helping you build up your skills as a hunter when put under the pressure of time.
More Pressure and Stress
I know that being under time and pressure puts you under stress. And though you might think that's a bad thing, more stress to your training will help you push to perform better, which, in turn, helps with your skills and complete goals thanks to that little push called pressure.
Helps You Know What to Correct
A shot timer will allow you to determine what you need to modify in either your gun or the wear you shoot. You'll be able to study what works best for you and how fast you can deploy and reload your pistol. It gets you to measure both time and accuracy, which gives you more opportunities to study how you hunt and what works best for you.
How to Choose Shot Timers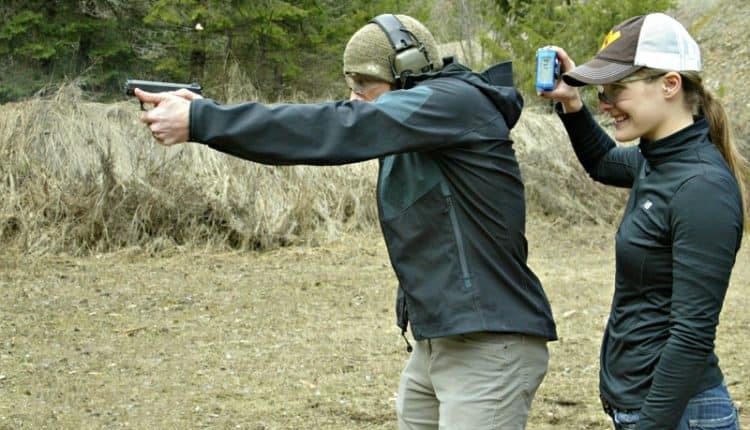 But what are the best shot timers and how do you know which one is right for you? Here are the various tips and factors to consider when choosing the best shot timer for you:
Data Recording
Consider the memory and how accurate the recordings of your shot timer will be. This is what will measure your skill and progress, so you will want something that is as precise as possible with the proper features. It should also be easy to use and handle, just simply clip it on your belt, click on the settings, and start shooting!
Battery Life
Match the performance with its battery life. You would want to make sure that the shot timer you get has an extended battery built to last for at least a few shooting sessions to utilize it as long as possible. The shot timer will show its potential and efficiency that way.
Durability
Not only should you care about the strength of its battery life per session, but the durability and lifespan. Look for a shot timer made of high-quality materials built to last, something that can withstand rain and small accidents. That way, you get something that is worth every penny you paid for.
How to Use a Shot Timer
Now that you know all about the shot timer, how can you start using it? Here are the tips you can follow to utilize the shot timer and become a better hunter and shooter:
Keep a journal when using your shot timer, keeping track of all your times and performance during your shooting drills. This helps you evaluate the progress you are doing when on the range or field.
Experiment with your positioning and weaponry, testing out what is more comfortable and what helps you become quicker and more accurate with your shots. Find common ground between your comfort and performance. Once you do, continue to shoot according to what's best for you and improve your skills from there.
Don't only focus on how quick your shoot, but also at how you deploy your gun. Hunting and self-defense will need every second, from the moment you draw the gun, down to your last shot. Practice deploying your gun and removing it from your holster as quickly and silently as possible.
Practice with the shot timer by drawing the gun, taking multiple shots, reload, then move to the next target. This works on how you plan attacks and make your next move, which helps when shooting moving objects and animals.
Here are more shooting tips when using shot timers:
In Conclusion
What I love about hunting is that you'll not only be able to hunt for game, but you sharpen up your shooting skills as well. From precision, patience, and accuracy, you get to teach yourself a lesson or two about being a sharp shooter for both competitions and hunts. And with the proper tools like the best shot timers, you'll be able to ensure that you have the precise shots in time. And that's what one needs for hunting!
Out of all the shot timers I have tested and reviewed, the best one would have to go to the Pocket Pro Timer II CEI001. With its three configurations of a display, it's not only easy to use, but you can set everything according to your standards to properly practice your shooting. It is also convenient to use with its automatic power turn down once it reaches ten minutes.
You'll also love its belt clip that's easy to put on and view from the small yet visible display. It's helped my shooting a lot and showed the accurate information, making it well worth its price!
I hope that this article on the best shot timers helped you figure out what you should invest in to train well and become both a better shooter and hunter. So don't wait any longer and start checking up on any of these shot timers today!
If you have any questions or would like to share your tips and experiences with using these shot timers, then comment down below. I would love to hear what you have to think.