Are you planning on going bowhunting anytime soon? Then you should make sure that you are prepared with the right type of equipment! Yes, you'll need a good bow and carbon arrow, as well as the proper training and practice, but one thing a lot of archers tend to forget would be the best archery arm guard. Yes, these are helpful pieces of equipment that will be able to protect and make your shots even better! But how will you know which one is right for you?
Read on as I show you the top five best archery arm guard reviews to help you out!
Quick Comparison: Top Archery Arm Guard
Image
Product Name

Score

Sportsman's Outdoor Products Tarantula Sleeve Wrap Armguard

Editor's Choice

 9.5/10
 9.3/10
 8.9/10
 9/10
 8.8/10
**Below, you'll find our more detailed reviews, but you can also click the links above to see current prices or read customer reviews on Amazon.
Top Five Best Archery Arm Guard Reviews
Based on my research, tests, and overall customer reviews, here are my top five choices on the best archery arm guards:
If you're looking for the ultimate archery arm guard, then I would suggest the Tarantula Sleeve Wrap Armguard. It is eight inches long and comes with three elastic straps and buckles, making it extremely easy to adjust according to the size of your arm! Another great part about this arm guard is that it also keeps clothes away from the bowstring so not only does it protect my arms but it also helps keep clothes away to ensure a clean and straight shot.
The arm guard itself is lightweight and easy to carry around. It doesn't feel too bulky when I wear it and it fits on whatever I wear, even if I go bare-armed. One size does fit all, so whether you're skinny or big-boned, there's no problem about fitting. All in all, I like its quality and adjustability, making it one of the best I have owned.
Pros:
Lightweight and easy to slip on
CAMO pattern to stay unnoticed
One size fits all
Tough and quality material
Cons:
Straps fray easily
Some complained of buckles being hard to put on
If you want something that's comfortable and breathable, then I would recommend the OMP Mountain Man Arm Guard. This is because it's made out of breathable suede, with the vented design for better airflow to keep your arm fresh and without any discomfort. I like its Velcro design to make it easy to put on while still staying snug. As for its comfort, I've never felt better because my arms are not beat up anymore and do the job of keeping my arms protected. Do take note that the arm guard is seven inches long.
This is a great choice for those more skilled in archery and bowhunting.
Pros:
Made of comfortable suede
Vented design for breathability
Velcro straps for easy adjustability
Strong and durable material
Cons:
Velcro straps are too long and itch a bit
Best for advanced archers
What I love most about the Allen Company Mesh Archery Arm Guard is its excellent design! It's for smaller and younger bowhunters, made out of an orange material with black mesh for breathability and extra protection. The guard comes with two straps you can adjust with just one hand, so you can do it alone and without the need to ask for help. Plus, with its easy adjustment, it can fit snugly! For younger children, it can be quite big but will provide a lot of coverage, which is still a good thing.
It isn't only for young archers but for people who are small to medium build. With its different colors and quality design, I can say it's well worth the price.
Pros:
Fit for a small build
Easy to adjust yourself
Different colors for more choices
Comfortable and breathable
Cons:
A bit too big for small children
Straps loosen up a bit easily
I would recommend the Mossy Oak Hunting Accessories Arm Guard for beginners who are at a bigger built, as it is a ten-inch long full arm guard. The first thing I want to talk about with this arm guard is that it's got the cool mossy oak design to make you look unnoticeable and match your hunting outfit when out in the fields.
It also has the excellent sturdy and adjustable clasps which are easy to attach and stay strapped on no matter how much you move. It hasn't slipped or slid out of my arms during hunts and is well-built, known to withstand long hunts! This strap is best if you need full coverage.
Pros:
Excellent arm coverage
Easy to attach and adjust
Good camo design
Strong and durable material
Cons:
A bit hot when worn
Somewhat stiff feel
If you're looking for something affordable but with excellent quality, then the Santu Cowhide Archery Arm Guard is perfect for you. I appreciate the fact that it's made out of thick and durable material but still light and breathable. It's comfortable enough and feels great around the arms, not so bulky and just right. Plus, one-size fits all. It's designed simply black and with the vented design to make sure you're arms are cool. All in all, a good purchase for those on a budget.
Pros:
Comfortable and well-ventilated
Affordable price
One size fits all
Cons:
A bit too stiff
Very lengthy arm guard
What Is an Archery Arm Guard?
Before anything else, let's first figure out what an archery arm guard is, especially for those who aren't familiar with it.
When you hunt, have you ever felt the bowstring burn when shooting? It isn't just uncomfortable but it hurts a lot! For archers, it can cause a skin rash or bruising if they continue to stay unprotected. Yes, even thick clothing won't be able to prevent the sting when you shoot. That's where the arm guard comes from.
An archery arm guard is something that projects your arm while shooting a bow. It's attached to your forearm, where one would feel the string rubbing on their arm the most. Arm guards like these come in dark colors or camouflage designs for hunters to stay hidden or unnoticed by their game. Not only do bowhunters use them, but professional archers as well!
See also: The Best Bow String Wax Reviews You Need to Invest In Now!
The Benefits Of Using an Archery Arm Guard
Now that you know what an archery arm guard is, what benefits will it be able to give for you? Here are the advantages using this piece of equipment has to offer:
Protected Arms
I'm sure a lot of us bowhunters have felt that string slap on our arms. After all, that's the main reason why you're here looking for good arm guards! With a quality arm guard, your arms will be protected from the pain and rashes that may come from the bowstring. Plus, these arm guards are incredibly durable and will be able to last for the long run no matter the weather. Perfect when hunting during different seasons out in the field.
Safer
Did you know that though string slaps aren't dangerous, they can hurt and leave a bruise which can turn into a nasty infection? That's why it's best to have an arm guard to prevent that from happening. It's for both the physical appearance and health of your arms. Also, without the nasty bruises, you'll have a better time keeping steady without the stinging while hunting.
Easy To Put On And Take Off
What's great about arm guards is that it comes in many varieties and sizes, fitting any bowhunter or archer. That way, it's easy to slip on and off for quick adjustment and when wanting to begin the hunt immediately (no time to waste!).
How To Choose The Best Archery Arm Guard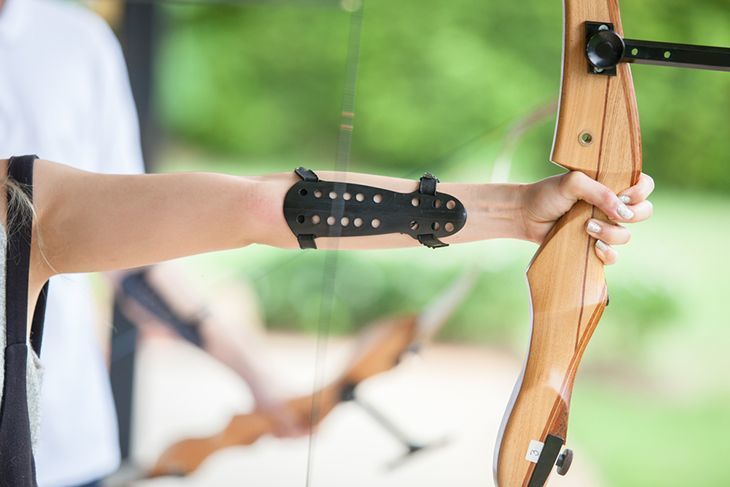 Choosing your archery arm guard isn't just about looking at the most popular one. You'll have to purchase one suitable for YOU and not what's said on advertisements! Here are some specific tips and factors to help you out:
Measurement
Measure the length of your forearm to get the desired length and circumference to ensure comfort. It's also best to get an arm guard which is easy to adjust so you won't have to worry about it being too loose or tight.
Type Of Arm Guard
There are two basic kinds of arm guards. The full-length arm guard is best for beginners, as it has more protection and the sleeves won't come into contact with the bowstring or arrow. A standard arm guard is for those who are more knowledgeable on how to rotate their elbows when shooting. This would attach to the forearm and keeps the arm out of reach from the bowstring.
Additional Accessories
You may want extra accessories other than the basic arm guard. There are also shirt guards or finger table, which prevents the arrow or string from coming into contact with your clothes.
Strength and Durability
Of course, you have to make sure that the arm guard you are choosing is built to last and will be able to withstand any type of weather condition. There are different types of arm guards made of materials that can handle rain or shine, as well as drops or scratches.
See also: The Best Tree Stand Bow Holder: 5 Awesome Ones For Easier Hunting!
Making Your Own and Using An Archery Arm Guard
Besides learning how to use and care for an archery arm guard, you can also create your own! Here are some tips on making your own archery arm guard, as well as pointers on how to use one:
The first and obvious rule is to place the arm guard on your bow arm, covering the length of your forearm. Make sure to follow the instructions for placing the guard, not making it too tight to affect your shooting technique.
Clean your arm guards and place it in a cool and dry area after using it to have it last longer. For leather arm guards, use products that are safe for the material. Mild soap and water are recommended.
Are you interested in making your own archery arm guard? Then you'll need to make sure that you make your measurements with your chosen leather and mark enough holes for easy adjustment. The process may seem difficult at first but as long as you have the puncher and laces, as well as the quality leather, then you'll have an easy time laving it up. Here is an easy step-by-step tutorial on making your own archery arm guard if you cannot buy your own just yet.
Here's an excellent video showing you how to use an archery arm guard:
Wrapping It Up
And there you have it! Bowhunting isn't just about owning a quality bow and arrow ​​at the right length but to also ensure that you have the protective gear to prevent any injuries while you are on the field. With a strong arm guard to keep you steady, you'll be able to shoot better and more accurately.
Out of all the different types of arm guards tried and tested, the best one would have to go to the Sportsman's Outdoor Products Tarantula Sleeve Wrap Armguard. What I love about it is that it will be able to fit any arm and has the straps and buckles to keep everything in one place. No matter where I go or how much I move, I never had to worry about it slipping off of my arm. It keeps my clothes away from the bowstring and stays intact regardless of the weather. And since it's made of a camp design, you are less noticeable from the game when bowhunting!
I hope that this article on the best archery arm guard helped you figure out what you need to invest in for your bowhunting needs! So don't wait any longer and check any of these archery arm guards today.
For those who would like to ask any questions or share their reviews on archery arm guards, then comment down below. I would love to hear what you have to think.