Having a good shotgun is a long-term investment. The 12 gauge shotgun is a very popular shotgun in Canada for a reason. It is arguably the most versatile shotgun for hunting. If you use it effectively, it will guarantee you enjoyable hunting sessions.
Why You Should Use 12 Gauge Shotgun For Hunting
Energy and Velocity To Hit Your Target – The 12 gauge shotgun delivers more speed and precision and can come in handy for overall power. Unlike other shotguns, you will effectively hit your target.
Increased Range – The 12 gauge exits fast; therefore, hunters can confidently place shots on geese and ducks that may be out of range for users of other shotguns.
Versatile – Most shotguns are versatile, but the 12 gauge shotgun takes versatility a bit further. With this shotgun, you can target any animal legal to hunt. Furthermore, you can take longer shots of birds such as geese and ducks efficiently.
7 Best 12 Gauge Shotguns For Hunting
The Khan A-Tac Tactical Pump K 500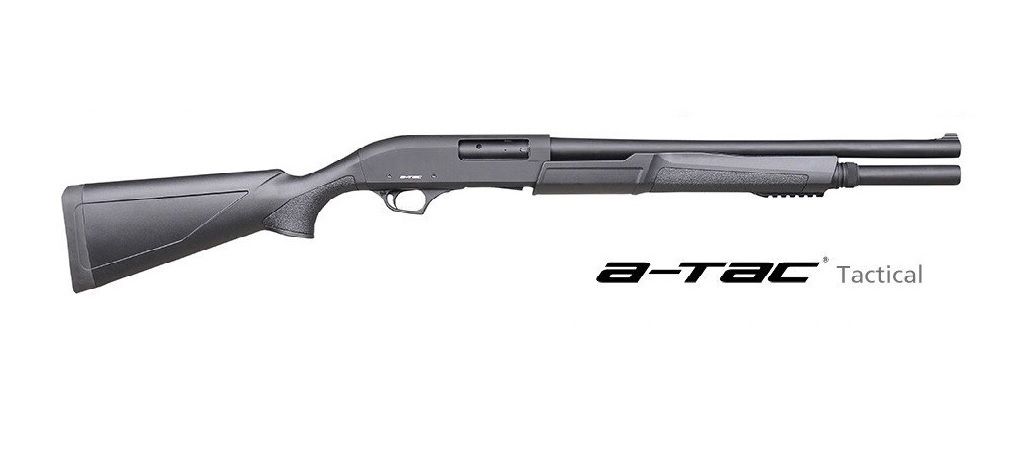 If you really love hunting and need a 12 gauge shotgun that guarantees quality and convenience, the Khan A-Tac Tactical Pump K 500 from canfirearm.com is your ultimate pick. This shotgun is widely known for its power and excellent value for money.
It has a barrel selector to help you load the top barrel with a buck and the bottom with a slug round, thus making it easy to use.
I personally recommend the Khan A-Tac Tactical Pump K 500 because I believe it will give you a seamless and enjoyable hunting experience. You can also continue your hunting experience at night because of the adaptable Picatinny rail under the barrel. 
Remington 870
I love the Remington 870 because it is a 12 gauge shotgun that's excellent in any condition. It is the icon of the shooting world because it is cheap and works very well.
You can buy this single shotgun and easily hunt anything from small game to large game in any weather condition. They are efficient and flexible. Make sure you snoop around before making your final purchase. Its average cost is about $350.
Winchester SXP
This gun is claimed to be one of the fastest pump & shoot shotguns on the market. The design of the Winchester SXP makes it suitable for hunting birds. The sleek design makes it easy to aim at a target, resulting in smooth action.
The gun comes in a standard package with three chokes and weighs 6 pounds 14 ounces. This makes carrying the gun around easy and convenient. The Winchester SXP shotgun retails for approximately $349.99.
CZ USA Drake
Most high-quality double-barrel guns are expensive. However, the CZ USA Drake is an exception. The gun retail for about $655 and is imported from Turkey by CZ USA. The gun is manufactured by a Turkish weapon company called Huglu. This company has a reputation for producing quality guns at affordable rates.
The Drake shotgun comes with an extractor operation, one selectable trigger, mid-rib delete, and laser-cut checkering. The gun can be bought in 12, 20, 28, and 410 with 28-inch barrels. It comes with five flush interchangeable chokes except for the 410 chokes which have fixed IC/MOD.
Weatherby SA-08
The Weatherby SA-08 is a semiautomatic shotgun that sells for about $500. It is light, just about 6 pounds, and can come in handy for novice hunters. It is a very durable shotgun and also operates 2.75 and 3-inch shells.
I recommend this shotgun mostly because it is durable and impervious to moisture. What's more, its dual valve operating system guarantees light recoil and ease cycling shells.
Benelli Ethos
This gun is a beautifully designed semi auto shotgun suitable for upland hunting. The Benelli Ethos is fitted with an excellent Inertia Drive system. The inertia-driven system is clean, reliable, and adjustment-free and can load up to 3" magnums.
The gun is designed with elegant lines and a nickel-plated engraved receiver. Because of the aesthetic appeal of the gun, it retails at approximately $1,899.99.
Browning Citori 725 Field
This gun is considered one of the best in the over-under shotgun category. The Browning Citori was pioneered in 1973 as an affordable option to the Browning Superposed. The Browning Citori 725 Field has a streamlined design contrary to the previous models that were criticized for being bulky. The gun has a mechanical trigger that fires the second barrel if the first doesn't.
The gun is fitted with a crisp trigger and is light in the hands weighing 7.6 pounds for the 12-gauge. The gun can be mounted quickly but come with a higher price tag. The Browning Citori retails at $2,579.99.
What Can You Hunt With a 12 Gauge Shotgun
The 12 gauge shotgun can take any game in the lower 48 states. However, for the purpose of this article, I will list five.
Moose – Moose is the largest animal you can hunt in Canada. With a slug within 50 yards, it may be plenty to put it down and could still be the same beyond 50 yards because of the power of the 12 gauge shotgun. The ultimate trick is your accuracy.
Squirrel – As earlier mentioned, the 12 gauge shotgun is versatile, and you can effectively adapt the ammunition to hit your preferred target. You can effectively target a squirrel simply by using the proper ammunition and still have a lot to eat.
Rabbit – As fragile as the rabbit is, you need to use the perfect ammunition and hit from a reasonable distance to get your meat in good condition. 
Ducks – Talk about flexibility. With this shotgun, you can indulge in bird hunting. Using small shots allows the shot to spread in flight, thus increasing the odds of at least hitting one bird and bringing it down. 
Geese – You'll enjoy hunting geese with a 12 gauge shotgun because it is highly effective and won't damage your meal.
Conclusion
If you love hunting and want a shotgun to permit you to hunt anything legally huntable, you need a reliable weapon. Every hunter needs a 12 gauge shotgun but not every hunter needs a 10 gauge or 20 gauge shotgun.