Getting out into the great outdoors and pitching a tent is a great way to decompress from the stresses of regular life. But, after dark, finding your way around the campground or through the woods might be challenging. For this purpose, a flashlight is necessary. For a more secure and pleasant camping experience in the dark, read on as we go through several proper flat flashlight techniques.
How to Choose a Good Flashlight
Finding the best flashlight represents the initial step in using one when camping. A wide variety of flashlights are available, from compact and portable to rugged and submersible. Think about the flashlight's portability and weight, as well as its lumen output, beam distance, and battery life. If you want to keep both hands free and increase your field of view, an Arkfeld flat flashlight from the Olight store is something to consider.
Bring a Supply of Replacement Power Cells
Extra batteries are a need if you're going camping with a flashlight. Nothing is more frustrating than needing your flashlight but having none and being in the dark. Avoid this by bringing either a spare set of batteries or a second flashlight. You may save the environment while still having access to a flashlight by opting for battery packs or a solar-powered version.
Be economical with Your Flashlight Use
If you need to find your way about in the dark, a flashlight is a must, but it should be used cautiously. Light pollution harms the environment, other campers, and your night vision. Just turn on your flashlight when required, and don't shine it in people's eyes.
Discover the Signs of Help
It is possible to seek assistance by flashing a flashlight in an emergency. Please find a way to signal for aid, whether via a whistle or by learning the Morse code for SOS (three short flashes, three long flashes, three short flashes). When you go on your vacation, ensure you have enough experience with signaling.
Make Sure You Have a Flashlight on your Hand
Maintain constant access to your flashlight. Please do not throw it away in a distant section or at the bottom of your bag. Store it where you can quickly access it, like a pocket or a bag clip. In the worst-case scenario or when you need to find your way about in the dark, you will have easy access to it in this manner.
Keep in mind the native wildlife if you plan on going camping outdoors. Look around with your flashlight to see if there are any animals around. Remember to remain safe from animals and never shine a spotlight on their eyes.
Let's take a look at the best flashlight for you.
The lithium-ion battery of the Arkfeld Light Source flashlight may be recharged for up to 6 hours of use. A battery level indicator is included so that customers may keep tabs on the device's juice and avoid an untimely power outage.
Arkfeld Stylish Dual Light Source EDC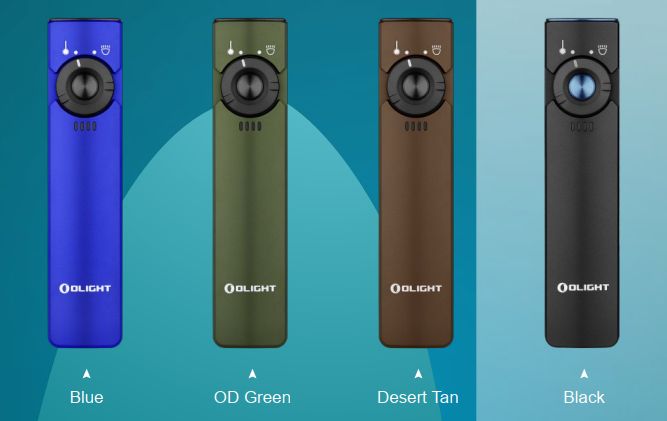 The Arkfeld is the first dual light source and portable EDC Flashlight at Olight. 2 color temperatures, 5 brightness levels as well as a memory function that allow you to select what you like with one single click. An amazing max 1,000lumens output is able to light up every corner you can see.
The green laser, a good helper when making a presentation or amusing your pets, is featured in the flashlight as well. The creative switch design (Central Button & Selector) is both practical and beautiful. Besides, the magnetic charging cable enables you to have it charged automatically.
Last but not least, the flashlight is flat and features a clip, so it is easy to carry (3.07oz in weight and 0.59in in thickness)—It can be clamped onto your pockets and shirts even without noticing its existence. With great design plus multiple lighting functions, Arkfeld can be a second-to-none choice for EDC flashlight.