When you're out hunting, I would recommend that you bring something small and quick to get for field dressing or self-defense. A knife comes in handy, but it can get quite dangerous handling it, especially bigger ones. It's the reason why I bring the best folding hunting knives with me, which are compact and still enough for quick defenses or dressing when needed.
But with the many types of folding knives available, what is the best for you? Read on as I show you the ultimate guide to the best folding hunting knives in the market!
Quick Comparison: Top Folding Hunting Knives
**Below, you'll find our more detailed reviews, but you can also click the links above to see current prices or read customer reviews on Amazon.
The Five Best Folding Hunting Knives
Based on my research tests, and overall customer reviews, here are the top five best folding hunting knives you can use today:
What I love about the Buck Knives Famous Folding Hunter Knife is its excellent blade! When I first began to test it out, I was amazed at its superb strength and edge retention. It has a sharp and controllable point, making it remarkable not just for self-defense but also for slicing or detail work (like field dressing when needed!).
As for its safety, it's effortless to open and has a sufficient lock back mechanism, making it reliable and safe. The knife is also comfortable to carry around with, as it comes with a leather sheath and an integrated belt loop, securing the knife and making it easier to access while you are on the field. And with a lifetime warranty, you are assured something to last for all your hunts! It's a must-buy.
Pros:
Sharp and controllable blade
Has a safety lock back mechanism
Comes with a sheath and lifetime warranty
Excellent for detail work or self-defense
Cons:
The edge is a bit messy at first
Has a gap between frame and locking position
Another fantastic choice is the Gerber Bear Grylls Folding Sheath Knife. This is because it has the military grade quality that you would expect from a hunting knife! It's made out of serrated high carbon stainless steel, with the perfect edge and sharpness for field work and self-defense. You can use it for edge retention or cut rope without any hassle! I also like its dual-sided thumb stud, which makes it easy to open with just one hand. It also has an ergonomic-textured rubber grip, which maximizes the comfort and does NOT slip from my hands at all.
The knife itself is lightweight and has a sheath, making it hassle-free to carry around, may it be horizontally or vertically. All in all, it has everything you need in one folding uniting knife.
Pros:
Lightweight and easy to carry
Sturdy and with a sharp blade
Excellent grip and hassle-free open
High quality and perfect size
Cons:
It has a serrated edge people won't like
Hinge nut is a bit too tight
The Gerber Freeman Guide Folding Knife is another must-have for its fine edge and excellent technology put into making the knife. It has a TacHide Onlay, making its grip extra-secure regardless of the weather conditions or your hands. It also has large finger grooves, ideal for those with small OR bigger hands. It's comfortable and feels secure while holding it; I don't need to worry about slippage.
The knife is also easy to carry with its lightweight handle. As for its blade quality, it's very sharp, with a full-fine blade edge that can cut through a lot of things. It may be a bit pricey, but it's got what you need and more!
Pros:
Excellent comfort and grip
Great to use no matter the condition
Very sharp blade
Fold and opens easily
Cons:
A bit expensive
Curve is a bit dull upon arrival
For those who want something with that aesthetic look for their hunts without scrimping on grip and blade quality, then the Elk Ridge Wood Gentleman Hunting Folding Pocket Knife is an excellent choice. It has the satin-finished stainless steel blade with the ideal thickness for cutting through many materials when out in the field. Its handle is made of brian Pakkawood, looking sleek and professional. You can see and feel its premium make, with its sharp blade and easy opening.
It's a bit bigger than the usual folding hunting knives, but with that being said, it's a killer blade that makes it safe and suitable for field dressing.
Pros:
Excellent spring assist opens quickly
Quality fit and finish
Solid and sharp blade
Secure liner lock
Cons:
Heavy and a bit bigger
Some complaint of receiving a dirty blade
And last but not the least, we have the Snake Eye Tactical TAC-FORCE Folding Pocket Knife. The first time you see it, you can feel the functionality and versatility. It's made out of a 440 stainless steel blade with an aluminum handle, all black to have it discreet when carrying. It also has a speed safe thumb stud, making it effortless to open or close. I love its solid blade that can cut through a lot of things. It may be small, but it holds a ton of strength! And with its affordable price, it's perfect for those on a budget.
Pros:
Affordable price
Sharp blade
Excellent design and easy-open
Lightweight and easy to carry
Cons:
The assisted opening is a bit stiff
Some complaints of the knife not being centered upon arrival
Why Get A Folding Hunting Knife
You're probably wondering: Why should you get a folding hunting knife? Are they even useful for your future hunts?
The answer: YES, they are! Here are the benefits this compact knife has to offer:
For Survival
A folding hunting knife may not be the best choice for field dressing (though it can be used) but it's best for survival purposes in case you find yourself spending more than just a day in the fields.
First Aid
Your hunts won't always be safe. You may end up with some minor injuries along the way, requiring you to bandage yourself. A survival knife can help you cut bandages and create makeshift splints to treat your injuries.
Self-Defense
This is one of the main reasons why I bring a folding hunting knife with me. I may come across times I'll be attacked by small animals (maybe even other hunters!), which is why I learned to handle a knife for protection. They are easy to bring out and use for attack, compared to preparing your gun or other bigger weapons.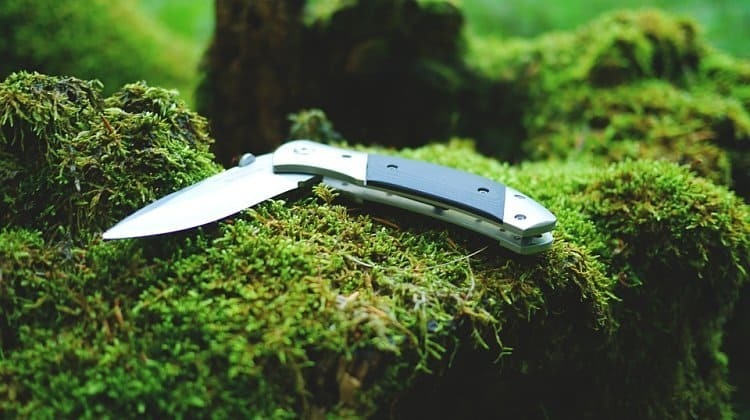 Compact
What's excellent about folding hunting knives is that they are easy to bring around thanks to its compact size. Compared to using fixed blades, I won't have to invest in sheaths because all you need to do is fold and keep in your pocket. They're easy to transport on a boat or handle when under extreme weather conditions as well!
Not Just For Hunting!
Folding hunting knives can be used for more than just hunting but other hobbies as well, such as fishing, camping, or even opening letters and cutting any materials necessary. It's functional in all aspects, both indoors and outdoors.
See also: The 5 Best Bone Saw For Deer Reviews: Easier Time Field Dressing Now!
Choosing The Best Hunting Folding Knife
Now that you know what a folding hunting knife can do, how can you choose the best one suitable for you? It's not just about getting a famous brand; there are more things to consider. Here are some tips and factors to check out:
Size and Weight
I would recommend that you get a folding hunting knife that isn't just compact but lightweight to make it easier to carry with you in your pocket or bag. That way, you won't have to worry about the bulky feeling while walking.
Good Grip
I appreciate folding hunting knives that have an excellent grip made of high quality because it will stay in my hands despite them being wet or sweaty. You wouldn't want to be holding a knife and having it slip, causing accidents.
Safe Locking Mechanism
This is a must for folding hunting knives because it makes it safer to use. It's best to find one with an efficient locking mechanism to ensure that it's easy to release or locked in place. It's safer that way!
Blade Quality
One of the most crucial factors of the knife is its blade. After all, that's why you're purchasing a knife for its sharpness and effectivity. I recommended ones with shape blades and made of durable stainless steel.
Price and Warranty
And finally, you should also consider its pricing and what it comes with. Avoid scrimping on a folding hunting knife that may end up breaking but also don't overspend on something that may not be worth the investment. Additionally, I suggest that you look into warranties to ensure that your knife will last for the long-term.
Here is an excellent video showing you how to choose a folding hunting knife:
Using A Folding Hunting Knife
Once you own a folding hunting knife, there are certain things to follow so you'll stay safe and use it correctly if needed for self-defense or survival. But how can you? If you aren't familiar with how to use and maintain a hunting knife, here are some tips to follow:
Using The Folding Knife On The Field
Acquaint yourself with how to open your folding knife for self-defense quickly. Hold it with a Filipino grip, using the last three fingers to hold it firmly. Point your thumb towards the blade, with your index finger wrapped loosely on the handle.
Never point your knife at anything you do not plan on hitting, nor should the knife stay open when you aren't using it.
Maintaining and Safekeeping
To ensure that you use your knife safely, I would recommend that you acquaint yourself with the proper techniques and learn how your folding knife works before using it. Keep the knife sharp by using ceramic stones, diamond stones, or whetstones regularly to avoid it from becoming dull and difficult to use.
When keeping the knife, ensure that it is folded and locked in place before placing it in your pack or pocket. Also, do NOT attempt to take it apart if it is in need of repair. This may injure you AND void the warranty.
If you have children in the house or hunting with you, acquaint them with knife safety and do not let them hold it. Knives are not toys that you or children should play with!
See also: The 5 Best Camera Arms for Hunting: Track Your Game Easily!
Wrapping It Up
When it comes to staying safe when on the field, it's best to bring a folding hunting knife! With its strength and compact body, you have assured a self-defense weapon if you come across any trouble while hunting. Plus, it's safer to keep compared to fixed blades, which can harm you if packed incorrectly.
Out of all the folding hunting knives available, the best one will have to go to the Buck Knives 110 Famous Folding Hunter Knife. Not only is it the top-selling knife available on the market but it's got everything you need, from the strength and durability down to the safety locking mechanisms that make it easy to handle. I love its razor sharp blade and sleek design that make it such a hit. And with it being convenient to carry, I have no problems with bringing it out quickly when necessary. And the best part? A lifetime warranty so you have ensured something to use for ALL your hunts! Worth the investment to keep you safe and for survival purposes.
I hope that this article on the best folding hunting knives gave you an idea of what to invest in for your future hunts and self-defense. So don't wait any longer and check out any of these knives today!
If you have any questions or would like to share your tips and experiences on using folding hunting knives, then comment down below. I would love to hear what you have to think.